Gronk's namesake horse to miss Kentucky Derby because of infection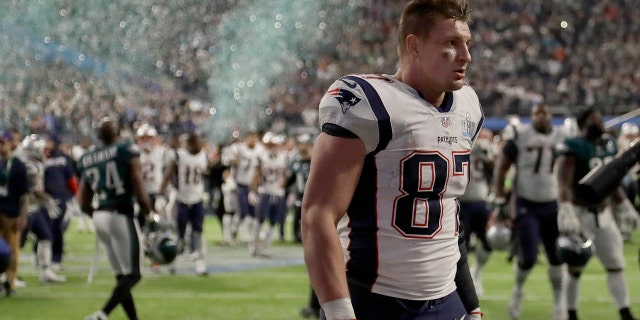 The horse named after New England Patriots star Rob Gronkowski has to bow out of the 144th running of the Kentucky Derby because of a slight infection that will keep the U.K.-based colt from traveling to the United States.
"It's unfortunate Gronkowski the horse will not be able to race in the upcoming Kentucky Derby due to an illness. I fully support what is best for the horse. I know he will come back strong and healthy and I am excited to see him race again very soon," the Patriots tight end, who owns a minority stake in the racehorse, tweeted Monday.
Tom Ludt, who oversees Phoenix Thoroughbreds' international operations, says the horse spiked a fever last weekend and was treated with antibiotics.
Ludt said Monday that the owners were "beyond disappointed" to miss the May 5 race at Churchill Downs.
Gronkowski recently bought an interest in the animal and said he was excited to meet his namesake during Derby week.
The 3-year-old colt was undefeated in three races this year, including the Burradon Stakes at Newcastle on March 30, which earned him the first European slot in the Derby under Churchill Downs' points system. He is trained by Jeremy Nosada and ridden by Jamie Spencer.
The colt is eating normally and responding to treatment, but Ludt says the owners want to put Gronkowski's welfare first.
Ludt says Gronkowski will be given time off and return to racing at some point.
The colt was part of the first group of horses purchased by Phoenix Thoroughbreds, an investment fund formed last year by Dubai businessman Amer Abdulaziz.
Fox News previously reported Bloodstock agent Kerri Radcliffe, who made the purchase for Phoenix Thoroughbreds and gave the colt its famous name, selected the horse because it was "built like a tank" and akin to "the equine form of Gronk."
The Associated Press contributed to this report.