Goodell defends NFL's massive planned donation for social justice causes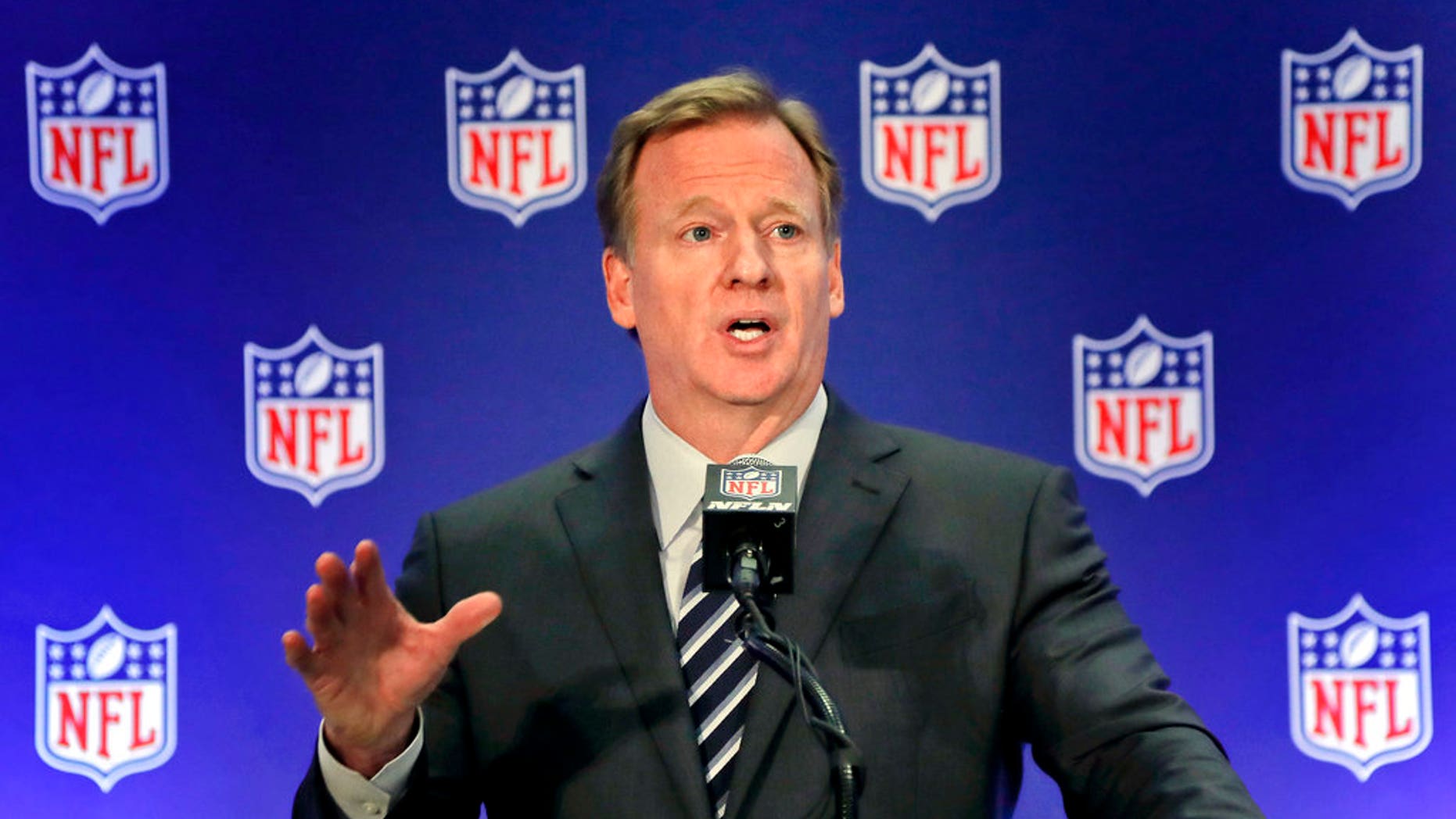 NFL Commissioner Roger Goodell on Monday defended the league's move to pay nearly $90 million to social justice causes supported by some players, despite critics' claims that it was meant purely to appease activist athletes, including those who have kneeled during the national anthem this year.
"We have a unique opportunity here for NFL players and for NFL owners to work together," Goodell said, according to NBC Sports. "This is a result of unprecedented dialogue and cooperation between NFL players, ownership and our office over the last year."
Goodell spoke with Eagles safety Malcolm Jenkins and retired wide receiver Anquan Boldin, founders of the Players Coalition.
Boldin said the league's commitment to players' causes isn't an indication that players would stop protesting. The kneeling has drawn steady criticism from President Donald Trump as well as football fans across America.
"This deal for us was never about telling guys what they can or can't do. It was never about telling guys that they can't protest or to stop protesting. This agreement was the NFL listening to the concerns of its players and responding in a like matter," Boldin said to NBC Sports.
"We want to take money out of sending people to jail and put it toward education and opportunities for economic advancement," Jenkins added.
There already has been pushback about the NFL going forward with making charitable donations to players' causes, including criminal justice reform, law enforcement-community relations and education.
Jim Hanson, president of Security Studies Group, who is a Green Bay Packers stockholder, wrote in a Fox News opinion piece about Goodell's move despite the continued protests.
"…The owners will get nothing from the players in return. No promise to stop disrespecting the national anthem or any other meaningful concessions," Hanson, who served in the U.S. Army Special Forces, wrote.
Last week, San Francisco 49ers safety Eric Reid called the deal "a charade."
In an interview with Slate, Reid said Jenkins told him the donations wouldn't come from new money. Donations would come "from funds that are already allocated to breast cancer awareness and Salute to Service," Slate reported, meaning the league would "just move the money from those programs to this one."
In a memo sent to the 32 teams on Friday and obtained by The Associated Press, each NFL team was asked to contribute to the plan, much of which will be funded through "cause related events and consumer products sales, auctions and other promotional sources," as well as contributions from clubs.
Last week, according to The Associated Press, Reid said he left the coalition because Jenkins excluded Colin Kaepernick from meetings, and asked players if they would stop protesting the anthem if the NFL made a charitable donation to causes they support.
Kaepernick began the kneeling demonstrations in the 2016 preseason, and Reid was the first player to join the protests. Kaepernick was not signed by any team this year as a free agent.
The Associated Press contributed to this report.