Godley answers D-backs' call with 6 scoreless innings in winning debut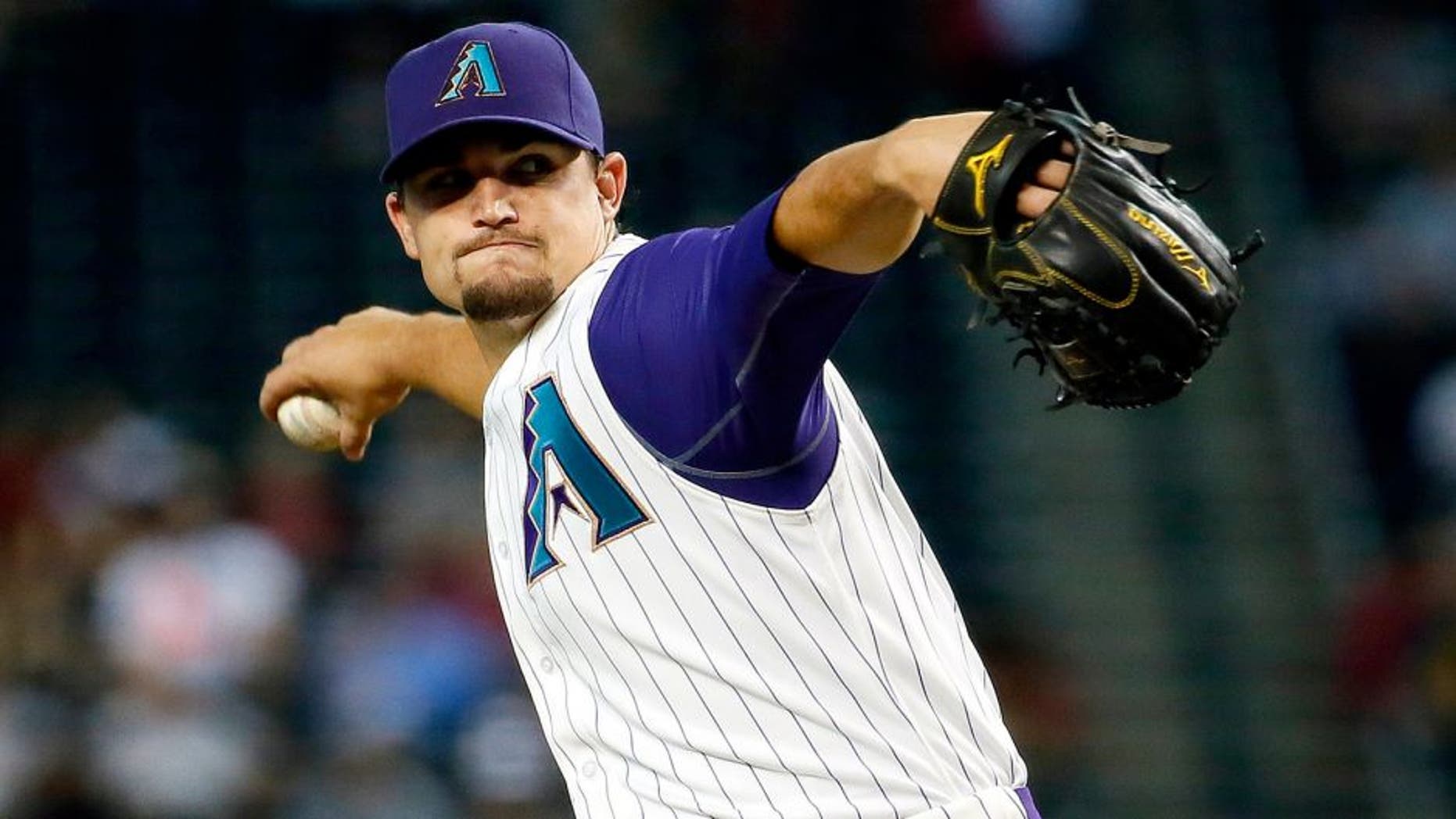 PHOENIX -- Zack Godley sauntered into the Diamondbacks clubhouse in blue jeans and cowboy boots shortly after 2 p.m. Thursday, completely oblivious to the rites of major-league baseball.
The 25-year-old right hander, pitching for Visalia in the California League five weeks ago, didn't even seem to realize that major-league pitchers don't speak to reporters on the day they're scheduled to start.
"Baseball," Godley said, when asked what he expected to experience when he would take the mound at Chase Field in four hours. "The game is still the same; the same type of hitter I've always been facing. Just excited to get out there."
Baseball, indeed.
Godley, called up from Double-A Mobile to take the place of injured Chase Anderson in the D-backs rotation, pitched six scoreless innings in his major-league debut, needing only 88 pitches (66 strikes) to silence the Brewers in an 8-3 Diamondbacks victory. He didn't walk a batter and struck out seven, including Ryan Braun three times. According to Elias Sports Bureau, never before had a pitcher worked six scoreless innings with no walks and as many as seven strikeouts in his major league debut.
Godley said he wouldn't have been human if he hadn't been nervous, but instincts kicked in once he toed the rubber.
"Tony La Russa gave me a little bit of advice yesterday when I came in to set up my locker," Godley said. "He said we know you're going to have nerves, everyone does, just take a deep breath and settle in and throw strikes."
Nothing to it.
Godley's parents, his fiancee and his high school coach made the trip from Bamberg, S.C., to witness his debut, and they had to like what they saw. Especially considering the circumstances.
Godley's mother Kelly, said the family had gone to Mobile to see Zack pitch on Sunday. The game was rained out, and they were confused when Zack called to tell them not to stick around, he had been pulled from his Monday start.
We'll let Kelly take it from here:
"He called his daddy first, and then he called me, and said 'Momma, you sitting down?' We were in a log cabin in the middle of nowhere, I don't have no reception on my phone, so I ran outside.
"He said 'guess where I am?' 'I don't know.' 'I'm in the airport.'
"I said 'for what?' He said,' I'm going to Arizona.' I said, 'Are they sending you back to Instructional League?'
"He said 'no, I'm going to pitch.' I said, 'Triple A's in Reno, Nevada.' He said, 'Momma, big leagues.
"And I said a bad word."
Mrs. Godley's reaction isn't hard to imagine considering her son's previous two outings in Mobile. Godley, who pitched in relief for the Cubs organization last year and was acquired by the D-backs in the Miguel Montero trade, had a 9-4 minor-league record and 2.72 ERA in 17 games (14 at Visalia, three at Mobile), but he failed to make it out of the fifth inning in his two most recent starts, giving up 11 hits, five walks and eight earned runs in nine innings of work.
Still, the Diamondbacks liked the way he competes, his maturity (he's 25), and the way he works down in the strike zone.
"His stuff, the way the ball moves, it gives him a chance to be successful," said manager Chip Hale before Thursday's game, admitting that he had only seen Godley pitch once -- during spring training.
Hale liked what he saw even more on Thursday. He said he went out a couple of times to check on home plate umpire Brian O'Nora, after he'd been nicked by a couple of dipping and diving Godley pitches.
"Obvioiusly he has really good stuff," Hale said. "That was one thing, the umpire Brian O'Nora came over and said this guy has got really good stuff. You could see at times it looked like Oscar (Hernandez) was having a hard time catching some of the cutters and fastballs he was throwing."
Godley got plenty of support from his offense, even though the Diamondbacks struck out 16 times for the second night in a row.
Yasmany Tomas hit is sixth home run of the season to open the scoring in the second -- heeding the team's encouragement to hit the ball to the opposite field by taking a Mike Fiers pitch over the right-field wall. Hernandez and Ender Inciarte had run-scoring hits in a three-run fourth, and the lead grew to 5-0 before Godley's night was finished when A.J. Pollock tripled to left-center and scored on Aaron Hill's single in the fifth.
Andrew Chafin and Randall Delgado each worked a scoreless inning in relief of Godley before the Brewers got to Dominic Leone for three runs in the ninth on a Braun home run.
Godley's next start is scheduled for next week on the road in Seattle, and Hale says that's forward thinking enough.
"Let's just worry about the next start," he said. "Let's not get too far ahead of ourselves. Let's just let him have a nice night and celebrate with his family, and he has to get ready for another start. That's baseball."
Baseball indeed.