Giants wideout Victor Cruz shows off soccer juggling skills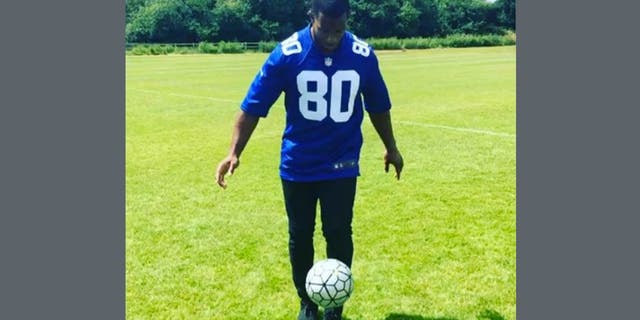 NEWYou can now listen to Fox News articles!
Judging from his trip the United Kingdom, New York Giants wide receiver Victor Cruz looks to be doing well in his recovery from injury. Cruz, who hasn't played since Oct. 2014, is in the UK in an effort to promote the NFL across the pond, all the while taking some time to soak up some of the culture there.
The preeminent sport there, of course, is soccer --€" and Cruz made sure to try his hand, or foot, at some footy. He posted this short Boomerang on Instagram showing off his juggling skills on Thursday:
Not too shabby! You have to imagine the urge to use his hands is probably overwhelming, too. Cruz appears to be on the right track to be ready for Giants training camp, which starts later this month on July 28. Assuming he's able to get up to speed and stays healthy, he'll be expected to make another trip to the UK when the season gets underway. In October, the Giants are set to play the Los Angeles Rams in London.
Perhaps if Cruz keeps up his soccer skill work, he'll show off a rainbow flick next time.
MORE FROM FOX SOCCER