Giants QBs coach: Eli Manning's arm has never been stronger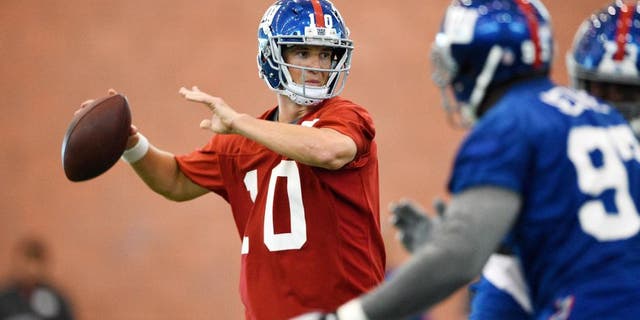 New York Giants quarterback Eli Manning switched up his training regimen this offseason, and it has helped him improve his arm strength. Giants wide receivers coach Mike Sullivan took it a step further on Wednesday when he said that Manning's arm has never been stronger than it is now.
"I don't think his arm has ever been stronger," Sullivan said on Wednesday to reporters, per Big Blue Interactive. "He has a very live arm."
Sullivan was tasked with improving Manning's footwork and mechanics when the two worked with each other last, prior to the 2011 season, and Sullivan admits that Manning's ability to mastermind offensive coordinator Ben McAdoo's offense has helped his overall mechanics.
"It always starts with the footwork but I think it is just really having the reads, having the concepts become second nature and having that level of comfort and confidence that the player is going to be where we want them to be," Sullivan said. "That he is going to trust his feet, as we like to say, in terms of the timing of the system and nothing beats experience. There are no shortcuts, there is no way to kind of go around that and you've got a true professional like Eli who really buys into doing all the little things that really makes it easier to improve."
It also helps that general manager Jerry Reese has built Manning arguably the best supporting cast he has had since the 2011 season where Manning had his best statistical year and the Giants won the Super Bowl.
"You look at certainly the receivers; Victor Cruz who is coming back and looking strong, Odell Beckham and Larry Donnell and so many of the players and younger guys, the addition of Shane Vereen out of the backfield. [It is] definitely nice to have those so he has been trying to spread the ball around and work on different reads, if you will, and that is certainly [a good thing].
Sullivan made mention of the Giants' newest playmaker, Shane Vereen, for a second time later in the interview when discussing Manning's dynamic arsenal of talent at the skill positions.
"Heck, when you've got a guy like Odell Beckham Jr., Victor Cruz, Shane Vereen and some of these guys that can do a lot of damage…a 70-yard gain is a 70-yard gain whether the ball is in the air for 50 or one yard and we had a great run, so whatever it takes."
The Giants have been looking for a running back like Vereen since McAdoo was hired to take over in 2014. In his offense, a running back who can catch the ball consistently out of the backfield and create plays in space will help open up things at other levels down the field. They thought they had it last year in David Wilson, but after he was forced to retire, they were back to square one.
Vereen and Manning had reportedly developed an excellent rapport back in spring practices, and that has carried over to training camp where Vereen has been on the field for more first team snaps than some have anticipated.
Earlier this offseason, McAdoo said that Vereen can be a quarterback's best friend. Manning and the Giants are certainly hoping that's the case in 2015. With a stronger and smarter Manning at the helm, don't be surprised if things work out the opposite way--with Manning serving as a best friend to each individual Giants skill position player, including Vereen.
(h/t Big Blue Interactive )