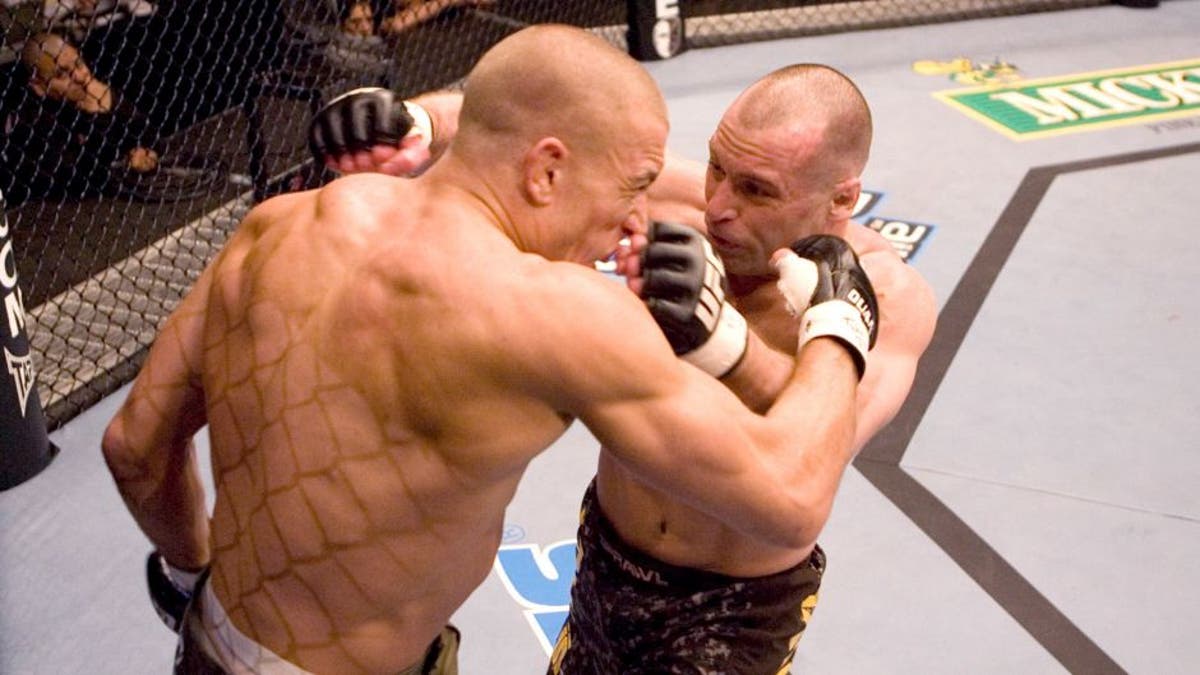 Whether Georges St-Pierre ever returns to the UFC is still up for debate, but if his career is over, he will likely go down as the greatest welterweight champion.
St-Pierre didn't deal with defeat very often in his career, but his unforgettable loss to Matt Serra in 2007 is something he'll live with forever.
Nearly eight years after the fight, St-Pierre says that after beating former champion Matt Hughes to win the belt he started to believe everybody telling him that he was going to be one of the best, and it severely affected his mindset going into the fight with Serra.
"I became champion, I beat the greatest welterweight in the world back in the day that was Matt Hughes, who seems to be invincible back in the day and I beat him. So now I become the new greatest thing in the sport and everybody tells me how great I am and stuff and I started to believe in my own hype," St-Pierre revealed when speaking to Joe Buck on "Undeniable".
"The next opponent is Matt Serra, a guy that came from a reality show back in the day. He was a veteran in the UFC but nobody really gave him a chance against me. So I'm going to fight this guy that basically everybody tells me that I'm going to walk through him and I start kind of believing in my own hype."
St-Pierre is well known for being an absolute gym rat at all times but especially leading into one of his fights, but that wasn't the case when it came to Serra.
He heard so many people telling him that he would tear through Serra like a knife through butter that St-Pierre failed to prepare for the fight with the same tenaciousness he did for virtually every other bout during his career.
St-Pierre realized just how little he did to get ready when it was time to actually walk to the Octagon on that fateful night in Houston.
"I train but I don't show the same intensity and I start to believe it's going to be an easy fight until the night of the fight, they come to pick me up in my locker room, I remember how it happened," St-Pierre explained. "The guy comes in the locker room, it's my turn to fight, he walked in the door 'St-Pierre you're up next are you ready?' and when he asked me this question 'are you ready?', I said to myself 'shoot, now I'm not ready'.
"I should have put more into this and now mentally I got broken. As I'm walking to the Octagon, if you see that fight, I'm walking and I'm like '(expletive) I'm really not ready for this'. Now I'm doing the opposite of what I should do to boost myself and walk like it's impossible to fail. Now I'm walking like (expletive) I'm going to a funeral or something."
St-Pierre has vivid memories of almost every second of the fight as he squared off with Serra in the center of the Octagon and then got tagged with a punch moments into the first round.
"The fight starts, we touch gloves, and after a few seconds I got tagged -- bang -- by a big right hand. He hit very hard," St-Pierre described. "I lose my equilibrium and I remember when it happened, I lose my equilibrium, everybody's looking at me, and I'm going to get beat by this guy that I'm supposed to walk through and I'm like no way. I got angry."
Unfortunately, St-Pierre's emotional reaction was the worst possible thing he could do after getting tagged because instead of resetting to get his balance back, he stepped into the pocket and started winging shots.
It didn't end well for him.
"I'm thinking I'm going to give it back to him right away so it's the worst thing you can do when you get caught in a boxing fight or a martial arts fight, when you get caught you need to step back and recuperate. My emotion took over because I'm a very proud person and I want to give it back to him right away," St-Pierre said. "So I'm stepping into basically a slugfest and what happened was he's 100 percent, I'm the one who's dizzy, so when you're dizzy you're not accurate and I'm the one that's getting hit in the slugfest.
"I'm getting punched until I fell on my back and he's on top of me. I'm thinking 'I'm basically getting pounded', I don't know where is the ground, up down, sideways, so I tap out."
St-Pierre's welterweight title reign was over just 3:25 into the opening round of his first championship defense.
"Now it's the humiliation. The biggest humiliation of my life," St-Pierre said. "Even the odds were like 11-to-1. It was crazy. It was one of the biggest upsets in UFC history, maybe the biggest one. I'm not too proud about it."
As much as St-Pierre takes the blame for not preparing or giving Serra the credit he deserved, he also pays homage to the New York native, who was likely bombarded with the same promotional hype but used it to his advantage.
"I give credit to Matt Serra because probably on his side, probably people used to tell him the same thing 'oh you're going to get killed' and he didn't care and he believed in himself and he beat me fair and square and it was just a great learning experience for me," St-Pierre said.
It was a terrible loss, but St-Pierre can look back now and he knows that it was a valuable experience because it gave him the knowledge how to approach every fight after that one.
And he never suffered another defeat during his entire career.
"When I lost to Matt Hughes I learned to never overestimate someone but then in my second loss I learned to never underestimate someone," St-Pierre said. "So there is a middle range that you should keep your opponent into."