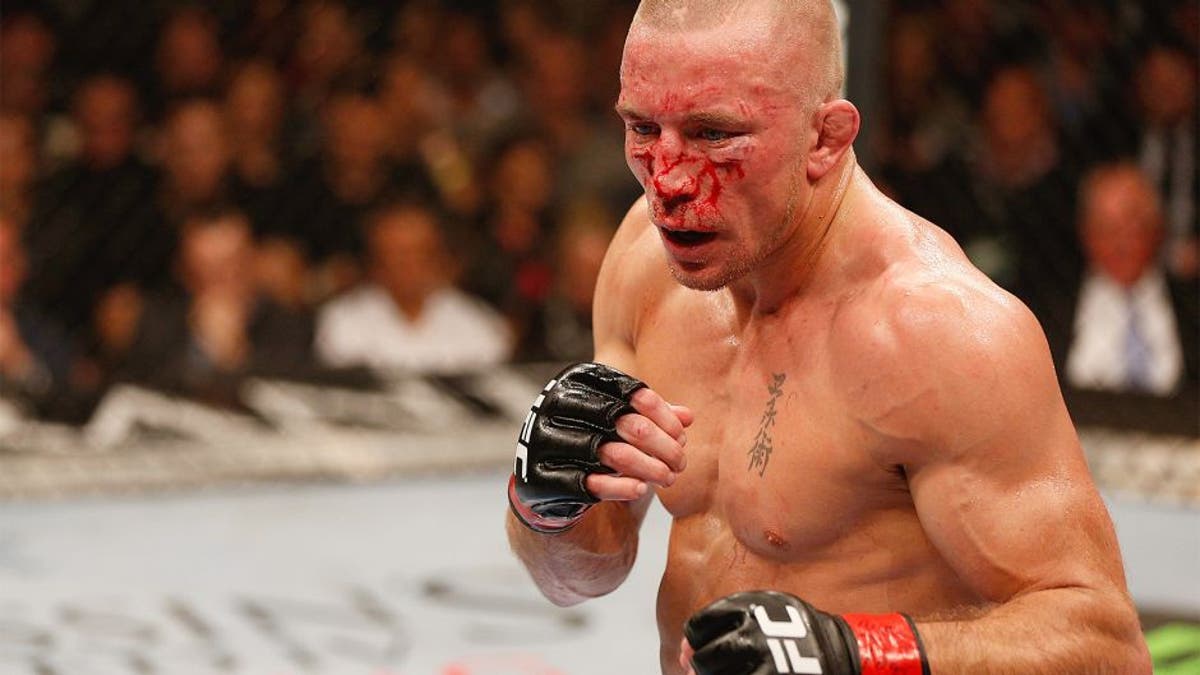 When Georges St-Pierre first started competing in mixed martial arts, he did it for the love the competition and the thrill of the fight.
But by the end of his run in the UFC as welterweight champion and arguably the best pound-for-pound fighter in the sport, St-Pierre was no longer fighting for enjoyment, and he wasn't competing because he loved it.
And he just wasn't having fun anymore.
"The last two or three fights, I didn't have fun." St-Pierre said in a recent interview with Joe Buck on "Undeniable". "I did it because I had to, not because I wanted to and I had too much pressure, too much criticism, too much things for too long and it's very hard when you're world champion, all your life is directed (on that).
"Especially for me with my obsessive-compulsive disorder, I wanted to be the best in the world so everything I do, it's directed on that. That's all that mattered for me. I needed to step out of if to have a normal social life. To take a mental break of all that."
St-Pierre says that he's suffered from obsessive-compulsive disorder (OCD) for most of his life and that problem only multiplied once he got to the UFC and became the best welterweight in the world.
Rather than truly loving what he was doing every day, St-Pierre says his job became routine so that he could remain on top and maintain his championship status. Following a loss to Matt Serra in 2007, St-Pierre became even more obsessed with winning and focused so intently each fight that he lost sight of almost everything else he was supposed to be enjoying about life.
"The thing that happened, when I first started doing this sport in the beginning I didn't have any money. I was doing it for the love and the passion of the sport. I really liked what I was doing. It was money, but I was not a wealthy person and I was doing it for the fun. Then the fun became a business. It became a lot of money and business involved, other kinds of problems that comes with that. (Notorious) B.I.G., the rapper said 'more money, more problems', which is true," St-Pierre said.
"So the fun became a business and the business became stressful. The stress became the brick that I'm carrying on my shoulder all the time. I decided to take that brick and put it down and try to step out of the sport instead of try to carry it as long as I can and maybe lose a fight and get beat up bad."
To put his obsessive-compulsive disorder in context, St-Pierre says that winning a big fight is supposed to be a celebratory moment where a competitor can truly appreciate all the hard work they just put forth -- and then take a step back to relax while hitting the reset button following a grueling training camp.
For St-Pierre, his obsession with being the best got so bad that the moment a fight was over, he was immediately turning his attention to what came next and forgot how to actually relish the moment. He no longer lived in now.
St-Pierre could only think about what was next.
"To show you how crazy I am, an example of my OCD, when I used to win the world title I was very happy. As soon as Dana White announced who I'm going to fight next, my mind is shifting towards that person that I'm going to fight next," St-Pierre described. "Like I just can't release it mentally, I can't take a break. I'm supposed to enjoy it.
"Some people will take some vacation. I just can't. I'm taking vacation but I'm constantly thinking about that next guy in line. I'm telling myself, because I was champion, now I'm thinking about him now until the fight, which is maybe six months. But he's been thinking about me for the last few years, since I got the title. So I'm telling myself I better get ready because he's ready for sure coming at me."
When it finally got to be too much, St-Pierre decided to take a break from competition. He surrendered his welterweight title and largely faded into the background while stepping back from the sport he ruled for several years.
Since then, St-Pierre has stated that in addition to his own personal issues, he was also faced the growing problem of performance-enhancing drug use in MMA that has plagued the sport for years. The UFC recently launched an extensive anti-doping program and that definitely makes St-Pierre happy but he's still not ready to pull the trigger on a return to the Octagon just yet.
At 34, St-Pierre knows he's in the prime of his athletic career right now but that time will pass in a hurry so if he's going to make a comeback, a decision will likely come sooner rather than later.
He says the UFC has called on a few occasions to offer him fights or different opportunities, but at this point St-Pierre is committed to his own personal sabbatical and if he decides to come back, he'll dictate the timing and not the other way around.
"The truth is they've called me a few times," St-Pierre said about the UFC. "Sometimes they make the other people call me to have the message. The truth is if I want to be back, it's going to be up to me to tell them when I want to get back."
It's hard for St-Pierre to go anywhere or do anything without the question of his return coming up so he knows that a decision on returning or retiring will have to happen eventually, but right now he's just not ready to make that call.
There has been speculation that St-Pierre could end up as part of the planned UFC 200 card in July, but it appears if that happens, it's only going to be on the former welterweight champion's terms.