Game 1 assignment shows Royals' renewed faith in Yordano Ventura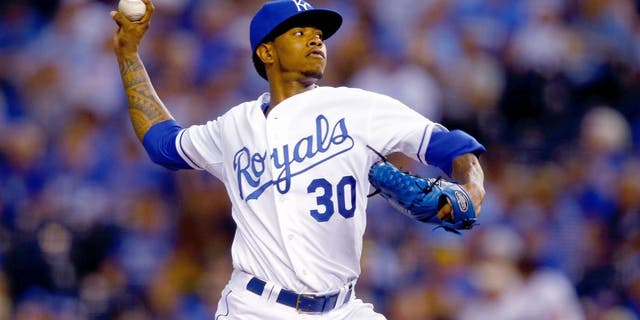 NEWYou can now listen to Fox News articles!
KANSAS CITY, Mo. -- For the second straight October, a player sent to the minor leagues during the regular season will occupy a critical role on the Kansas City Royals' playoff roster.
Last year, third baseman Mike Moustakas had an eight-game tuneup at Triple-A prior to his breakthrough postseason. And on Thursday, right-hander Yordano Ventura will start Game 1 of the American League Division Series less than three months after a July assignment to the minor leagues -- albeit one that lasted only a few hours.
More important, the Royals also are prepared to use Ventura in Game 4 if they are facing elimination. Kansas City believes Ventura is best suited among its starters to pitch on three days' rest. That's why the team decided to start Ventura in the series opener against the Astros or Yankees, followed by right-handers Johnny Cueto in Game 2 and Edinson Volquez in Game 3. Cueto could pitch Game 5 on regular rest, if necessary.
Neither Ventura, Cueto nor Volquez has pitched on short rest in the major leagues, but the Royals are confident Ventura has the repertoire and stamina to do so. Ventura's workload does not appear to be a significant concern, as he threw roughly 20 fewer innings in the 2015 regular season than he did last year.
If the Royals are ahead in the series, two games to one, veteran Chris Young is most likely to start Game 4. Kris Medlen is another option to round out the Royals' postseason rotation, but Medlen is more experienced at pitching out of the bullpen than Young and therefore could be used in that role over the first three games.
Ventura had a tumultuous first half of the season, including a fine for throwing intentionally at Oakland's Brett Lawrie and seven-game suspension for his role in an April 23 brawl with the Chicago White Sox. But he's pitched like an ace -- 7-1 with a 2.38 ERA -- over 11 starts since Aug. 11. Royals manager Ned Yost cited the presence of Cueto, who arrived in a July trade with Cincinnati, as a key influence in Ventura's maturation.
"At the beginning of the year, I put a lot on him, being the No. 1 starter," Yost said. "He really wanted to step up and be that guy. He put a lot of extra pressure on himself. He's a young guy. As the year went along, he went through adversity, and he learned from it."