French Open takeaways: That was one heck of a day for Maria Sharapova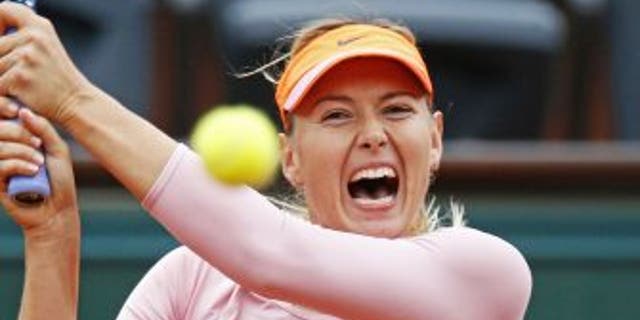 Your big winner Wednesday in Paris: Maria Sharapova.
The seventh-seeded Russian won her second-round match in straight sets over Tsvetana Pironkova in two relatively uneventful sets, 7-5, 6-2. That much is good enough for any player, but her biggest win of the day came before she even took the court.
Earlier that afternoon on Court Suzanne Lenglen, No. 1 seed and defending champion Serena Williams was sent home in an absolute stunner -- a 6-2, 6-2 loss to unheralded Garbine Muguruza. Williams beat Sharapova in last year's French Open final, and the two were drawn into the same quarter this year. Serena's loss leaves Sharapova has the top seed in the quarter and the favorite to win the title.
But that wasn't all. No. 29 seed Venus Williams, also in Sharapova's quarter, lost Wednesday as well. So did No. 16 Sabine Lisicki, who was forced to retire due to injury.
That leaves No. 9 Dominika Cibulkova and No. 19 Sam Stosur as the only seeded players besides Sharapova in her quarter of the draw. One of those two will be out in the next round when they play each other.
"You always have to follow your path and always concentrate on your work and who's ahead of you," Sharapova said, shrugging off the big deal we're making of it here. "Obviously, when you go on court, you're aware of a lot of the upsets ... So it's great to get a win in that type of atmosphere."
Sharapova has enjoyed as good a two-year run at Roland Garros -- she was the champion in 2012 before last year's runner-up bid. The deck is stacked once again for her to make a run at the title.
Welcome to the big stage, Taylor Townsend
So who's left to root for on the women's side for the U.S.? How about 18-year-old Taylor Townsend, who showed impressive poise in a rollercoaster of a match against France's own Alize Cornet.
Townsend took the first set of the No. 20 seed, then led 4-1 in the second before getting loose and losing the set 6-4. But the young Townsend roared back and jumped out 5-1 in the third set. Once again, Cornet clawed back in front of the home fans, pulling to within 5-4 before Townsend finally finished it off and erupted in celebration.
How does it feel to win on a day when the flag carrier of American tennis was not so fortunate?
''Serena lost?" Townsend said when asked a similar question. "She did? Oh. Oops. Whoa. ... I thought she won. I saw (the score), 2 and 2. I was like, 'Oh, that was fast.' Wow."
This is Townsend's first-ever appearance in the main draw of a Slam, and she is making it count. She's currently the only American in the third round at Roland Garros. No. 15 Sloane Stephens, Coco Vandeweghe and Alison Riske are all slated for second-round matches Thursday.
The men are headed down a more traditional path
As for the guys on Wednesday, not much in the way of surprises. No. 2 Novak Djokovic, No. 4 Roger Federer, No. 6 Tomas Berdych, No. 8 Milos Raonic and No. 10 John Isner were all relatively easy winners.
All that chalk has set up some interesting third-round match-ups. Djokovic gets the tricky No. 25 seed Marin Cilic. Raonic will contend a hostile crowd against the 29th-seeded Frenchman Gilles Simon. The up-and-coming No. 22 seed Jerzy Janowicz squares off against France's Jo-Wilfried Tsonga, the No. 13 seed.
Photo of the day
The way the Bryan brothers pass the time during a rainy changeover is oddly compelling:
Outfit of the day
We have a weakness for fuzzy animal hats: