Frankie Edgar: 'Embarrassing' loss to Conor McGregor had to mess with Jose Aldo's psyche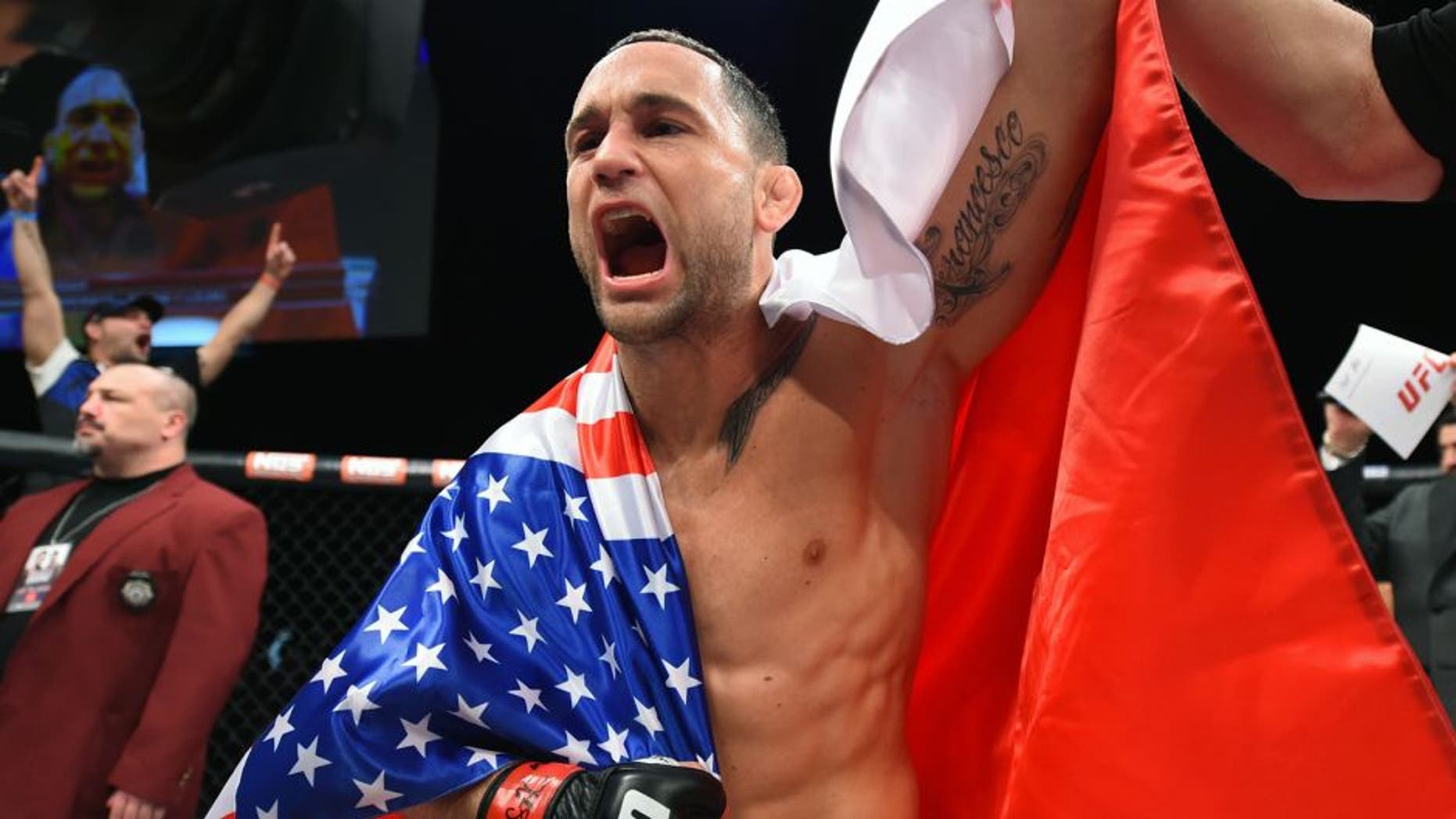 Confidence is a key factor for any fighter heading into battle, and Frankie Edgar is honest enough to admit he was second-guessing himself a little bit before facing Jose Aldo for the first time in 2013.
The fight with Aldo was not only Edgar's first at featherweight, but it came after he lost two razor-close decisions to Benson Henderson that saw him give up the lightweight title and then fail to win it back in the rematch.
Edgar certainly trained for Aldo the right way and stepped into the Octagon with every intention of winning, but he can't deny the doubts that lingered after two losses in a row managed to creep into his mind ahead of the fight.
"When we fought the last time, I was coming off a two-fight skid at lightweight and when you have two close fights, you start to second-guess yourself a little bit," Edgar told FOX Sports.
"It's that inner fight with yourself. I always believed in myself, I always prepared the right ways. Even after that Benson Henderson fight before the Aldo fight, I did everything the right way, it's just that inner battle. You lose close fights and you start second-guessing those little things that you normally wouldn't. I had to forget about that."
The fight with Aldo also ended in a very close decision and after three straight losses where the judges ruled against him each time, Edgar knew it was time to make a change.
It wasn't about a new coach or new training partners -- it was about a shift in mentality that forced Edgar to stop doing just enough to win and instead going out with an instinct that was akin to kill or be killed.
"I think I've gotten past that," Edgar said. "I've made the adjustments so I'm not in these close fights. You can arguably say I haven't lost a round since the Aldo fight. I'm putting guys away now. I'm just a much more improved fighter.
"Confidence is everything. You go in there and believe in yourself and you can't be stopped. I feel like you've got to be good to be confident first and I know I'm good enough to have the confidence that I have. Now that I believe in it, it's just going to make everything that much better. I think I'm going to come out there in the first round guns blazing."
While Edgar's confidence is soaring ahead of UFC 200, he wonders if the same can be said about his opponent, who is returning to action following a devastating loss to Conor McGregor last December.
Aldo hadn't lost in a decade, but in just 13 seconds McGregor put an end to the mystique surrounding the once seemingly invincible Brazilian as he laid him out with one punch.
Since that time, Aldo has shrugged off the defeat and said that he doesn't even really consider his showdown with McGregor an actual fight because it ended so quickly.
But Edgar says as much as Aldo tries to deflect and avoid talking about that loss, there's no denying that it happened and maybe he's just living in denial after being put to sleep by one of the most heated rivals of his entire career.
It has to mess with you. Close losses mess with you, never mind getting knocked out with one punch. Especially to a guy like Conor, who is going to relish in it the way he does and talk about it the way he does, no one's better than him with that. I don't want to say it was embarrassing because it can happen to anybody, but for Aldo, I think it was a little embarrassing. To be on top for so long and then have it happen like that to that guy. That's definitely got to mess with him. -- Frankie Edgar
"Maybe he'll bounce back and be more motivated, but he himself won't know until we step in there," Edgar said.
Aldo has put on a good face ahead of the rematch with Edgar on July 9, looking angry and determined to get back to the championship he held ever since the UFC first introduced the title in 2011.
Of course, Edgar had that same steely resolve before he fought Aldo the first time, even though deep down inside he had a few doubts.
Whether Aldo wants to admit to it or not, Edgar knows the former featherweight champion will have a few questions running through his mind until he finally steps into the Octagon on Saturday night.
A few punches to the head might wake Aldo up, or it could put him to sleep and that's what Edgar is anxious to find out.
"It's really going to come down to that night. I think if he's looking to quit right now, those first couple of punches we're really going to find out if he wants to step and say he's still a fighter and he still wants this," Edgar said. "A lot of people that get knocked out like that do lose that fight.
"I do think if I hit him with some good stuff early on, he's going to really be questioning himself. Not only is he going to question himself from his last fight, but he's going to question himself in the first couple of minutes of our fight."
Edgar has been incredibly impressive during his current five-fight win streak and nothing would make him happier than adding No. 6 by finishing Aldo inside the distance while walking out with the interim featherweight title.
Before their first fight, Edgar probably didn't make a bold prediction about finishing Aldo inside the distance, but that's not the case for the rematch. Edgar believes the judges can go ahead and put down their scorecards because Aldo isn't making it to the final bell.
"I get it done within three," Edgar said about a perfect ending to the fight. "Hand raised. I walk home with that belt."