Frank: CM Punk would lose to me and he couldn't live with himself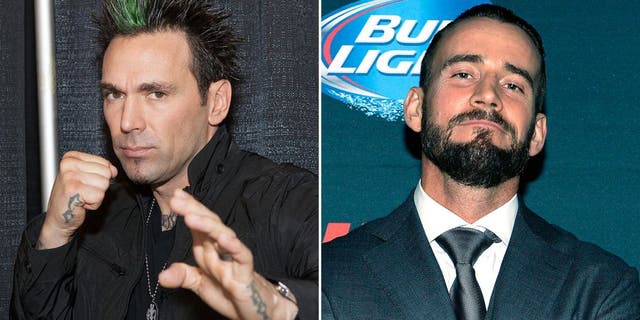 NEWYou can now listen to Fox News articles!
As the MMA world anxiously awaits news on former pro wrestler CM Punk making his UFC debut, former "Mighty Morphin Power Rangers" star Jason David Frank is still campaigning for the shot to be his first opponent.
Frank, who fought several amateur MMA bouts as well as one professional bout, has been asking to fight Punk since the former pro wrestling entertainer announced his intention to leave the WWE and sign a contract to compete inside the Octagon.
Frank addressed the possibility of fighting Punk right after he signed to the UFC and Frank has continued to hunt for a response from Punk. As 2015 is coming to a close, Frank is still waiting for an answer.
"I'm still interested to the point now where it's like step up or tell everybody that you're stepping down," Frank told FOX Sports. "I'm very interested in the fight. I've been pursuing the fight for a long time. He's the one telling fans I'm a stalker and he was saying at C2E2 in Chicago that I need to shut up. This is the fight game. I've got to keep the pressure on him. I want everybody to know when he steps down that my challenge has always been there and he's the one that's walked away from me."
While Punk's entry into the sport will come as a 0-0 fighter with no actual experience in the cage outside of his sparring sessions at Roufus Sport in Milwaukee, Frank has credentials to back up his claim that he could be a viable opponent for his first UFC fight.
Frank is a lifelong martial artist, who eventually transitioned to MMA a few years back before racking up a 4-0 record as an amateur and 1-0 as a pro. With his background playing the Green Power Ranger in the long running kid's action show, Frank knows he has the drawing power to make a fight with Punk even more intriguing than just having his name on the marquee against someone UFC fans have never heard about before.
"The only thing to save him is to get a great fight that's going to pull the numbers in," Frank said. "I think when he went into it, he wasn't serious about it. It's not the WWE and he probably talked a little bit too much and then went to camp and it was harder than he thought it would be. Maybe he's second guessing himself. I know he's supposed to fight but we haven't heard anything about when it will happen. Where's the buildup for the CM Punk fight?"
Frank has been vocal since Punk signed with the UFC about landing the fight, but he doubled his efforts recently when he began training with former UFC and WEC fighter Jeff Curran at his home gym in Illinois.
Frank promises that if he actually gets the fight with Punk, he would double things again to make sure he's in top physical condition to make his own UFC debut.
If nothing else, Frank would respect Punk more if he just flat out declined the fight and said he had no interesting in facing him. That's better than the alternative, which has been radio silence ever since Frank first mentioned possibly fighting him over a year ago.
"I just know in my heart, and I'm happy if he dodges me and steps away from that 'best in the world' title to say I don't want to fight JDF," Frank said. "There's a reason why. Maybe I was too confident and maybe I'm in his head because people keep asking him about it. There's nowhere to run. Step up and say 'no.' I'd give you more credit to say 'I'm never going to fight you.' He can't say I'm not worthy or I'm not in his league because I've got more fights than he has."
Frank is well aware that Punk's first fight in the UFC will be a draw no matter who he faces, but putting him in the Octagon with another celebrity with a recognizable name only ups the ante for the card and the promotion.
Fans have gotten on board as well with one promo video posted on YouTube currently sitting with 1.2 million-plus views over the last nine months.
Frank is staying vigilant until he knows there's no more hope to land the fight. If the UFC declined the offer that's one thing, but Frank is convinced that Punk will have some kind of say in who he faces for the first time and he knows deep down that a fight between the two of them would be an attraction.
"I truly believe that he has it in his contract that he gets the last, final say on who he fights and he just won't give it to me," Frank said. "Because I already have fans behind me and he'll lose to me and he couldn't live with himself. Maybe he could lose to some no name and maybe he feels better losing to somebody else, but he doesn't want to lose to me. That's the bottom line.
"He's never going to be able to run away because one day down the road he's going to have to face me. Even if I'm 50. And when I'm 50 I'll still beat him. I'm in his head and he knows I'm in his head. I've already won. If I'm not in his head, respond back."