FOX NASCAR analysts Gordon, Hammond and McReynolds break down the Chase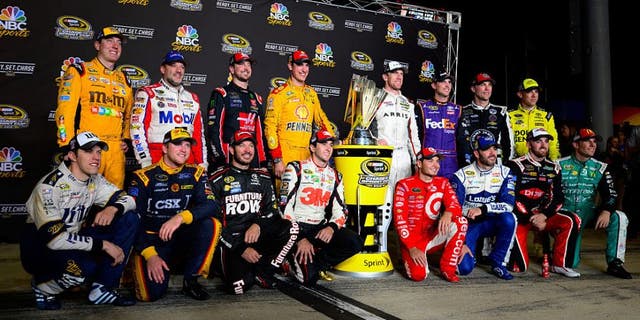 As teams prepare to kick off the Chase for the NASCAR Sprint Cup this weekend at Chicagoland Speedway, FOX NASCAR analysts Jeff Gordon, Jeff Hammond and Larry McReynolds share their thoughts on storylines headed into the Chase and their picks for the championship:
On the favorite for the championship:
"For the first time in a couple of years, I see no clear-cut favorite headed into the Chase. Unlike two years ago when Kevin Harvick was on fire and last year when Kyle Busch was, it's difficult to predict given the performance and inconsistencies among the top 10 or 12 teams. Indications point to Joe Gibbs Racing but not like they did in the spring and early summer. There has to be someone out there we aren't talking about that could stun the field, and it could be Kyle Larson. With the positive momentum and confidence he has, Larson could be the guy making the most noise in the Chase."
--Larry McReynolds
On his prediction for the final four teams at Homestead:
"Kevin Harvick, Martin Truex Jr., Carl Edwards and Joey Logano."
--Jeff Hammond
"This Chase format is so different than what we had prior to 2014 because all it takes is one parts failure somewhere – Jimmie Johnson at Dover is a prime example -- or someone retaliating – Matt Kenseth and Joey Logano at Martinsville. It's all about timing. Headed into the NFL playoffs, the team with the best record doesn't always make it to the Super Bowl. But as the Chase opens, my final four picks are Martin Truex Jr., Kevin Harvick, Kyle Busch and Kyle Larson."
--Larry McReynolds
On his pick to win the championship:
"At this point, it will be Kevin Harvick for one reason and one reason only -- he has told everyone he will do whatever it takes to win the championship this year. He is more focused than the previous two years, in which he won one championship and finished second in the other. He is looking for redemption and may be the biggest threat of them all."
--Jeff Hammond
On whether Martin Truex Jr. and his No. 78 team can overcome the problems they have been having as the Chase opens:
"I don't see why not. They have fast cars and are getting better and working through their problems more. It would be easy to overlook that team due to the problems they've been plagued with, but the competition better be careful. The No. 78 is a young team that made the Chase for the first time last year and learned valuable lessons to come back stronger and be a legitimate contender."
--Jeff Hammond
"There's slight concern but look at the momentum they have going into the Chase. The performance they had at Darlington was nearly flawless and reminded me of Charlotte other than the fact that maybe the No. 4 car was better than them for a good portion of the race. But they were flawless on pit road for the first time all year, and if they can carry that in, they won't have any problems."
--Jeff Gordon (on NASCAR Race Hub)
Kevin Harvick probably lost the Darlington race because of an issue on pit road, and team officials made a pit crew change the next week. Can his team legitimately contend for the championship without additional changes on pit road?
"Harvick is good at running second, but when it comes crunch time, he needs to be able to count on his pit crew to gain spots – and at the very least not lose them. As long as Joe Gibbs Racing is out there, the No. 4 team has to step up and match them every week. They know where their Achilles Heel is – they've got great cars, but late-race pit stops have been killing that organization."
--Jeff Hammond
On which four drivers are most likely to be eliminated from the Chase after the first round:
"Chris Buescher, Chase Elliott, Jamie McMurray and Jimmie Johnson. You can't keep running 11th with the rest of the guys outrunning you. You'll be the odd man out."
--Jeff Hammond
Assess Hendrick Motorsports as the Chase opens and whether they can keep up with the Toyota camp:
"We haven't seen as good a performance from the Gibbs cars as we did out of the No. 78 at Darlington, but Hendrick Motorsports is working really, really hard, and they are making some gains."
--Jeff Gordon (on NASCAR Race Hub)
"We can't say Hendrick Motorsports has turned the corner yet. The Richmond results are a good indicator that even their best and most experienced team – the No. 48 – still doesn't have its act together. Most of the Hendrick-affiliated teams in the Chase outran them at Richmond -- Kurt Busch and Kevin Harvick, while Jamie McMurray and Kyle Larson are getting stronger. The teams they're furnishing engines and cars to are running better than they are. It will be interesting to see how they come out of the gate at Chicagoland this weekend because if they get off to a slow start like they have in years past, it will be another one of those quick exits for Hendrick Motorsports."
--Jeff Hammond
On who could be the biggest surprise in the Chase:
"Kyle Larson. They have speed – even the races in which they had bad finishes, they had speed. The No. 42 car is going to be game on."
--Larry McReynolds
"The surprise will be Chris Buescher. I'm not going to say he's going to win the championship, but I think he's going to run better than a lot of people anticipate."
--Jeff Gordon (on NASCAR Race Hub)
"Kyle Larson because he's made the most noise in recent weeks, has a ton of momentum and has nothing to lose. He's fast and has gotten smarter. I've seen a lot of promising things out of that team. I don't know what button they pushed, but Larson could wind up being that unknown that could upset a lot of teams in the next 10 weeks."
--Jeff Hammond
On opening the Chase and finishing the season with Dale Earnhardt Jr. on the sidelines:
"Let's take a page from our current champion, Kyle Busch. He got injured at Daytona and was out for a long period of time. During that time, he basically went back to school, learned a few things and came back stronger than ever. Sitting out the remainder of the season may give Dale Jr. an opportunity to see exactly how badly he wants it. If he were to come back at Daytona, he could easily win in his comeback and be right back in contention to win the championship in 2017. It might work out to his advantage."
--Jeff Hammond