Forward Pass: Why Michigan's Jim Harbaugh is officially a genius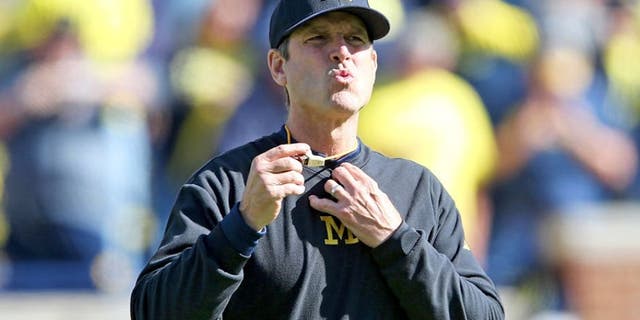 NEWYou can now listen to Fox News articles!
Michigan fans have been saying it since December. Now it appears to be more than an overzealous expression of optimism.
Jim Harbaugh is a genius.
No, really.
It's not just that the Wolverines' anointed savior has turned a team that went 5-7 a year ago into a bona fide Top 10 squad (at least in my rankings) that's considered a touchdown favorite this week against 6-0 Michigan State. Or that Michigan on Saturday became the first FBS team in 20 years to pitch three straight shutouts (38-0 over then-5-0 Northwestern).
According to Big Ten Network analyst Gerry DiNardo, Harbaugh is installing wrinkles to his pro-style offense that DiNardo never saw in 30 years of coaching.
"It seems these days if you wear a visor and run the spread, you're a genius," said the former Vanderbilt, LSU and Indiana coach. "Jim's gone just the opposite. This is his genius."
While competitive in their 24-17 opening week loss at Utah, the Wolverines appeared to have much the same Achilles Heel that night as they did in Brady Hoke's latter years -- a dreadful offensive line. Michigan could manage just 2.6 yards per carry on the ground, forcing quarterback Jake Rudock to attempt a very un-Harbaugh-like 43 passes. They included three costly interceptions.
Shortly after that game, though, DiNardo noticed Michigan making some unusual but effective adjustments. Harbaugh might play a tailback, a fullback and two tight ends, with all but one of them lined up in the backfield. Or send all but one up to the line of scrimmage to pass-protect. Extra blockers between the tackles create extra angles for the running backs and extra double-teams to fend off an opponent's blitz.
Not to mention the defense isn't expecting that lead-blocking fullback to suddenly take the belly dive and dash 34 yards.
"He's being very creative, and yet to the naked eye it appears old-fashioned. It's not," said DiNardo. "It's fascinating. It's the most exciting X's and O's thing I've seen in a long time."
Certainly Michigan would not be where it is without a dominant defense that's allowing just 3.06 yards per play, second-best nationally, and has allowed just 14 points total in its last five games. But the Wolverines were pretty good defensively before, and that was with acclaimed coordinator Greg Mattison -- who's now a position coach under renowned Will Muschamp-Florida coordinator D.J. Durkin. That's a lot of wattage.
Harbaugh's imprint is on an offense that controlled the clock for 37:05 against the Wildcats and scored 24 points on a defense that came in allowing 7.0 points per game. (Michigan also scored on a kick return and a pick-six.) It's allowed Rudock to play a controlled game most weeks and for tailback De'Veon Smith to average 7.7 yards per carry in his last two outings.
But now comes the Wolverines' stiffest test since that Utah opener. (As it turns out, the Utes are pretty darn good themselves.) Mark Dantonio's Spartans -- ranked No. 2 in the country only a couple of weeks ago -- have beaten their in-state nemesis six of the past seven seasons. Michigan State's Connor Cook is obviously a far more heralded quarterback than Rudock. Defensive end Shilique Calhoun is more accomplished than anyone on the Wolverines' defense.
Yet while Michigan has looked so dominant of late, Michigan State has struggled to put away the likes of Purdue and Rutgers. Key injuries are piling up on the Spartans' offensive line (tackle Jack Conklin and center Jack Allen are banged up) and defense (cornerback Darian Hicks went out against Rutgers). Suddenly a Wolverines team that DiNardo, when he saw them in preseason practice, deemed the conference's third-best team but far behind Ohio State and Michigan State is widely expected to win the game.
"The fact that it's [at] Michigan, Jim has this incredible momentum, he can play the 'they've kicked our butts' card -- all of the emotions are on his side," said DiNardo.
We're probably getting ahead of ourselves, but then many have been doing that since before Michigan even formally hired Harbaugh.
But whatever happens Saturday, Harbaugh's much-anticipated impact on the Big Ten is already coming to fruition. For the first time in years, Michigan's games against both the Spartans and Buckeyes should hold national consequences. Meanwhile, Saturday night, James Franklin takes 5-1 Penn State to the Horseshoe where it'll admittedly be considerable underdogs -- but so were NIU and Indiana.
By night's end we'll know whether the Big Ten playoff chase will ultimately include more than two contenders -- and which ones they'll be.
PATTERSON BACKS TREVONE BOYKIN'S HEISMAN CASE
Gary Patterson paused before speaking. I'd just asked him a question about his star quarterback's Heisman prospects. I figured he was about to deflect or downplay the story. Instead ... he went there.
"The team has to win for a guy to win the Heisman, but what does that guy mean to their team?" the TCU coach told FOX Sports on Sunday. "I don't think anyone means more to their team than Trevone [Boykin] means to us. Two times now he's put us on his back and come from behind on the road, which is a hard thing to do."
Indeed, for the second time in three weeks, TCU on Saturday found itself in a shootout on the road against a conference foe, this time even falling behind by 18 points at Kansas State. Once again, Boykin, who racked up 527 total yards in an earlier 55-52 win at Texas Tech, came to the rescue. His 425 yards included a go-ahead 69-yard touchdown run and game-winning 55-yard touchdown pass to star receiver Josh Doctson for a hard-earned 52-45 win.
With fans and media busily dissecting every potential playoff contender's flaws, many are questioning whether the third-ranked Horned Frogs (6-0) and their injury-stricken defense are living on borrowed time. Patterson does not seem nearly as concerned.
"I knew this schedule of four games [culminating with this week's trip to Iowa State] was going to be tough with three of the four on the road," he said. "Especially right now, everyone's going to take their shot because we're not playing as well as we have defensively in the past. Coach [Bill] Snyder said this was the first game he had seen his team play with that much passion.
"... I'd rather be [scrutinized] than no one paying any attention to us."
The road might not get easier for the Horned Frogs, now winners of 14 straight. The Big 12 is proving to be far deeper than most expected. Oklahoma State, which hosts TCU on Nov. 7, improved to 6-0 with an overtime win at West Virginia. The Cowboys have been impressive defensively. Patterson's team closes the season at Oklahoma and, on Nov. 27, faces a certain undefeated team in Waco that's currently averaging 64.2 points per game.
But it also means TCU has time for its inexperienced defense to gel. Asked about the unit's struggles, Patterson pointed to two positives. For one, it's a week removed from shutting down Texas (which turned around and beat Oklahoma) in a 50-7 rout, and on Saturday, it held K-State to 134 yards in the second half and returned a pick-six.
"One thing they've done in both the Texas Tech game and Kansas State game, they got stops when they need to," Patterson said. "As a young defense, you've just got to learn to do that all the time."
If not, Boykin will just have to keep playing Superman.
THIS SAD SARK STORY CAN END ONLY ONE WAY
Contrary to what some might think, sportswriters (or at least this sportswriter) take no glee in calling for someone's job. When a coach gets fired, so do his assistants and support staff, and a whole bunch of families get uprooted. It's not fun. So I play that card only when a situation is clearly untenable, as was the case last Thursday as I watched Steve Sarkisian -- a guy I've known for 10 years and have always enjoyed interacting with -- seemingly sow his USC fate.
And that was before Sunday's sad news that Sarkisian's alcohol problem has reared its head again. He showed up at the office "in no condition to work," as my colleague Bruce Feldman reported, and this was apparently not the first time. Forget losing to Washington. Hopefully Sark, whom AD Pat Haden put on an indefinite leave of absence, will finally get the professional help he needs.
There seems little chance Sarkisian will coach another game at USC. But school leaders need to take a serious look at why he was even allowed to do so in the first place this season.
Seemingly the entire college football media and coaching industries had heard the stories of Sarkisian's behavior, dating even to his time at Washington. Either Haden himself was oblivious to them or did not take them seriously enough when he opted to let Sarkisian keep coaching following his Salute to Troy incident in August. Neither reflects responsible decision-making on the part of an athletic director of a major football-playing school.
I wrote in August that Haden's and Sarkisian's futures at USC were intertwined. In the wake of Sunday's news, calls for Haden's head had already intensified. As bad as the 2010 NCAA sanctions were, this week has been a new recent low point for USC football. The only solution is going to be an eventual complete break from USC's past for the entire athletic department.
THIS WEEK'S BOWL FORECAST
Each week, I'll update my predicted lineup for the New Year's Six bowls based on the latest week's games.
Peach: LSU vs. Houston (Group of 5)
Fiesta: Notre Dame (at-large) vs. Utah (at-large)
Sugar: Alabama (SEC) vs. Baylor (Big 12)
Rose: Iowa (Big Ten) vs. Stanford (Pac-12 champ)
Orange (semifinal): No. 1 Ohio State vs. No. 4 Clemson
Cotton (semifinal): No. 2 Texas A&M vs. No. 3 TCU
Well, this is the week where we may find out whether my contrarian preseason SEC championship prediction could actually come to fruition. Texas A&M, 3-5 in the SEC last year and unranked to start the season, has begun 5-0 and risen into the Top 10 in the polls, but Saturday's Alabama game always figured to be the Aggies' litmus test. The Tide appear more beatable than at any time in the last seven years, but they did win last year's meeting 59-0.
For now, A&M remains my SEC playoff representative, and in fact this lineup saw only one change from last week -- moving 5-0 Houston into the Group of 5 spot. For those keeping track, that's three different AAC teams (Temple, Memphis and Houston) to have made an appearance. But the Cougars may be the most complete squad of the bunch.
I'LL BE KEEPING AN EYE ON ...
Alabama WR Calvin Ridley. The freshman is emerging as the big-play threat that Tide coaches envisioned, grabbing an 81-yard touchdown against Arkansas a week after scoring from 45 yards out on Georgia. QB Jake Coker is benefitting from it.
Washington RB Myles Gaskin. The freshman is emerging as the explosive back U-Dub has been missing since Bishop Sankey's departure two years ago. Gaskin torched USC for 134 yards, including all 50 on a four-play touchdown drive.
Maryland interim coach Mike Locksley. A guy who went 2-26 in a disastrous stint at New Mexico (which included a suspension for a physical altercation with an assistant) will steer the 2-4 Terps following Randy Edsall's midseason dismissal.
North Texas interim coach Mike Canales. A guy who went 2-3 as the Mean Green's interim coach in 2010 (following Todd Dodge's dismissal) gets another shot leading 0-5 North Texas following Dan McCarney's midseason dismissal.
Boston College. Steve Addazzio's Eagles are strangely mesmerizing. They've allowed one offensive touchdown total in three ACC games -- and are 0-3. Botching end-game management in astonishing fashion clearly doesn't help.
THIS WEEK'S COACH OF THE YEAR
Texas' Charlie Strong. In a week's time, the 'Horns went from losing a game 50-7 and bickering with each other on social media to beating their Top 10-ranked rival and hoisting their coach in the air. "I guess they didn't want to see me get fired," he joked afterward.
THIS WEEK'S COACH ON THE HOT SEAT
Oklahoma's Bob Stoops. Three times in three years now, a Top-20 Sooners team has inexplicably lost inexplicably to an unranked rival (2013 Texas, 2014 Oklahoma State, 2015 Texas). Simply put, that didn't used to happen.
DON'T GO TO SLEEP ON CAL, PAC-12
The same unfortunate preseason Media poll that picked the Trojans to win the Pac-12 also had the conference's only remaining Top-10 team, Utah (5-0), picked to finish fifth in the South. Equally regrettable, there's Oregon picked atop the North.
The Ducks and Trojans now sit a combined 2-4 in conference play following USC's Thursday night debacle against Washington and Oregon's double-overtime home loss to Washington State. And the Trojans seemingly have a better chance of righting the ship under interim coach Clay Helton than the Ducks do with their inadequate quarterback play and atrocious defense.
That's why Thursday night's UCLA-Stanford game suddenly takes on added importance. The Bruins may be the one team left capable of taking down the Utes in the South (though Arizona State has risen to start 2-1 in league play), while the Cardinal are now undisputed frontrunners in the North.
But don't rule out upstart Cal. Despite five interceptions from star quarterback Jared Goff, the 5-1 Bears still had a chance to win in the final minute of their 30-24 loss in Salt Lake City. That speaks to the marked improvement of Sonny Dykes' defense, which itself forced three turnovers and now leads the nation with 21 on the season.
"They're playing with some confidence," Dykes said of a defense that ranked 107th nationally last season. "If somebody makes a play on us they just play the next play. They keep playing our game, keep playing hard and make people earn what they get."
Goff is not generally interception-prone. He had a bad night (and obviously Utah's defense had a lot to do with that.) If the Bears can get continued improvement from the defense, they may find themselves playing more meaningful games later this year.
ON TO NEXT WEEKEND
Three games we're most excited for:
Michigan State at Michigan (Saturday, 3:30 ET). Michigan State's Connor Cook is an incredible 29-3 as starter but has been up and down this senior season. He'll need to make quick throws under duress against Michigan.
Florida at LSU (Saturday, 7 ET). Leonard Fournette, still averaging 200-plus yards per game, goes up against a Florida defense allowing fewer than 100 per contest (12th nationally). This is going to be epic.
Alabama at Texas A&M (Saturday, 3:30 ET). After shutting down Georgia and Arkansas in consecutive weeks, it's like Alabama's Ole Miss loss never happened. "I think we are the best defense in the country, honestly," said CB Eddie Jackson.
Three games you shouldn't miss:
USC at Notre Dame (Saturday, 7:30 ET). It would be very USC-esque to turn around and win in South Bend off a bad loss to Washington and with an interim coach. The Irish D often struggle the week after facing Navy.
UCLA at Stanford (Thursday, 10:30 ET). Bruins QB Josh Rosen returns to the school that declined to offer him following an alienating camp visit. UCLA's struggling D braces for Kevin Hogan and Christian McCaffrey.
Penn State at Ohio State (Saturday, 8 ET). Will Urban Meyer continue his Cardale Jones/J.T. Barrett situational rotation against Penn State's salty D? National sack leader Carl Nassib (10) leads another Top-10 unit.
One under-the-radar gem:
Ole Miss at Memphis (Saturday, Noon ET). How fun is this? NFL-bound QB Paxton Lynch and the 5-0 Tigers' 13th-ranked offense goes up against Robert Nkemdiche, Trae Elston and the rest of Ole Miss' star-studded D.
Stewart Mandel is a senior college sports columnist for FOXSports.com. He covered college football and basketball for 15 years at Sports Illustrated. You can follow him on Twitter @slmandel and Facebook. Send emails and Mailbag questions to Stewart.Mandel@fox.com.