Former MLB pitcher Brad Halsey, 33, dies in climbing accident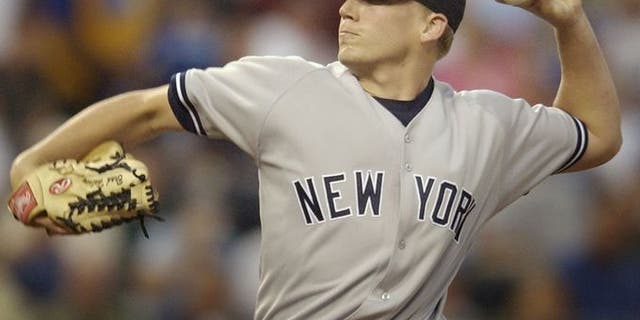 NEWYou can now listen to Fox News articles!
Former major league pitcher Brad Halsey died in a recreational climbing accident. He was 33.
Police in Comal County said an investigation was still ongoing into Friday's accident in the Texas Hill Country area. The Lux Funeral Home said services were pending.
"We are sorry to hear of the passing of longtime client, Brad Halsey," O'Connell Sports tweeted late Wednesday. "Our thoughts & prayers are with his family during this difficult time."
A judge who ordered Halsey's autopsy told USA TODAY said he died from multiple blunt force injuries, but the manner of death is currently unknown, Judge Jennifer Saunders told the newspaper. His body was found on a road in rural New Braunfels, Texas, at about 1 p.m. Friday.
"It appeared that he had climbed up about a 100-foot cliff on a private property and was discovered in a little road going up into that property,'' Saunders said. "He had either jumped or fallen.''
Asked if Halsey appeared to have been trying to hurt himself, Saunders said the investigation is ongoing.
Halsey's mother, Loretta, said he had been living in New Braunfels and was active in baseball, but declined to provide additional information.
"I really would like to keep this private right now,'' she told the newspaper.
A memorial service will be held Friday.
The left-handed Houston native was drafted by the New York Yankees in the eighth round of the 2002 draft. He made his major league debut with the Yankees in 2004. He went 14-19 in 88 games with the New York Yankees, Arizona and Oakland from 2004-06. Most recently, he pitched in the minors for the Yankees in 2011.
Halsey's most memorable appearance was on July 1, 2004, when he battled Pedro Martinez and the Boston Red Sox in the middle innings of what became a 5-4 Yankees win. It was the same night Derek Jeter made a highlight-reel sprinting catch and launched himself into the stands at Yankee Stadium.
Two years later, in 2006, Halsey gave up Barry Bonds' 714th home run, tying Babe Ruth for second place on the career list. Halsey later joked about the specially marked balls for Bonds' at-bats.
"They just have a B and a number on them, and a picture of Barry, too. If you look into his eye, he winks at you," Halsey said.
In January 2005, Halsey was traded, with Dioner Navarro and Javier Vazquez, to the Arizona Diamondbacks for Randy Johnson.
The Associated Press contributed to this report.