Flyers look to engage physical Sabres in Game 5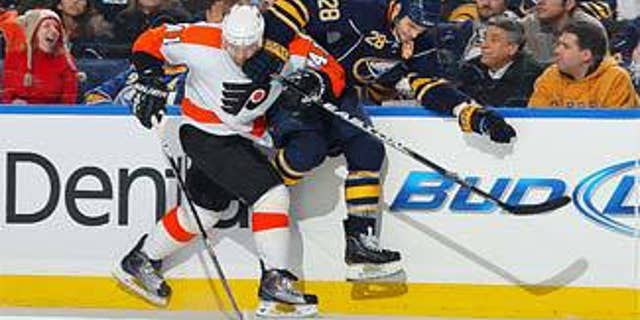 NEWYou can now listen to Fox News articles!
VOORHEES, N.J. -- For more than 35 years, the Philadelphia Flyers' one constant has been strong, physical play.
It's not often a team willingly will go blow for blow with the Flyers, but not only have the Buffalo Sabres stood toe to toe with the them, they've landed more shots through four games of the teams' Eastern Conference Quarterfinal series.
The Sabres out-hit the Flyers 24-17 in their 1-0 win in Game 4 on Wednesday, and for the series have out-hit them 117-105.
It's a marked contrast from the regular season, when the Flyers were 10th in the League in hits with 1,905, while the Sabres were 30th with 1,505; in four regular season meetings, the Flyers out-hit the Sabres 86-56. But at this time of year, what happened in the regular season doesn't mean a whole lot.
"It's a playoff game," defenseman Kimmo Timonen said following Thursday's optional practice here at Virtua Health Flyers Skate Zone. "I expect every team to play like that. Buff is not any different from any other team. It's not really a surprise to me."
"It seems like some of their games seem to feel that a street fight is what gives them the best chance," defenseman Sean O'Donnell said told CSNPhilly.com following the game. "They seem to want to get in some shots and intimidation and for whatever reason they feel they can intimidate us and out-physical us."
Following Thursday's off-day practice, the players said they plan on ramping up that physicality in Game 5 on Friday (7:30 p.m. ET, VERSUS, TSN, RDS).
"I'm expecting us (Friday) to come hard -- really hard," said Timonen. "I don't know how many hits we have, but I'm going to say we get double tomorrow."
The key to being physical, however, is doing it legally and staying out of the penalty box.
"I like our discipline, I like what we're doing walking away (after the whistle)," said Mike Richards. "I think we've been disciplined to this point. Obviously we can be better, can always be better, but at the same time we've done a good job walking away from the scrums and not feeding into their BS.
"They're a team that's working really hard right now to get under our skin and luckily we're not letting them."
Richards said the Flyers need to pick smarter targets for when they do get physical.
"We got away from hitting their players that we need to key on and not worry about the other players as much," he said. "They've got some skilled players that can make plays and if we allow them to move the puck and go up the ice with it without being hit, they're going to create a lot. Players like (Tim) Connolly and (Thomas) Vanek and (Tyler) Myers, we have to try get a body on them as much as possible to slow them down."
A media member also asked Richards if he cared to respond to some choice comments Sabres coach Lindy Ruff had made earlier Thursday regarding the Flyers' "whining" about penalties. Like he's seen his teammates skate away from scrums, he also skated away from a chance to engage in a war of words with the Buffalo coach.
"We're focused on (Friday)," he said. "We're just focused on (Friday), getting a good start, getting our licks in on some of their good players. Not worrying about the other stuff."
Finding offense -- The Flyers have seen the good and bad in Sabres goalie Ryan Miller. In two games, they've scored eight goals on him. But they've also lost a pair of 1-0 games, including Game 4 on Wednesday.
For a team that was third in the League in scoring in the regular season at 3.12 goals per game, it can be frustrating not to score, especially at this time of the year, even against a goalie as good as Miller.
However, the Flyers said they aren't getting frustrated and know what they have to do to be successful offensively.
Said Richards: "Bodies in front of him, second and third opportunities in front of the net, being hungry in between the dots and really bearing down on our chances. Not taking anything for granted because he's a great goaltender. You might see something and all of a sudden it's gone. Just try to make the most of your opportunities because you're not going to get them very often."
Coach Peter Laviolette said he doesn't think he needs to change his team's plan of attack at all. His team had 32 shots, plus 14 that were blocked and 19 that missed the net. He also counted 26 scoring chances.
"We threw pretty close to 70 attempts (at the net), and we had a lot of scoring chances," said Laviolette. "Just didn't happen last night."
Injury update -- The Flyers list All-Star defenseman Chris Pronger and forward Jeff Carter as day-to-day with their respective injuries, but one of them was on the ice Thursday.
Pronger, who hasn't played since March 8 due to surgery to repair a broken bone in his right hand, took part in today's optional on-ice session that consisted mostly of injured and extra players -- forwards Mike Richards and Ville Leino were the only regulars on the ice -- and handled and shot pucks during the 30-minute session.
Pronger skated with the team during its time in Buffalo, and continues to work his way toward a possible return at some point during the series.
Carter, who is suffering from a lower-body injury that CSNPhilly.com is reporting is a right knee injury, did not take part in practice and was not available to the media. He was hurt late in the first period on a collision with Sabres defenseman Tyler Myers and did not return.
Carter had a goal and an assist in Game 3 and he's been a big part of one of the Flyers' better lines in the series, skating at right wing alongside center Claude Giroux and left wing James van Riemsdyk.
If Carter can't play in Game 5, one option to replace him could be fourth-line forward Darroll Powe, with either veteran Jody Shelley or rookie Ben Holmstrom than making their playoff debuts on the fourth line.
Contact Adam Kimelman at akimelman@nhl.com. Follow him on Twitter: @NHLAdamK