First Team Lions Offense: Play by Play Breakdown vs Baltimore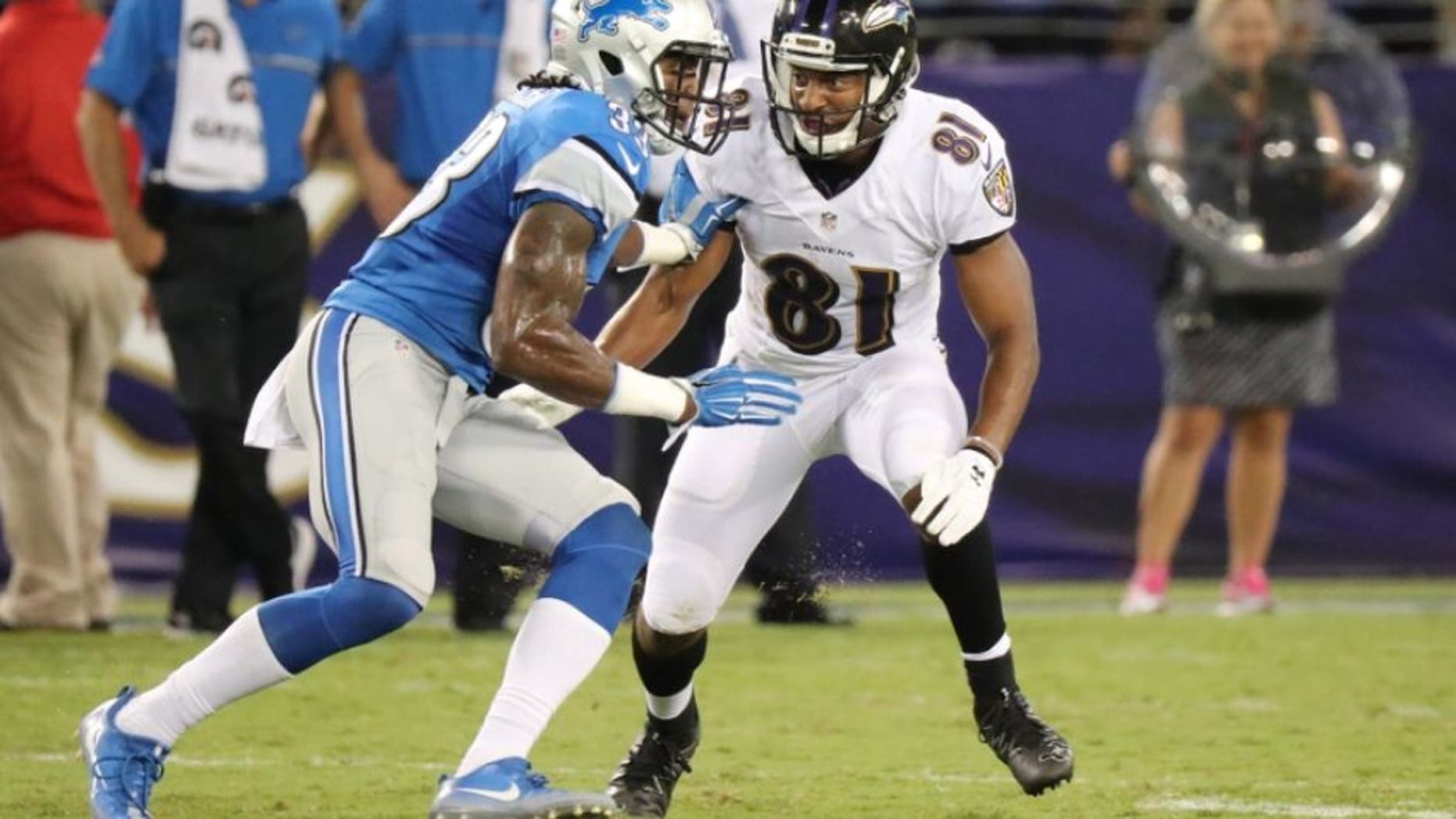 After a 20-6 showing in the first half from the Lions' offense in their Preseason matchup against the Baltimore Ravens, it is important to dive into the game film to find out what went wrong, what went right, and what can be improved.
Fortunately for the Lions this is just the preseason so this 20-6 doesn't "count", but make no mistake, you play how you practice and the Ravens showed us that Detroit has a lot to practice. So load up NFL Game Pass, and lets break this sucker down play by play.
Drive 1:
Play 1: 1/10 Incomplete pass to G. Tate
Gun vs 2 high press man, quick slant/flat combo. Little low in front of Tate but his hands are on it. May have seen the LB on his way to hit him.
Play 2: 2/10 Abdullah 1 yd run Left
Run left, good push from the line as Decker gets to second level quickly, but Wick is unable to set the edge on Suggs.
Play 3: 3/14 Incomplete pass to tate, (DPI)
trips right, 2 man high showing blitz but drop to coverage. Goes after fade from Tate who is blanketed but DPI is called on Jimmy Smith.
Play 4: 1/10 Pass to M. Jones 7 yds
A run play is called, but Stafford sees pressure off the left edge from the nickel and chooses hot read to Marvin Jones who makes a man miss after the catch. Similar to what Favre used to do in GB, hit the back side slant on run plays to catch overeager blitzes off guard and get free yards.
Play 5: 2/3 Incomplete pass to M. Jones
Play pass. huge miscommunication on a route and Ravens drop a free INT. First time all preseason those two have not been in sync plus side is, Stafford has all day to wait for the route to develop. Just gotta throw it right.
Play 6: 3/3 Incomplete short Left to Ameer Abdullah
empty set, pressure comes and the screen to Abdullah is a perfect play call. JBC anticipated the pressure and dialed the right counter, the problem is, Ameer drops the pass with nothing but green grass in front of him.
Takewaways: With the Ravens looking to bring pressure, protection is solid in the first drive giving Stafford time to throw. Two drops and the near interception stand out as this drive could've ended really bad or it could've had more potential. Ideally Theo is out there catching the screens but Ameer has showed he can catch the ball in the past. Expect the Lions to clean that up heading in to the season, as they will heavily be reliant on being sure handed in the passing game.
Drive 2:
Play 1: 1/10 Abdullah right for 3 yards
Nice block by Burton on Suggs and Ameer is clean to choose whatever hole he needs. He chooses, hits it hard for a nice 3 yard gain.
Play 2: 2/7 Abdullah Right for 1 yard
Counter run, Warford doesnt drive his feet and is shed by the DT who makes a nice stop. Not another Raven unblocked for 5 yards. Run had potential if bounced outside to the left.
Play 3: 3/6 8 yard pass to M. Jones for 8 yards
Ravens bring 6 and Decker does an excellent job on Suggs edge rush. Stafford has plenty of time to find Jones on the slant for the first down.
Play 4: 1/10 Pass to M. Jones for 10 yards
10 yard speed out to Jones, J. Smith almost under cuts it, but these are Stafford windows. Jones secures a tough catch, and manages to get his feet down, beautiful play by Jones.
Play 5: 1/10 Abdullah left for 11 yards
Decker has played well, and pushes his man toward the side line that opens a hole for that Ameer burst we saw in Nebraska. Ameer navigates the traffic well and ends the play with a nice power move on Jimmy Smith for 11.
Play 6: 1/10 Pass to T. Riddick for 7 yards
Simple swing to Theo, who makes Weddle miss bad. These two backs look good so far.
Play 7: 2/3 Abdullah right for 15 yard TD, called back for Holding
The blocking here is so solid. Unfortunate flag, but the push was solid on this play but Wick holds on to the Raven End. No one else was even close to the play.
Play 8: 2/13 Pass to A. Boldin for 8 yards
2 high off coverage, pressure comes and Stafford hit for first time, excellent recognition of the blitz and throws the quick out to Boldin to the right.
Play 9: 3/5 Pass to A. Boldin for 5 yards
Clean pocket, and Stafford delivers a nice ball on time to Boldin for the first down.
Play 10: 1/10 Incomplete pass to M. Jones
With the left side full of bodies, Stafford looks the safety off and comes back side to a one on one with Marvin Jones. While Jones beats his man, the throw is a little too wide and sails out of bounds. First off target throw this drive.
Play 11: 2/10 Pass to M. Burton for 1 yard
Nothing allowed deep by Baltimore and Matt checks down to a FB in the flat.
Play 12: 3/9 Incomplete pass to M. Jones
Rushing only three here, the Ravens drop into max coverage and Stafford is flushed out the pocket and delivers an off target ball on the run.
Receiver was open, just threw it wide.
Play 13: FG is good.
Takeaways: A nice, long drive from the Lions here showed how diverse this offense is. The O-line showed solid run blocking despite a penalty. Boldin showed toughness and solid hands from the slot. Stafford stayed clean most the drive and displayed solid arm strength and accuracy throughout the drive. He didn't make one bad decision, and looked impressive managing the drive. I would like to see 7 come from a drive like this from 2015's number one red zone Offense, but without Calvin and Ebron, there isn't a true red zone target to draw the attention from the defense.
Drive 3:
Play 1: 1/10 G. Tate run left for 6 yards
End around beats contain and Tate makes a nice gain of 6.
Play 2: 2/4 Pass left to C. Wick for 14 yards (Unnecessary Roughness L. Tomlinson)
matched on an OLB, Wick plays outside leverage and makes a solid catch and adds some yards after the catch, also, what the heck is Tomlinson doing diving into a Raven after the play?
Play 3: 1/10 T. Riddick run for 34 yards
Play of the game for Lions here, good blocking on left side as Wick slides to weak side to make a back side block. RIddick is patient in finding a lane and hits it hard. What happens after 31 hits Riddick is pure balance as Riddick explodes for a big gain. It still would have been a 6 yard run had he been tackled. Good play.
Play 4: 1/10 Incomplete pass to C. Wick
Trips left, Lions try to push vertical but the Ravens expect it. Stafford decides to not force the issue and throws it away. (illegal contact on defense.)
Play 5: 1/10 T. Riddick run for 1 yard
Warford gets pushed backwards instantly and with no real edge set, Riddick runs into a wall.
Play 6: 2/9 Pass right to G. Tate for 12 Yards
Ravens blitz 5, Stafford sets his feet and delivers a nice ball to Tate on the slant. Tate does his thing getting another Lions first down inside the red zone.
Play 7: 1/10 Stafford sacked -7 yds. (Unnecessary roughness 15 yards)
Ravens showing blitz and Decker misses nickel blitz (BANG LEFT as Gruden would say) who goes untouched outside to sack Stafford. Penalty on Rieff for picking person off pile.
play 8: 2/32 Incomplete pass to Theo Riddick
Riddick gets tripped up and misses an easy catch here. Lions trying to gain yards for field goal range purposes.
Play 9: 3/32 False start 3/37 Pass to C. Wick for 6 yards
After another penalty, Stafford finds Wick on a 5 yard dig. Love this UDFA ability to catch the rock.
Play 10: Missed FG 53 Yards
Takeaways: It takes 6 plays to build a drive, and 3 penalties fo ruin it. Laken Tomlinson and Riley Reiff found ways to ruin this drive with silly penalties after the play. Discipline is a key part of the Patriot way that Bob Quinn is looking to instill, and Laken Tomlinson was not with the program there.
Drive 4:
Play 1: T. Riddick run for no gain
Riddick struggling to find a hole and hit it, flows to sideline with no where to go.
Play 2: Stafford run middle for 4 yards
Stafford doesnt force a deep ball to Jones, and runs for a nice gain.
Play 3: Pass to A. Boldin intercepted by A. Levine.
Stafford eyes this post down and misses the underneath corner sitting the route. This is on Stafford.
Drive 5:
Play 1: 1/10 Pass right to G. Tate for 6 yards
Nice dig route here. Stafford shaking off the INT early.
Play 2: 2/4 Incomplete pass to G. Tate
Comeback route on time, just a little low on the throw. Need to be on target there.
Play 3: 3/4 Pass right to Tate for 11 yards
Good separation on the curl route. Stafford targets Tate for the 3rd straight time.
Play 4: 1/10 Stafford middle to A. Boldin for 8 yards
Boldin open on the spot curl. Stafford in rhythm on the 2 minute drill.
Play 5: 2/7 Stafford run for 11 yards
Evading pressure, Stafford shows the athleticism that not many know he had.
Play 6: 1/10 Pass deflected, caught by Stafford for -9 yards
Targeting a corner route, ball is tipped. Stafford needs to let this fall to the dirt.
Play 7: 2/19 Incomplete pass to A. Boldin
Off target to a double covered Boldin.
Play 8: 3/19 Stafford sacked, penalty on defense for 15 yards.
Lions not the only ones making dumb mistakes, as the Ravens hit Stafford late, allowing a Prater field goal.
Play 9: 60 yard FG is GOOD.
Takeaways: Stafford is accurate coming off the interception. Very comfortable in the no huddle, but if not for the penalty this is an otherwise uneventful drive.
Analysis: Stafford continues to impress in the No Huddle offense. With a healthy rotation of capable receivers, and an improvement on the ground attack, this offense has a ton of potential. Veteran and Rookies are both stepping up to make plays but it is top priority for this coaching staff to limit penalties and continue to protect Stafford. This game showed the line can protect Stafford against various blitzes but a few lapses in concentration really cost the Lions a few points. It is never okay to go into halftime down 14, but I wouldn't read too much into it, the offense looks solid.