FIFA gets goal-line technology ahead of Confederations Cup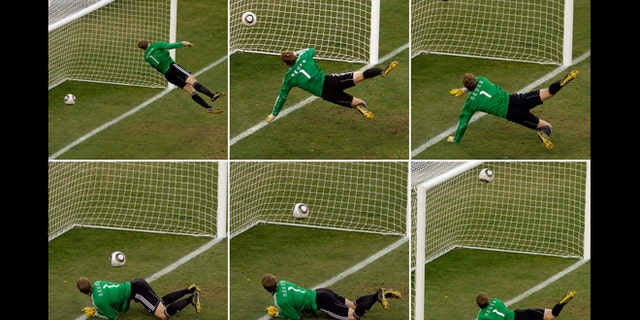 RIO DE JANEIRO – FIFA will use goal-line technology in international games for the first time at the Confederations Cup, starting with Saturday's opening match between Brazil and Japan. The Associated Press looks at why the technology has been introduced and how it will work:
WHY NOW?
FIFA President Sepp Blatter insisted for years that technology had no place in soccer, and that refereeing mistakes were part of the attraction of the game. But Blatter's long-standing opposition to giving referees high-tech aids evaporated after seeing match officials embarrassed at the 2010 World Cup when England midfielder Frank Lampard had a clear goal disallowed against Germany.
TESTING TECHNOLOGY
After the 2010 World Cup, 10 systems put themselves forward to FIFA for testing in 2011, but they were deemed to not be accurate enough. After several systems were refined, the sport's rule-making body, the International Football Association Board, was satisfied they could work in matches and took the historic decision last year to allow computer-assisted decisions.
SELECTING A SYSTEM
FIFA first tested technology at a tournament in December at the Club World Cup. GoalRef, which uses magnetic fields, was deployed at one stadium, and another venue used the camera-based Hawk-Eye. But both of those systems were rejected when FIFA came to decide which to use at the eight-nation Confederations Cup and ultimately the World Cup back in Brazil next year. The little-known German system GoalControl-4D was selected.
HOW DOES GOAL CONTROL WORK?
Seven high-speed cameras are trained on each goalmouth. In the case of a disputed goal, a signal is transmitted to the referee's watch within one second to indicate whether it should be awarded. The decision will also be displayed on big screens in stadiums. In tennis and cricket, anticipation of a decision provided by Hawk-Eye has become part of the in-game entertainment. But the referee retains the authority to make the final decision -- and ignore what the computer says. FIFA director Thierry Weil says "the beauty is that it's not changing anything for the referee, it's just an additional support." Mandatory pre-game tests on the cameras also give match officials the option to switch off the technology if they doubt its accuracy on that day.
THE COST
GoalControl costs $267,000 per stadium to install, and $4,000 per match to operate. FIFA's contract with GoalControl for the World Cup can be reviewed if there are problems at the 16-match Confederations Cup across six stadiums.
WHAT NEXT?
FIFA insists that technology will be restricted to rulings on disputed goals, with no plans to use it to determine off-side situations or penalties.