FIFA analyzing claim of irregularities in Neymar's transfer to Barcelona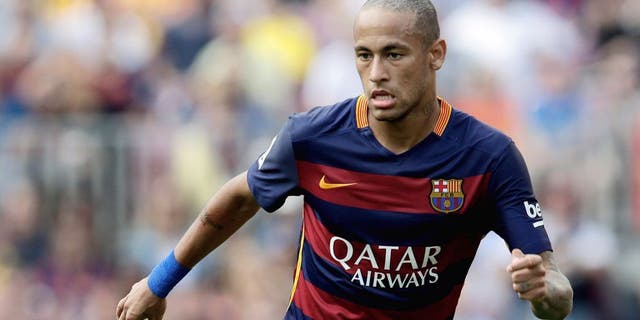 NEWYou can now listen to Fox News articles!
MADRID --
FIFA is analyzing a Brazilian club's claim of irregularities involving Neymar's transfer to Barcelona two years ago.
Santos filed a complaint to the governing body and ''the matter is currently pending and being investigated,'' FIFA said Friday.
Santos claims the Brazilian player and his agents broke the terms of Neymar's contract by starting negotiations with Barcelona without the Brazilian club's consent.
If FIFA rules in Santos' favor it could potentially lead to sanctions against Barcelona and Neymar.
Santos said it's not trying to cause problems for its former star, only attempting to ''protect its rights and seek reparation of damages.''
The Brazilian club said it lodged its formal complaint in May, and only released a statement on the matter now because of Brazilian media reports that said the club was demanding the player's suspension for six months.
''Santos has not made any additional request to FIFA (demanding a suspension),'' the club said, adding that it's up to the governing body to decide on an eventual punishment to Neymar or Barcelona.
FIFA said it wouldn't comment ''nor to give an estimation of the time line'' of the case.
Santos claims it was never told about a 2011 payment of 10 million euros ($11.4 million) made by Barcelona to the company owned by Neymar's father to guarantee the rights to sign the talented youngster.
Santos said that although the player was authorized to talk to clubs, nobody ever informed the Brazilian club that a deal with Barcelona was reached at the time.
Another 30 million euros ($34.3 million) was paid directly to Neymar's father's company after the deal was finalized in 2013, and Santos was paid about 17 million euros ($19.4 million).
Former Barcelona president Sandro Rosell eventually resigned amid allegations he hid the real cost of Neymar's transfer in false contracts.
Neymar's father told Brazilian media on Wednesday that ''Santos is going against its idol.''
''We will defend Neymar against Santos if needed,'' Neymar da Silva said. ''It seems Santos is looking for more money.''
Neymar's father has always claimed that Barcelona never broke FIFA rules that prevent teams from luring players under contract with other clubs.
He said Santos knew about the deal and the money was paid to his company, not directly to Neymar.
He said that if the player changed his mind and decided to go to another club, or if something happened to keep him from signing with Barcelona, he would have had to return the money to the Spanish club.
The deal came before Barcelona and Santos faced each other in the final of the Club World Cup in December 2011. Neymar was not a factor in the match and Barcelona won 4-0.