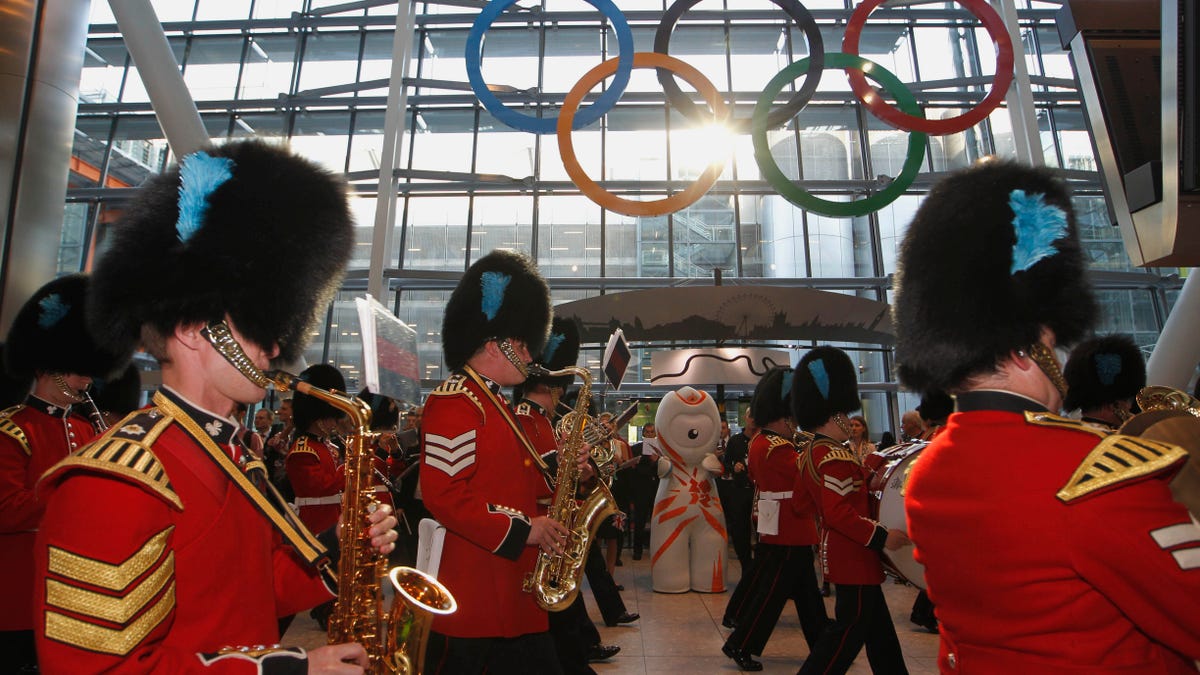 LONDON – There will be amazing performances and memorable scenes all over Britain this summer. And only some of them will involve medals.
Many of the world's top athletes will compete in the Olympics this summer, and there will be plenty of action away from the tracks, fields and arenas. Alongside the sporting contest is an entertainment extravaganza that will bring stars and celebrities from Paul McCartney to Brangelina to London during the Games.
Britain is organizing a banquet designed to demonstrate -- as Culture Secretary Jeremy Hunt put it -- that "culture is to Britain what the sun is to Spain."
Culture is a $177-billion-a-year business in Britain, and music is one of the country's biggest exports, so it's no surprise that the games will be accompanied by a melodic soundtrack of summer concerts.
On July 21-22, the "River of Music" will feature six stages along the Thames river -- each named for a different continent -- with music from artists including Baaba Maal, Wynton Marsalis, the Kronos Quartet and the Scissor Sisters.
The arrival of the Olympic Torch to London on July 26 will be celebrated with a concert in Hyde Park featuring Wretch 32, Dizzee Rascal, The Wanted and Mark Ronson.
The next day, Paul McCartney will close the Olympics' opening ceremony, a three-hour extravaganza directed by "Slumdog Millionaire" filmmaker Danny Boyle. Across town in Hyde Park, Snow Patrol, Stereophonics, Paolo Nutini and 1980s heartthrobs Duran Duran are headlining a celebratory July 27 concert.
Outdoor concerts will continue in the Hyde Park throughout the games, with Rebecca Ferguson, Alexandra Burke, Amy Macdonald and Alyssa Reid among the scheduled performers.
A musical theme also dominates the Aug. 12 closing ceremony, billed as "A Symphony of British Music," with George Michael, Take That and The Who rumored to be taking part. In Hyde Park, Blur, New Order and The Specials are lined up for a closing-night concert.
London also is hosting the Paralympic Games between Aug. 29 and Sept. 9, and Coldplay is scheduled to headline the closing ceremony.
Beyond Olympic Park, London is putting on its best public face for visitors, with outdoor performances, free film screenings, and museum exhibitions all contributing to what the mayor's office has dubbed "a summer like no other."
Giant screens dotted around London will show the Olympic action for an estimated 3 million people, with an array of entertainment provided alongside the sports.
A cornucopia of arts events is taking place as part of the London 2012 Festival, which runs to Sept. 9 and involves some 12,000 events featuring 25,000 artists from around the world.
Venues range from the banks of the River Thames in London to Hadrian's Wall in northern England and the ancient Stonehenge monument in the southwest, which will be spectacularly lit by flames in a "Fire Garden" the nights of July 10-12.
Those who can't make it to Stonehenge can bounce on a life-size inflatable model, the creation of artist Jeremy Deller that is touring the country and will land in London during the Olympics.
More highbrow offerings include the World Shakespeare Festival, running through September, which features theater troupes from around the world performing the Bard's work.
Theater lovers also can take in outdoor performances at the National Theatre or catch a stage adaptation of sprinting saga "Chariots of Fire" in the West End, while the British Museum is getting in on the act with a Shakespeare exhibition.
London 2012 Festival director Ruth Mackenzie said London won the games by promising to live up to the ideal of modern Olympic movement founder Baron Pierre de Coubertin, of "an Olympic Games based on the three pillars of sport, art and education." In the 21st century we might add a fourth pillar: celebrity.
London's status as a global capital of finance and fashion has helped make these Olympics a magnet for those who want to see and be seen.
Celebrity-studded parties and benefits are clustered around the Games, kicked off by a July 25 bash for the Sports for Peace charity hosted by Brad Pitt and Angelina Jolie at the Victoria & Albert Museum. Muhammed Ali is among the A-listers expected to attend.
During the Olympics, celebs -- and celeb-spotters -- will head to the nightclubs and restaurants of London's tony Mayfair district, or the national hospitality pavilions, where athletes and dignitaries from the participating nations can relax.
Several are open to the public, offering food, drink and entertainment, as well as big screens showing Olympic events. Likely to be among the most popular: Casa Brasil at Somerset House, the multinational Africa House in Kensington Gardens and the Netherlands' "Heineken House," which is taking over Alexandra Palace in north London.
Russia is setting up a 100,000 sq. foot Russia Park near Kensington Palace that will have sports fields, food and entertainment, though no alcohol. It's the site of a "Moscow Motion" party, billed as "an opportunity to find out what it means to party Russian style" -- if you are on a guest list that includes oligarchs, actors and soccer stars.
The United States will have a hospitality center at the Royal College of Art, but it's not open to the general public.
Beside Olympic Park in east London, one formerly grimy corner of the city is being turned into a slice of the Cote d'Azur for the duration of the event.
A patch of riverside land next to the H. Forman and Son salmon smokery is being stocked with sand, yachts and palm trees for transformation into the "Fish Island Riviera," a beach club and nightlife spot that will provide food and jazz until the early hours.
The company's enthusiastic chief, Lance Forman, hopes it will become a hangout for athletes, glitterati and Olympic spectators.
He envisions it as a hub of activity, like Wimbledon's famous Henman Hill -- "but more Beverly Hills than Henman Hill."