Ex-Packers WR Jennings recalls 'Welcome to NFL' moment in letter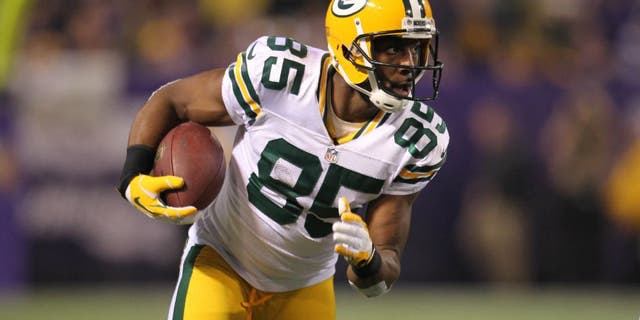 NEWYou can now listen to Fox News articles!
Former Green Bay Packers wide receiver Greg Jennings said he relied on his athletic ability to beat cornerbacks while in college.
His mentality changed, however, after taking a hard hit on a slant route in his second preseason game.
"I had never been hit that hard in my entire life," Jennings wrote Monday in a letter published on the Players' Tribune website. "I remember coming to the sideline, and my own teammate, Donald Driver, was like, "I told you, young pup. I told you it was real out here."
"That was my "welcome to the NFL" moment."
The anecdote was part of Jennings' letter on the intricacies of playing wide receiver in the NFL, titled "What You Don't Know About: Being a Wide Receiver". He also told a story about he was set on playing in a warm-climate city before Green Bay drafted him in 2006.
"So naturally, on Draft Day, my Nextel lit up with the 920 area code," he wrote. "My heart literally sank. When I got on the phone and the GM said, "We're about to draft you, Greg. Are you excited to be a Green Bay Packer?"
"I said, "Absolutely!""
Jennings wrote that his route running was "naive" when he arrived in the NFL. He said NFL wide receivers need to be able to read coverages at the line of scrimmage and communicate well with their quarterbacks. That was something Jennings said he, Brett Favre and Aaron Rodgers could do through "subtle eye contact" or a small nod.
He wrote that Favre made it a lot easier for him to excel as a rookie by asking him questions about plays. He also said it meant a lot to him when Favre told him that he was better than most other players in the NFL, even when hurt.
Jennings played 10 years in the NFL, the first seven of them with the Packers, catching 64 career touchdowns and reaching 1,000 yards in a season three times. Drafted in the second round in 2006, Jennings caught two touchdown passes during Green Bay's 2011 Super Bowl win over Pittsburgh. He is currently a free agent.