End of the Road for Livan and Pudge? Don't Bet On It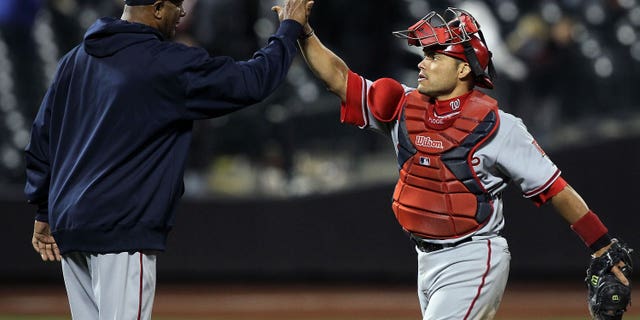 It's often hard for an athlete to accept that the end of his career is around the corner but for Livan Hernandez and Ivan "Pudge" Rodriguez, these baseball lifers feel that they have a couple more effective seasons in them.
Whether they continue to play in a Washington Nationals uniform after the season comes to an end tomorrow, is another question.
As Rodriguez two-year contract comes to an end after tomorrow's game, fittingly in Florida, where he won his only World Series title in 2003, the 14-time All Star feels that he has a lot to offer on another team and a lot to play for personally.
Saturday marked the first time Pudge started behind the plate since July 4 and out of appreciation, he will likely start the last game of the season.
At 39 and in top condition throughout his career, he missed almost two months due to a strained oblique and obviously believes he can still play.
For the large part in his 20th season, he's served as a mentor for the club's young catching duo of Wilson Ramos and Jesus Flores.
"I can tell you that I still can play," Rodriguez recently told the Washington Post.
"If I get the opportunity, I would do a great job.... I can produce for a team. That's my goal. That's the way I feel."
Aside from that competitive hunger, Rodriguez, perhaps the best catcher to ever come out of Puerto Rico after his debut as a 19-year-old with the Texas Rangers in 1991, is 158 hits away from the 3,000-hit club.
Known for throwing out runners from his knees when he first hit the scene, the career .296 hitter and 13-time gold glove catcher could be the very first to reach that milestone.
"There's still a lot of baseball left in me. I have some goals I need to accomplish. I want to win one more time and get to 3,000 hits," Rodriguez said.
"The only thing I can tell you is that I'm going to keep playing. I'm still going to play for two or three more years."
The same can be hopefully expected of Livan Hernandez, who at 36 could be considered a fourth or fifth starter with a lot of miles left in that right arm of his.
Back in 2005, he was tabbed to be their starter in the ballparks home opener and returned to the Nationals in 2009 after the New York Mets waived him late in the season.
He made 33 starts for the Nationals last year and this year took the mound 29 times, the last time back on Sept. 4, a 6-3 loss to the New York Mets.
But unfortunately for him, it was the last time he pitched for the Nationals this season.
As the team played out the string this month, they needed to take a deeper look at their younger pitchers. Once Stephen Strasburg returned from his minor league rehab assignment, sitting down Hernandez was a no-brainer.
He could have pouted and complained but he didn't. He has even publicly stated that he would like to come back with the Nationals as a reliever.
With rosters expanding and some young arms promoted, Hernandez has taken the role of a mentor, giving advice to the youngers guys on the pitching staff.
He mentioned teammate Alex Fernandez and their relationship and how Fernandez asked his advice on how to carry himself on and off the field.
"The most important thing is be a professional and try to do what you have to help anybody," Hernandez told mlb.com.
"I received help when I came into the league. Baseball is not easy. You have to give the young guys a chance and pitch in this level. This level is not easy."
Just like Pudge, he's shooting for a personal achievement -- 24 more victories will get him to 200.
And as he ages, Hernandez thinks he's good enough to pitch a few more seasons.
Last year he went 10-12 with a 3.66 ERA on a team that finished last in the NL East. If he doesn't pitch again this season he will end up with an 8-13 record with a 4.47 ERA as the Nationals finish third in the division.
Hernandez, who logged 211 2/3 innings last year and 175 1/3 this season, clearly still has bullets left in his arm.
"I feel good. I feel very good this year and last year too," Hernandez previously told the team's television network. "Sometimes when you get old you start pitching better and better."
"Something good is going to happen. I don't know, here or somewhere else."
Adry Torres, who has covered MLB, NFL, NBA and NCAA basketball games and related events, is a regular contributor to Fox News Latino. He can be reached at elpiloto137@gmail.com or follow him on Twitter: @adrytorresnyc.
Follow us on twitter.com/foxnewslatino
Like us at facebook.com/foxnewslatino