Embattled new Rutgers athletic director meets with coaches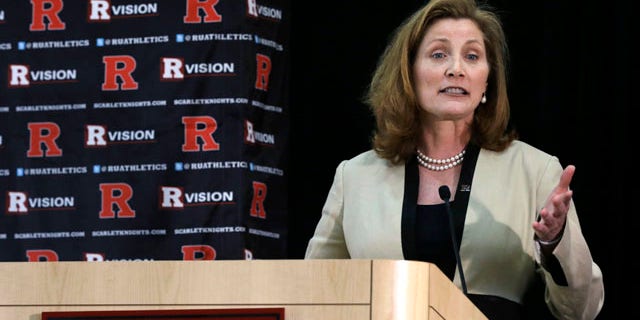 NEWYou can now listen to Fox News articles!
PISCATAWAY, N.J. – Rutgers incoming athletic director Julie Hermann visited the campus Wednesday and was to meet with coaching and Big Ten Commissioner Jim Delaney.
The embattled Hermann, whose appointment has come under fire since it was discovered that players on the University of Tennessee volleyball team she coached in 1997 complained she had been verbally and emotionally abusive, also plans to hold a press conference at 4 p.m.
Hermann, who is scheduled to start at Rutgers on June 17, has denied the allegations. She said that she had not heard of the letter until last week.
Her visit is another clear indication that university president Robert Barchi is not backing down from Hermann's appointment despite calls from state politicians, who are upset that she was not vetted properly.
The university's board of governors has the right to replace Hermann, but the school would probably owe her $2.25 million based on her five-year, $450,000 contract.
Members of the selection committee that chose Hermann also are upset that they had little say in the process until informed of the final two choices, Hermann and Sean Frazier, the deputy athletic director at Wisconsin.
New Jersey Gov. Chris Christie said last week that he won't micromanage Rutgers, and Barchi added that he stands behind Hermann, who for the past 16 years had been the No. 2 sports administrator at Louisville.
Hermann was selected as Rutgers' first female athletic director on May 15. She replaced Tim Pernetti, who was forced to resign in early April, days after men's basketball coach Mike Rice was fired for physically and verbally abusing his players during his three-year tenure.
Rutgers' problems started in December when Rice was suspended three games and fined $75,000 by the school after a video of his conduct at practices was given to Pernetti by Eric Murdock, a former assistant coach.
The video showed numerous clips of Rice firing basketballs at players, hitting them in the back, legs, feet and shoulders. It also showed him grabbing players by their jerseys and yanking them around the court. Rice can be heard yelling obscenities and using anti-gay slurs.
The controversy went public in April when ESPN aired the videos and Barchi admitted he didn't view them in the fall. Rice was fired and Pernetti, assistant coach Jimmy Martelli and interim senior vice president and university counsel John Wolf resigned.
Former Rutgers guard Eddie Jordan was hired to replace Rice in April but even that did not go as planned when Rutgers said he had his degree from the New Jersey school when he didn't.
Earlier this week, Delaney said the recent string of problems at Rutgers would not prevent the university from joining the Big Ten in 2014.