Eddie Pleasant pushing for Texans' starting strong safety job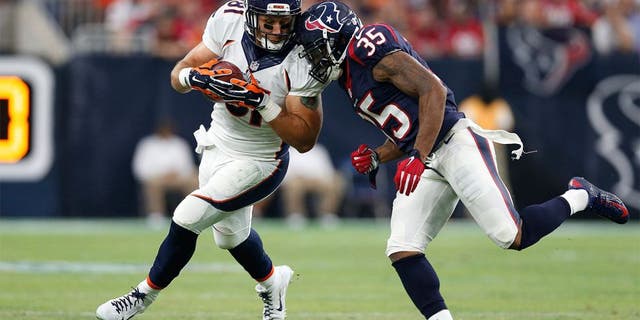 NEWYou can now listen to Fox News articles!
Now that the Houston Texans have settled on Brian Hoyer as the team's starting quarterback, the last bit of unfinished business heading into the regular season is determining who will start at strong safety.
Eddie Pleasant and Andre Hal have been competing for the job in training job. Pleasant, a former undrafted free agent who worked his way up from the team's practice squad, has started the last two preseason games.
"I feel like I'm doing a pretty good job," Pleasant said, per Aaron Wilson of the Houston Chronicle. "I always try to do a good job. It's preseason, but we're doing some good things. Hopefully, they figure out who they want it to be. If they have us rotate, that's fine. If they tell me I'm starting, I'll start. If they have me come in on third down, I'll come in on third down."
Pleasant and Hal both have nine tackles each through the first three preseason contests. The
26-year-old Pleasant has appeared in 32 career games for the Texans and made 16 tackles, along with 14 tackles on special teams.
"I've been impressed with Eddie," Texans general manager Rick Smith told the Chronicle earlier in training camp. "I've got to tell you, from the time that we reported back and watching him attack the conditioning test the way that he did, I mean he came back in great shape. I just have been impressed with him over the course of the offseason so far... he's made some plays out here.
"These preseason games are going to be important for him because I'd like to see him take that next step. He's always been a good player for us on special teams, but it'd be real nice to see him evolve into a defensive player."
(h/t Houston Chronicle)