Earnhardt Jr. advances to next Chase round by besting McMurray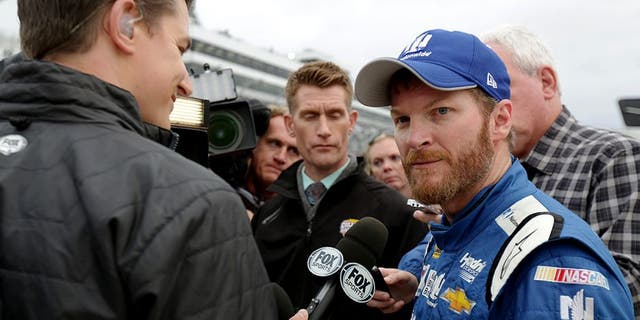 NEWYou can now listen to Fox News articles!
Dale Earnhardt Jr.'s 2015 championship hopes will continue for at least three more weeks, as the Hendrick Motorsports driver was able to advance into the Contender Round of the Chase on Sunday at Dover International Speedway.
Finishing third in the AAA 400, Earnhardt Jr. tied Jamie McMurray in the Chase standings, but earned the spot in the Contender Round by finishing one position ahead of McMurray.
Over the course of the final run, Earnhardt and McMurray battled for not only positions on the racetrack, but also to advance to the next round, as the best finish in the opening round determined the tiebreaker. Just after the final restart of the race with 24 laps, Earnhardt was able to make bold moves to go from eighth on the restart to fourth, getting by McMurray and driving away.
Crossing the line third behind race winner Kevin Harvick and second-place finisher Kyle Busch, Earnhardt did what he needed to do to advance.
After climbing from the car and congratulating his crew members, Earnhardt Jr. quickly made his way to McMurray's car to congratulate him on the battle and shake hands.
"You deserve every bit of that, buddy," McMurray said with a smile, as the two friends discussed the late-race battle.
"Me and him are pretty good friends," Earnhardt Jr. said of his post-race conversation with McMurray. "I know he's disappointed. I would be, too. I was in that position with about 50 to go, and I didn't know how I was going to get around him, because he was a little faster than us. He was going to advance if we didn't get that last caution."
"He did a great job getting to my outside there and that was the deserving move," McMurray told FOXSports.com of his battle with Earnhardt. "I thought I got through that corner as good as I could have. If I had to do it over again I wouldn't do anything different. It just all lined up for him and he got to my outside. There was nothing I could do. I was helpless. He had momentum off the corner and it was over at that point."
Despite the late-race drama unfolding on the track for the final transfer spot, Earnhardt said he was not necessarily concerned about the point situation inside the car.
"It wasn't nerve-wracking at all. You're either going to make it or you ain't," he said. "I'm going to try put together the best lap I can put together, and drive the car as hard as you can without over-driving it. You can't really worry about the big picture because you have to concentrate on running the lap. This place is so technical that you just have to concentrate on every corner and the mistake you made on the last one and how you make a better corner the next time through there. That's all you really worry about."
Had things not worked out as they did, Earnhardt would have been disappointed. But he said he understood he and his team put themselves in that position with a 25th-place finish last weekend in Loudon.
"We had a lot of reasons not to make it, but we got in by the skin of our teeth," he said.
One key to Earnhardt's success is the Hendrick Motorsports crew he has behind him, led by crew chief Greg Ives.
"I'm proud of my team," he said. "I'll try not to use any cliches, but I'm real proud of them. We've got a good group. This group of guys have been with me for a long time and I love that. I get these relationships with these guys and we hold each other up and they really have given me so much confidence to go for it, get aggressive and do what we need to do. I've really become a much better driver over the last five years working with these guys."
While Earnhardt praised his crew, their day was certainly not without issue. Under the third caution of the day, Earnhardt had to bring the car back to pit road a second time in order to tighten lug nuts left loose. The issue dropped Earnhardt from ninth to 19th in the running order.
With roughly 50 laps to go, Earnhardt was racing inside the top 10 but radioed the crew reporting a "real bad loose wheel." Feeling out whether they needed to pit under green or not, the team caught a break when the caution flew for Brett Moffitt with 46 laps to go. The team was able to hit pit road with the rest of the leaders and avoid disaster, setting up that final run that put him in the next round.
Despite some changes on the pit crew in recent weeks, crew chief Ives is confident in his over-the-wall crew.
"We've been making some changes to our pit crew and I think we have the best options on pit road right now," Ives said after their third-place run. "Sometimes you get amped up. I know I did. I was pretty excited for today."
After running out of fuel and finishing 25th at New Hampshire, Ives was pleased the team was able to move forward and do what needed to be done.
"As a race team you can't sit on highs and you can't sit on lows," he said. "No matter if I make a mistake I'll admit to it and own up to it, and last week was hard. We gave up at least 20 points for no reason. An easy top-five car and made a mistake. Not only with fuel but with 50 laps to go we had a fast enough car we could have come down and got four tires, gave up track position then and drove back to the front. It's a learning experience for me.
"I'm not new to this crew-chiefing deal, but definitely to this Chase format type of points situation," he said. "I learned from it. The team rallies behind me and didn't point fingers, even Dale. That's what the team's all about and that's what character is all about."
Heading into the Contender Round, both Earnhardt and Ives are confident in their packages at Charlotte, Kansas and Talladega, and are looking for big things over the next three races.
"You can see the last five, six weeks how we've been running and where this team is at. We've been jelling and communicating a lot better," said Ives. "We've just got to stay strong and have the guys keep believing in each other and keep our team upbeat."