Eagles win, but Sam Bradford struggles with interceptions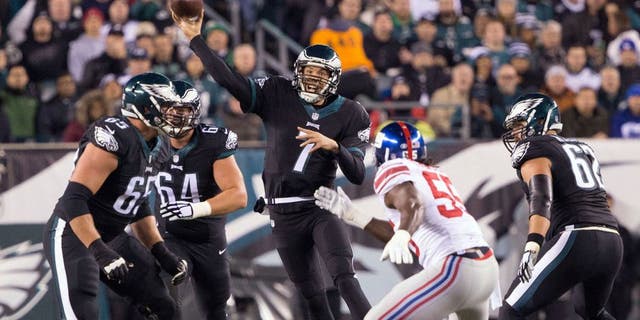 NEWYou can now listen to Fox News articles!
Eagles quarterback Sam Bradford needs to do a better job of protecting the football. Bill Streicher USA TODAY Sports
Philadelphia Eagles quarterback Sam Bradford gets credit for the team's 27-7 Week 6 win over the New York Giants, but you can make the argument that they won in spite of his play. Bradford threw for three interceptions, threw countless passes off the mark and took a crucial sack at the end of the first half that prevented the Eagles from having a chance to score a touchdown.
His first interception came on an intermediate pass that got away, his second, on a miscommunication on a deep pass, and the final interception was on an underthrown pass into the end zone.
Entering 2015, Bradford had thrown for just 38 interceptions in 49 career regular season games. In 2015, he has nine interceptions thrown through just six games.
"It's something that I've never had a problem with in my career," Bradford said to reporters after the game, per Corey Seidman of CSNPhilly.com. "I've never really thrown a lot of interceptions. But we're gonna get it fixed. I'm gonna get it fixed."
Eagles head coach Chip Kelly continues to lay claim to the idea that Bradford needs time to get more familiar with the system and his teammates, but he also understands that you can't win a football game by turning the ball over at such a high rate.
"[Bradford's] getting more familiar in terms of what we're doing, but we can't continue to do that against really good football teams," Kelly said, per CSNPhilly.com. "We were fortunate that we did it and got away with it today, but in this league you can't do that and sustain winning."
It wasn't all bad for Bradford as he finished 24 for 38 with 280 yards passing on the day. He connected on a few big plays downfield, specifically to wide receiver Riley Cooper. But protecting the football is key, and things won't get easier when the Eagles match up with the Carolina Panthers in Week 7.
MORE NEWS: Want stories delivered to you? Sign up for our NFL newsletters.