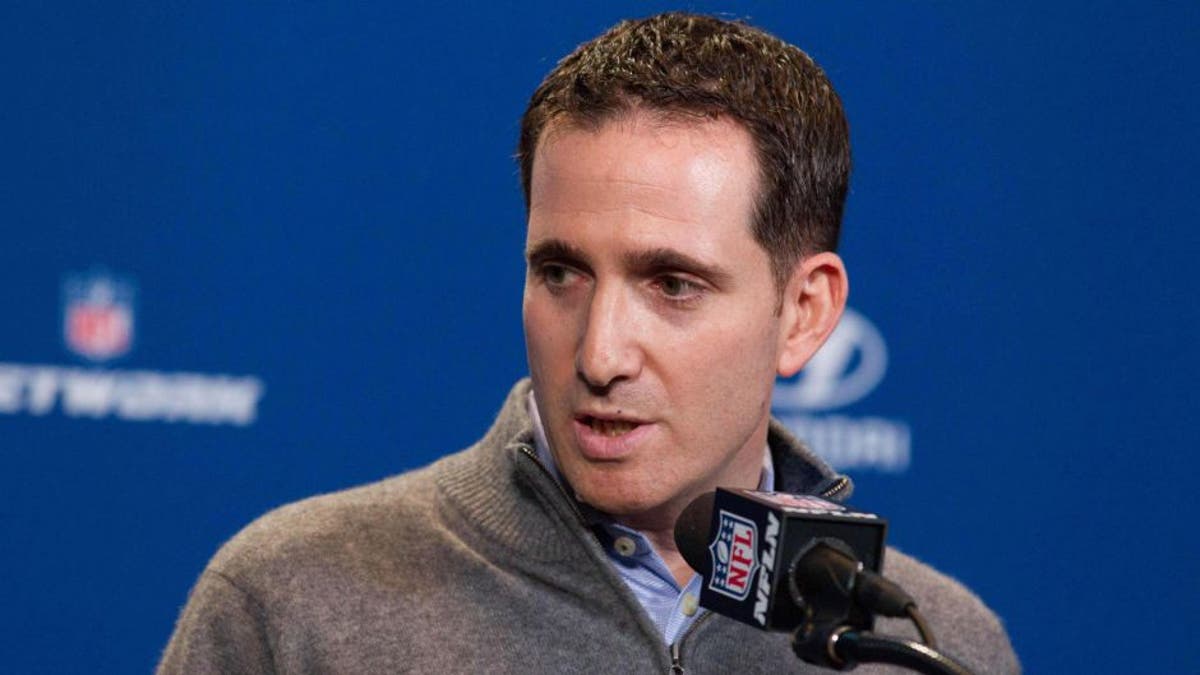 Howie Roseman stepped up to the podium and looked over the four rows of media seated in front of him.
"I missed this," he said with a grin.
It was meant to be a joke, because what coach or executive really misses the chance to give non-answers to many inane questions? But the truth is Roseman did miss the press conferences here at the NFL Scouting Combine and elsewhere. He hadn't been doing them for over a year, not since Chip Kelly made a power play to take over personnel in January of last year -- a move that marked the beginning of the end for Kelly's run as the Philadelphia Eagles' head coach.
Kelly is gone, replaced by Doug Pederson. And Roseman is now pretty much back in charge of the front office.
Though he's working with interim head of personnel Tom Donohoe and will soon have a permanent football guru helping him select players, Roseman survived unlike many in this business who receive a demotion. He is the Eagles' de facto GM and quickly got back to work by signing five players to contract extensions in recent weeks.
The 40-year-old Roseman, who worked his way up from Eagles intern in 2000 to GM in 2010, told reporters his situation as an example of how "we all go through adversity. I'm up here as an example of that over the last year." And while he will have to win over a fan base that wants to see better results than his initial stint as GM, he believes the team is better prepared for success.
The reason for that confidence is he used last year as a sabbatical of sorts to pick the brains of GMs, team presidents and other franchise leaders in all sports last year -- about 15 in all. He gathered info on how to be better at his job should he get another crack at running a front office.
Maybe he wasn't so sure he'd put it all to work so quickly. Nonetheless, it's time to see if his studies paid off.
"The genesis of the idea was my role had changed, so what are you going to do?" Roseman told FOX Sports. "The first thought that came to mind was what do head coaches do when they step back after getting fired? They go around the country and try to pick the brains of people they respect and try to get some insight and try to improve.
"I had never done that. I'd been in Philadelphia, in one place for 16 years."
Roseman realized he couldn't go around the NFL and collect information from other teams. After all, he was still an Eagles employee, albeit one with a marginalized role. So he started with former NFL executives who could share their input. He then moved on to execs from other sports, even getting connected with someone from soccer's English Premier League.
Roseman declined to name the people who guided him, saying only they were among the most successful in their sports.
"When you talk to basketball teams, to hockey teams, to baseball teams, to soccer teams, they're all building, they're trying to build championship teams and a lot of these people I talked to have won championships. How do they do it?" Roseman said. "It's not as simple as, 'I go and get the best players.' It's, 'I'm building a team.' It was tremendous perspective for me to see great team builders at the right teams."
Roseman was GM in 2011 when the Eagles made a huge push in free agency to sign players such as Nnamdi Asomugha, Dominique Rodgers-Cromartie, Jason Babin and more. Vince Young, one of the players the team signed, dubbed the squad "The Dream Team." That 8-8 season was more like a nightmare and it led to Andy Reid's downfall.
Reid was a big part of the decision to load up on free agents, but Roseman had a hand in it as well. Needless to say, the advice he received last year to not just go out and get the best players eliminates any chance of a "Dream Team" repeat.
In fact, the Eagles' locking up defensive end Vinny Curry, tackle Lane Johnson, tight ends Zach Ertz and Brent Celek and safety Malcolm Jenkins to contract extensions in the last month -- with defensive lineman Fletcher Cox in line for a huge deal at some point -- shows Roseman is trying to solidify the Eagles' core early on. It's a strategy that led to consistent success during the early part of Reid's tenure and it's one Roseman is trying to employ once again.
Thanks to the insight from those who have been successful in building championship teams.
"As we go forward here, I had conversations with Doug, our front office and our staff and some of the things we've learned from great executives in sports," Roseman said. "Not only am I better but the Philadelphia Eagles are better because you get perspective from outside your area of expertise."
Asked what the best advice he received was, Roseman paused then replied, "Have a vision, go in the direction of your vision and make sure the vision is articulated to everyone, in every area of your organization."