DW: My Take - What To Watch For In 2013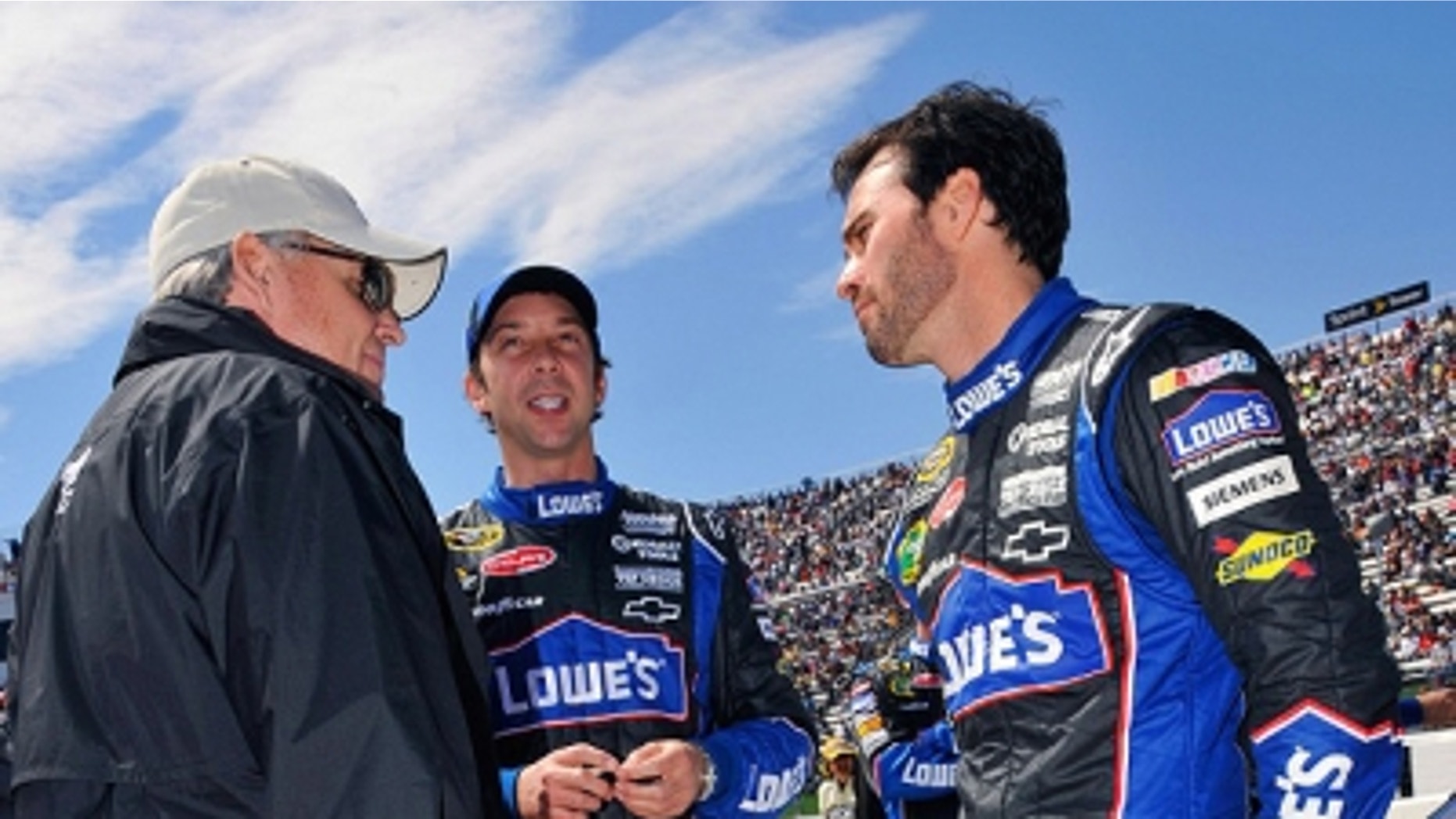 If you stop and analyze what these race teams are facing as the 2013 season looms ever closer, you will see they really have their hands full. Obviously right up front you have the roll-out of the new car. On top of that however, the teams are still waiting the final-final rules package from NASCAR of what they can and can't do to these cars.
If that wasn't enough to keep the owners, drivers and crew chiefs up at night, then there is the issue of waiting for all the parts and pieces for this new car to come in from the various vendors. Believe me, there is going to be a lot of midnight oil burned simply to get cars built in time.
We have the Daytona test in a couple of weeks. Following that there is another test at Charlotte and then these teams not only have to get ready for Daytona, but all the races that follow immediately after that. The pressure is intense because remember that once Daytona is over, these teams don't get a break.
The very next week we are in Phoenix at a one mile track. Following that, it's onto Las Vegas and a mile and a half track. That equates to three races, in three different parts of the country and three different styles of tracks. Like anything, it's all in the preparation.
Like always, it will be a safe bet that Jimmie Johnson and Chad Knaus will be on top of this switchover to the new car. They have shown in the past that they thrive on being successful when there is a new rule change or change to these race cars. Another duo that is really sharp at doing that is Kasey Kahne and his crew chief Kenny Francis.
Those two have not only learned to adapt, but also be successful in all the brands. Think back to what they have been driving the last handful of years. They've been in Fords, Dodges, Toyotas and now Chevrolet. The impressive thing to me, and I have said this many times over the years, it doesn't matter what you give Kasey and Kenny to work on, they find a way to be successful in it. I have no doubt the same will hold true with this new car.
Another group that I believe will really be on top of this new car is our 2012 NASCAR Sprint Cup Champion, Brad Keselowski and his crew chief Paul Wolfe. They are one of my top picks to definitely watch in 2013. Not only are they making the switch to a new car, but they are making a switch to a new manufacturer. There are a lot of ancillary storylines that follow.
With the switch to Ford, comes the switch to Roush-Yates powerplants. I think Brad is going to be thrilled when he puts his foot to the floor at places like Daytona and Talladega because those Roush-Yates engines are like no others.
Along with those changes comes a new teammate this year for Brad. Joey Logano has moved from Joe Gibbs Racing to Penske Racing and will be teaming up with Brad. Joey needed a fresh start and he wants to be someplace where he can be a star. I think he will push Brad and Brad will push him for the number one spot at Penske Racing. That should be an exciting couple of teams to watch.
Now the other interesting dynamic to watch also is a by-product with the switch from Dodge to Ford. When he was with Dodge, Brad was always on an island, so to speak, because he was the only Dodge in the field. Now that he is racing the Blue Oval, they'll be expected to share their information and data with the other Ford teams. So I am curious to see how that storyline plays out in 2013.
Another change definitely worth watching this year is the move of Matt Kenseth from Jack Roush over to Joe Gibbs Racing. I really think that is going to be a good move. Matt obviously is a past Champion with years of experience under his belt. He and new teammate Denny Hamlin are similar in personalities, so I see that being a good fit.
The third part of the Joe Gibbs Racing triangle is obviously Kyle Busch. What's ironic is in 2012, Kyle had the best Chase he's ever had, the only problem is, Kyle didn't qualify for the Chase. He and I have had many a conversation about running better in the Chase. Now in 2013, Kyle needs to focus on making the Chase first, because now he has the confidence of running so well in the 2012 Chase to use a benchmark. Kyle is due. Kyle is at that point of his career when he needs to put it all together. It's great to win races, but now it's time to win a championship.
Now while this isn't technically a change for 2013 and affects 2014, I still am very interested to see how Kevin Harvick and his team perform, since this will be the last year Kevin will drive for Richard Childress Racing. It's well documented that at the end of this season, Kevin will go over to Stewart-Haas Racing and like Joey Logano this year, experience a fresh start to Kevin's career.
I have talked to Kevin and he is bound and determined not to simply put in the time this season and file this year in. He told me he is adamant about not being a lame duck driver. He wants to win and win a lot this year for Richard Childress. Kevin is also in his prime and I think that has led to his frustration and contributed to his decision to move to Stewart-Haas Racing. Kevin should be winning races and fighting for championships, but unfortunately they haven't been able to put the entire package together at Richard Childress Racing.
Since I mentioned Stewart-Haas Racing, they too are on my list of what to watch for in 2013. Danica Patrick is moving up to NASCAR Sprint Cup racing full time this year. She's been paired with crew chief Tony Gibson. What I find interesting there is Tony is a lot like Tony Eury Jr. was, who was Danica's former crew chief. Unfortunately, Danica couldn't make it work with Tony Eury Jr. , so it will be interesting to see how 2013 plays out for her and Tony Gibson.
Michael Waltrip Racing sent everyone a message in the garage area in 2012 that they were for real and that you better not overlook them. They put it all together last year. They found consistency in all their cars. They won races and to top off the year, Clint Bowyer raced his way to second place in the final 2012 NASCAR Sprint Cup points. That was an amazing accomplishment by that new team of Clint and crew chief Brian Pattie. 5 Hour Energy is their sponsor and I sure hope they didn't use up all their energy last year, because I expect them to be a serious contender this year.
For his teammate Martin Truex Jr, he just needs to win some races. He did everything just right, except that which became his Achilles Heel. He had fast race cars and performed well. He simply didn't make it to Victory Circle.
Now for their third team under the direction of crew chief Rodney Childers, I'd love to see him be given the chance to run a full season with only one driver. Last year the driving duties were split up three ways and it was very successful. So much so, I just wonder what Rodney and his group could do if they had one driver with one focus all season long.
For Jeff Gordon, well it's pretty simple in my book. He just needs to start the 2013 season, the way he ended the 2012 season. What he obviously can't afford is to start and go through the majority of 2013 the way 2012 went. He started by flipping upside down at Daytona and believe it or not, it went downhill from there. He had problems with his car, his team, his motors, tires and even his teammates at times.
Then he and Clint Bowyer had the scuffle at Phoenix there in the next to last race of the season. As a four-time NASCAR Sprint Cup champion, that was an embarrassment for Jeff. To fight back and win the race at Homestead was very impressive and exactly what Jeff needed. Hopefully that will set the tone for Jeff's 2013 season. Don't count Jeff out.
I think the off-season will have done a world of good for the fourth member of Hendrick Motorsports. Any lingering or nagging affects from his concussion will hopefully be behind Dale Earnhardt Jr. He had a great 2012 season. However the concussion destroyed any hopes of a Chase run for the championship.
Back over at Roush-Fenway Racing, you certainly have one frustrated race car driver in Carl Edwards. The man finished tied for the 2011 NASCAR Sprint Cup championship but was all but a none-factor in 2012. Now that his longtime ace crew chief Bob Osborne and he split up, things really fell apart. So we'll have to wait and see if he and Jimmy Fening can make their combination work.
Greg Biffle is still pounding away trying to win that elusive NASCAR Sprint Cup championship as well for Roush-Fenway. I sure would love to see the Biff do it. That would mean he won a championship in all three of NASCAR's top touring divisions.
With the departure of Matt Kenseth, you have Roush's two-time Nationwide champion, Ricky Stenhouse moving up to the Cup series full time. Ricky is a tiger folks. He will run every lap like it's the last lap. I have been very impressed with him the last two years, but not as much with the way he handled that last race at Homestead in 2012. In that event he wouldn't listen to his spotter nor his crew chief. You can't do that in the NASCAR Sprint Cup series and expect to be successful. Hopefully he will learn a valuable lesson from that situation.
So we have a lot going on and many storylines to follow. Testing in Daytona is coming up in a couple of weeks. Again, all of us will be in Daytona covering it on SPEED and SPEED.com.
I know the teams will be happy to get testing behind them and then be able to get these cars built to NASCAR's final specifications. Like I told you last week, I love the new look of the Generation 6 car. It's lighter, faster and sleeker. We are back to having them look like real race cars. We've gone from having a safe car that was U-G-L-Y, to a cool looking, yet safe race car.
2013 is going to be a big year in our sport and I am excited to once again be a part of it. 2013 Daytona Speed Weeks can't get here fast enough in my book. I'll have had me a couple Mountain Dews and will be jacked up. I hope you all have a safe and Happy New Year!