Ducks finding ways to make Rinne look ordinary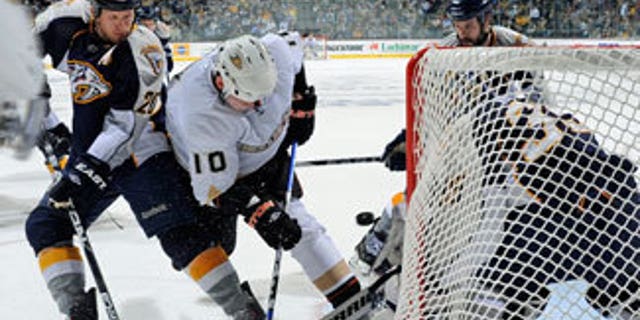 NASHVILLE, Tenn. -- During the NHL's regular season, Predators goalie Pekka Rinne had some of the best numbers at his position. Through the first four games of the playoffs, he has some of the worst, ranking 15th of 17 in goals-against average (3.73) and 16th of 17 in save percentage (.860).
Anaheim coach Randy Carlyle has hinted throughout the series that the Ducks have found a chink in the 6-foot-5 Rinne's armor. Is it possible that Anaheim has found something that eluded the rest of the League all season? Or is it possible that the Ducks simply have some of League's top shooters -- Corey Perry, Ryan Getzlaf, Bobby Ryan and Teemu Selanne, who have combined for 11 goals (including one empty-netter) -- and Carlyle is doing his best to play mind games with Rinne?
Carlyle was at it again Wednesday night after the Ducks' 6-3 win in which they chased Rinne from the net. The 28-year-old Finn allowed all six goals on 31 shots.
"We have certain things that, obviously, we pre-scouted our goaltending and we think there are areas that he is susceptible more than others," Carlyle said. "He's a big guy and he's having a great year. We just feel that there are areas when we get in on him that there is possibilities to put pucks in certain areas on him … I don't think in any terms you can't say he's not a good goalie, he's a great goalie, but if you get traffic to the net there's some tendencies of the way he plays and where his positioning is. There is tendencies that we feel we can exploit and that's what we're trying to do."
Rinne seemed at a loss after Game 4 to explain how the Ducks have scored so many goals. Anaheim ranks second in the playoffs in goals-per-game at 3.75.
"Their top two lines have scored all those goals," Rinne said. "It almost seems like they're scoring in bunches and, really, in a short period of time. I don't know what's the reason.
"Obviously, that's something we need to correct."
After the game, Preds coach Barry Trotz talked about defense being a five-man responsibility, but he also said that he did not like how his defense corps played, especially in terms of retrieving the puck. He also mentioned "major blunders" and "poor decisions" by the team.
In particular, he cited the first two goals. On Anaheim's first goal -- which came on the power play -- Trotz said Nashville had three chances to clear the puck, but fumbled it and on the second goal he said his team's defense had the puck and ran into their own right wing, Patric Hornqvist, creating the turnover that led to a goal.
But as was illustrated by the Ducks' first goal, they continue to feast on the power play. The Ducks are tied for the second-best power play in the playoffs, clicking at 33.3-percent pace (6-for-18).
"He's one of the best goalies in the League," Perry, who led the League in goals during the regular season, said of Rinne. "It's not like we're getting easy ones. We're working for our chances and we're getting rewarded."
Trotz agreed that Nashville took too many penalties, as the Predators allowed Anaheim to go 2-for-6 on the power play in Game 4. A backbreaker was a double minor for high-sticking that Nashville's Joel Ward earned at 7:59 of the second period. Trying to stop Anaheim's Jason Blake from scoring on a rebound in front of Nashville's net, Ward whacked Blake in the face with his stick, drawing plenty of blood.
Trotz said Nashville was poised to gain momentum from killing the penalties, but Selanne scored on a tip with 18 seconds left in the second penalty to give the Ducks a 3-2 lead.
"Yeah, we took way too many penalties," said Trotz, whose squad was the second-least penalized during the regular season at 8.8 minutes per game. "We average probably two or three during the year and tonight we took too many. It's plain and simple. Their power play is a top power play. If you give them lots of chances, they're going to execute on it."
But a goalie is supposed to be his team's best penalty killer. Rinne has struggled to do that thus far in the series, although he made some excellent saves late in the first period to hold Anaheim to two goals. Trotz pulled him after 46:41 of playing time on Wednesday. Rinne finished eighth in the League in minutes by a goalie. After Feb. 7, Rinne's backup, Anders Lindback, made one start, on March 20.
"I had used my timeout real early in the game so, obviously, Peks has played a lot of hockey for us," Trotz said of his decision to replace Rinne with Lindback in the third period. "You make the switch and let him rest and regroup a little bit, and you put Lindy in there and hopefully the guys respond and play hard in front of him, and we'll see if we can get something turned around."
Rinne said he thinks he can turn things around.
"Yeah, I think so," he said. "Obviously, you take this kind of game personal a little bit. You don't feel good about the game, ending like that. But at the same time you have no other choice. It's the best time of the year and you just have to respect the situation and bounce back."