Ducks face elimination in Game 6 vs Predators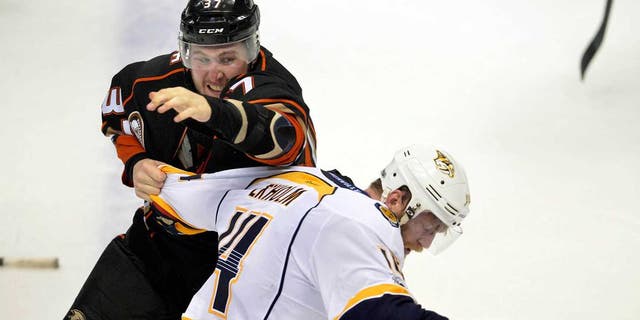 NASHVILLE, Tenn. -- It has turned into a battle of attrition in the Western Conference Finals.
One more loss and the Anaheim Ducks will have until September to rest. One more win and the Nashville Predators clinch their first trip to the Stanley Cup Finals.
Saturday night's 3-1 defeat to the equally shorthanded Nashville Predators put Anaheim in a 3-2 hole, requiring it to win Game 6 Monday night in the cauldron of noise known as Bridgestone Arena.
In their second elimination game of the postseason, the Ducks edged Edmonton 2-1 in Game 7 of the conference semifinals on May 10. This time, the Ducks will have to go without 30-goal scorers Rickard Rakell and Patrick Eaves.
Both stayed back in Orange County with lower-body injuries.
Goalie John Gibson also has a lower-body injury, which knocked him out of the last two periods of Game 5. Gibson said after the game he would play in Game 6, but coach Randy Carlyle was more cautious when the team arrived late Sunday afternoon in Nashville, saying Gibson would be reevaluated in the morning.
Regardless, Carlyle is confident his team can bring the series back to Anaheim for Game 7 Wednesday night, and why not? After all, the Ducks snapped the Predators' 10-game home playoff winning streak in Game 4 Thursday night with a 3-2 overtime decision.
"We have won in Nashville before, and there is no reason we cannot go into that building and win on Monday," Carlyle said.
It was at Bridgestone where Anaheim played its best game of the series in Game 4, outshooting Nashville 14-2 in the first period and 36-33 for the game. But that was with a healthy Rakell, whose blistering slapper initiated scoring that night.
Of course, the Predators can be excused for having zero sympathy for the Ducks' injury issues.
Consider that they won Game 5 with their top two centers, Ryan Johansen (compartment syndrome surgery in left thigh) and Mike Fisher (undisclosed injury), on the shelf, and have played the entire series without Craig Smith (undisclosed) and Kevin Fiala (fractured leg).
It's not known if Fisher or Smith will be available Monday night, but Nashville didn't exactly look like a team searching for answers with all those guys out of action.
Pontus Aberg drew back into the lineup and scored the winning goal just over midway through the third period for his first playoff goal, while Frederick Gaudreau played well defensively and had a winning record on faceoffs, going 10-4 in his first playoff match.
Gaudreau became the team's 18th forward to play in the postseason, tying an NHL record. Aberg and Austin Watson, who sealed the outcome with an empty-netter in the last minute, are the 16th and 17th Predators to score goals in the playoffs.
It was the latest example of how depth is driving this team to heights it's never reached before.
"Whatever 20 guys we have going out there, we're fully confident in the group we have going," Watson said. "For guys like Freddie Gaudreau to come out and play the way that he did, for guys to just step up and maybe take on some more minutes, that was a huge win for us tonight."