Duchene probably to play Tuesday night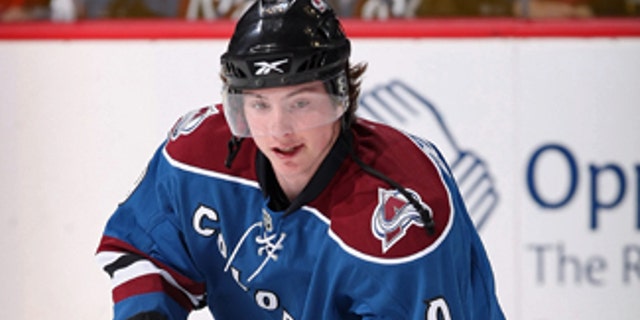 NEWYou can now listen to Fox News articles!
CENTENNIAL, Colo. -- The Colorado Avalanche expect to have leading scorer Matt Duchene in the lineup for Tuesday's game in St. Louis.
Duchene took part in a full practice Monday for the first time since injuring his left hand Feb. 14 against Calgary. He missed two games after being struck by a shot launched by former teammate Kevin Shattenkirk, who was traded to the Blues on Saturday along with Chris Stewart and a 2011 or 2012 second-round draft pick in exchange for Erik Johnson, Jay McClement and a first-round pick in 2011 or 2012.
Duchene, who has 21 goals and 27 assists in 57 games, centered a line with Kevin Porter and Milan Hejduk in practice.
"I felt pretty good," Duchene said. "I'm excited to get back out there tomorrow. It's your bottom hand, putting a lot of force on it. I think I've got it figured out. I think I have a way to stabilize it. It feels OK.
"I'm playing tomorrow. I'm ready to go."
Avalanche coach Joe Sacco said he hadn't yet spoken to the trainers, but he listed Duchene's status as "probable" for Tuesday.
"He made it through full practice this morning and he looked good," Sacco said. "I haven't had a chance to speak with him either, but he'll be probable for tomorrow and he'll be a nice addition to our lineup. We're obviously a team right now that needs some offense and he can provide that."
The Avalanche has been outscored 42-14 during a 10-game losing streak.
Duchene hadn't missed a game this season before getting injured in the waning seconds of the second period against the Flames, who cruised to a 9-1 win.
"It was really hard (sitting out)," he said. "It was only a week, but it felt like a month or more. I worked real hard to even get in better shape than I was and getting my injury healed up. It's good to be back."
The Avalanche is in 14th place in the Western Conference, 11 points out of the eighth and final playoff spot with 23 games remaining.
"It's really hard to put a finger on it," Duchene said of the losing streak. "I think sometimes in this league when it rains, it pours. We've had so many injuries this season and so many tough breaks. A lot of those games, half of them we played pretty good hockey and could've won the games. It's disappointing."