Drivers get into fight during rain delay in XFINITY race at Bristol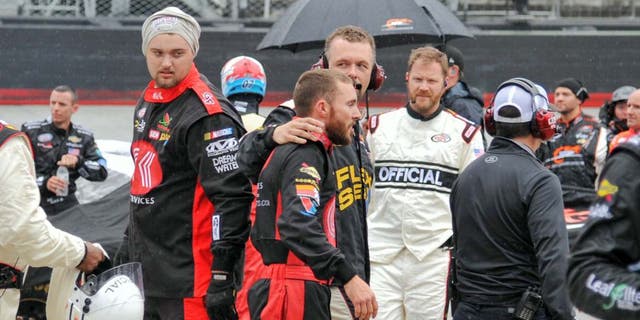 NEWYou can now listen to Fox News articles!
Jeremy Clements and Ross Chastain made contact on track during the early stages of the Fitzgerald Glider Kits 300 XFINITY Series race at Bristol Motor Speedway.
Chastain moved Clements out of the way on the track and when the red flag waved for rain, Clements grabbed Chastain by the shoulder when the drivers exited their cars which led to an altercation.
Photos of the incident show Chastain throw a punch at Clements when the two confronted each other on pit road.
In an interview with FOX NASCAR's Jamie Little during the rain delay, Chastain said, "Somebody grabbed me by my shoulders and kind of pushed me. I just turned around and saw who it was. I hope he realizes now that he can talk, we can talk, but you cant grab someone by the shoulders. That happened before and I said right then I wouldnt let it happen again. Whats done is done."
Clements headed to the infield care center after the altercation and exited with a pair of sunglasses on, declining interview.
Both drivers were back in their cars once the nearly two-hour rain delay ended to continue the race.
Check out the full interview with Chastain below.