Dodgers bring overloaded roster into series with Padres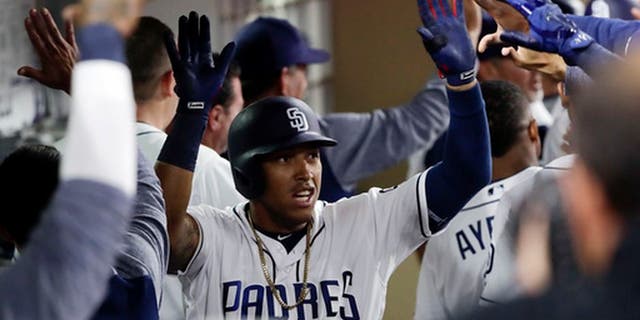 SAN DIEGO -- The Los Angeles Dodgers are coming to San Diego on Friday to open a three-game series with the Padres. That much is certain.
What's a mystery is what players will be with them?
Los Angeles has a problem, but it's one that teams would embrace. The Dodgers have a wealth of good players, but only 25 can suit up.
Cory Bellinger has muddled the situation after a strong showing following his call-up from Triple-A Oklahoma City. What was to be a quick stay with Joc Pedersen on the disabled list could be extended because of Bellinger's production.
But how do Dodgers make room?
Among the options is putting Adrian Gonzalez on the disabled list for the first time in his career. Gonzalez has battled elbow and back issues, but then again, he has played at least 156 games in every season since 2006, so he knows about monitoring aches and pains.
"When you play all those years and you never go on the DL, you don't feel great all the time," Dodgers manager Dave Roberts told the media on Wednesday."That's why I just have so much respect for him. Because sometimes, for players, to go on the DL is the easy way out. And he literally has never done that."
Right-hander Kenta Maeda (2-2, 6.58 ERA) is hoping he's not done in by the Padres again. He was beaten by them on April 4 when he allowed three runs and six hits in five innings. Lifetime, Maeda is 2-2 with a 3.67 ERA against the Padres.
San Diego will counter with Jhoulys Chacin (3-3, 5.82), another right-hander. Chacin has won two of his last three decisions and usually fares well against National League West opponents with a 28-20 record.
But he has had trouble with the Dodgers through the years and that includes this one. He is 9-8 against them, with one of those losses coming April 3 when he had his worst outing of the season.
The Dodgers knocked Chacin around for nine runs and eight hits in 3 1/3 innings.
The Padres, though, are confident that Chacin will continue to flourish.
"He's a guy that when we looked at in the offseason, we believed in his future," Padres manager Andy Green said. "And there's indicators in the past as to why we believed in his future.
"I think his mix plays, he's a guy that isn't going to be able to throw one pitch all day. It's a four-pitch mix with the slider kind of being No. 1 on his list of pitches to go to in crucial situations. He's done a good job operating on the outer edge in recent games."
Among those outings wasn't the one he had last month in L.A.
"The games he's had a rough time with, he couldn't command the secondary early in the count," Green said. "Forced to bring the fastball in fastball counts. He can't pitch behind. He doesn't have that kind of stuff. But he has more than enough to be a very good major league pitcher."