Dickerson, Morrison excel but wild pitch puts Angels past Rays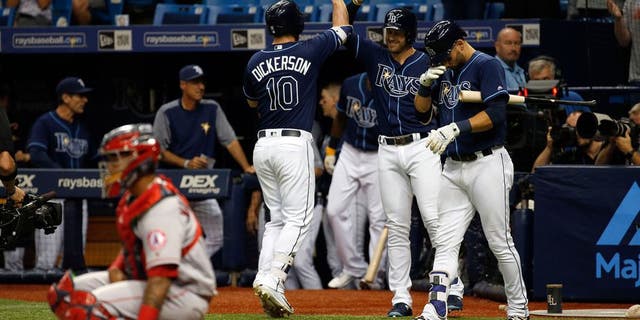 ST. PETERSBURG, Fla. (AP) -- Jefry Marte scored the go-ahead run on a wild pitch in the seventh inning to help the Los Angeles Angels' beat the Tampa Bay Rays 3-2 on Monday night.
The Angels, who have won six of eight, pushed across the run without a hit in the seventh inning against Tampa Bay relievers Jumbo Diaz (0-3) and Ryne Stanek. After walking Mike Trout intentionally to load the bases with two out, Stanek threw a ball in the dirt while facing Albert Pujols, allowing Marte to score easily.
Corey Dickerson and Logan Morrison homered off Angels starter J.C. Ramirez for Tampa Bay's only two runs.
Dickerson's 12th home run, and his sixth in six games, came on his 28th birthday. Morrison's 12th homer was his seventh of the month.
Andrelton Simmons drove in the Angels' first run with a sacrifice fly in the first inning after an infield hit by Cameron Maybin and two walks.
Maybin hit his second home run for the Angels, tying the game at 2-2 in the fifth.
Rays starter Jake Odorizzi gave up two runs on five hits while striking out eight in six innings.
Ramirez (4-3) struck out five while giving up two runs on six hits in 6 2-3 innings. The right-hander has given up only 12 earned runs in his last six starts.
Bud Norris got the final four outs for his ninth save.
Trout, who has reached base in 39 of 41 games this season, walked twice and struck out twice in five plate appearances.
TRAINER'S ROOM
Angels: Closer Huston Street (right lat strain) could be nearing a minor league rehab assignment. Street has been pitching at extended spring training. . . . RHP Cam Bedrosian (groin) had a light mound session, his first since going on the disabled list April 22. . . . RHP Doug Fister, signed Saturday, is long tossing at extended spring training. He was a free agent after going 12-13 in 32 starts for Houston last year.
Rays: 3B Evan Longoria, who has been battling foot problems, had a "get off his feet" day as a DH. . . . SS Matt Duffy (Achilles surgery) hopes to start a rehab assignment this week.
UP NEXT
RHP Matt Shoemaker (3-2, 4.47) will pitch for the Angels on Tuesday night against Rays RHP Alex Cobb (3-2, 3.16). Both will be trying to become the first pitcher for either the Angels or Rays to win three straight starts this season.