Denny Hamlin edges Martin Truex Jr. for closest Daytona 500 in history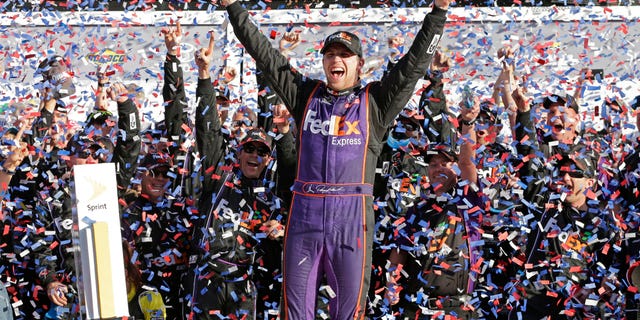 Denny Hamlin won the closest Daytona 500 in history, beating Martin Truex Jr. to the finish by less than six inches on Sunday.
By the time it came to the end of the race, many of the pre-race favorites had raced themselves out of contention including Dale Earnhardt Jr., who wrecked with 30 laps to go while struggling to get back up front.
Sprint Cup rookie Chase Elliott, the youngest pole-sitter in Daytona 500 history, led the field to green with Matt Kenseth starting alongside Elliott on the front row.
Elliott elected to start on the inside with Hendrick Motorsports teammate Earnhardt Jr. lined up behind him to push. Together, they quickly surged to the lead with Elliott in front and Earnhardt on his bumper.
But by Lap 5, Earnhardt had surged into the lead.
And on Lap 19, Elliott's day ended in disaster when his No. 24 Chevy got loose in the middle of Turn 4 on Lap 19 and started to go around, tail first. After contact with Carl Edwards who was on the low line, Elliott spun onto pit road and then into the tri-oval grass.
When Elliott hit the grass, it tore the splitter off his car, which got stuck in the infield. Elliott's car had to be towed into the garage.
Elliott took full blame for the incident.
Asked what happened, Elliott replied: "I'm not sure, just got turned around there off of four. Got in the middle and got loose. Lost it and spun out. I hate it for everybody at less than 20 laps in and have something dumb like that happen. I apologize to my guys."
After his Hendrick Motorsports crew made repairs, Elliott rejoined the race on Lap 59, 40 laps down.
There were other incidents throughout the race.
On Lap 56, last year's winner, Joey Logano checked up coming out of Turn 4 and was hit from behind by Brian Vickers, who went on a lurid spin in the No. 14 Stewart-Haas Racing Chevrolet. Edwards took evasive action to avoid Vickers' car, and when he did, Edwards hit the wall, incurring front-end damage on his JGR Toyota.
On Lap 92, rookie Chris Buescher and Matt DiBenedetto got tangled up and crashed hard into the outside wall, ruining both of their days.
"I really saw nothing," Buescher said. "Matt was in (the infield care center) with us and he apologized, and I appreciate that. I just hate it for Love's Travel Stops coming on board for our first Daytona 500, and to leave it like this is not ideal by any means."
DiBenedetto later added: "I have no excuse. I went in there with a head of steam and got sideways."
And on Lap 116, Greg Biffle slapped the outside wall, bringing out the fourth caution and doing considerable damage to his No. 16 Roush Fenway Racing Ford.
Hamlin led 94 of the first 155 laps before giving up the lead to come to pit road for a green-flag stop with 45 to go.
Meanwhile, four drivers who were among the pre-race favorites combined to dominate the first 120 laps of the race with Hamlin, defending Sprint Cup champion Kyle Busch, Jimmie Johnson and Earnhardt combining to lead 111 of those laps.
Hamlin led the most and soon cycled back into the lead following pit stops after Biffle's incident.