Dana White explains why he allowed Conor McGregor to crossover for Floyd Mayweather fight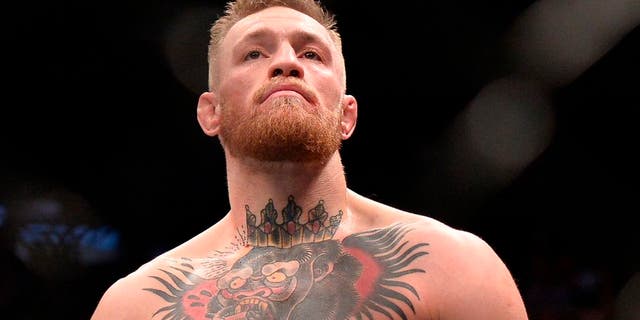 NEWYou can now listen to Fox News articles!
Not since Chuck Liddell traveled to Japan to take part in a PRIDE Fighting Championships tournament in 2003 has the UFC allowed one of its stars to take part in an event promoted by another major fight organization.
That will change on Saturday night, Aug. 26 when UFC lightweight champion Conor McGregor takes on Floyd Mayweather in a boxing match airing live on Showtime pay-per-view.
Now it probably seems like a no brainer why the UFC would allow McGregor to fight Mayweather considering all sides stand to reap the benefits of a massive revenue stream that will be generated by the fight. The UFC is hands off on the pay-per-view broadcast, but the promotion will still enjoy a percentage of the money generated by the fight not to mention McGregor potentially earning a nine-figure payday for the bout.
Still, McGregor is stepping into unknown territory where he will be a lopsided underdog to Mayweather, who enters the fight with a 49-0 record while being touted as one of the greatest boxers of all time. It doesn't seem many analysts are giving McGregor a shot to win much less a chance to survive 12-rounds with Mayweather, so why did the UFC sign off on this fight?
McGregor has stepped up to every challenge the UFC has thrown in front of him, including two fights against Nate Diaz last year that generated some of the biggest pay-per-view numbers in the history of the promotion.
White says that McGregor's willingness to take on anybody at any time has put him in a different category than most of the other fighters on the UFC roster. Ultimately, White says McGregor wanted this fight with Mayweather so he felt obligated to do everything in his power to make it happen.
The opportunity in this fight goes beyond just a big paycheck because White knows for a fact that McGregor isn't just stepping into the ring with Mayweather for the money.
He truly believes that McGregor is coming for Floyd's head and will give it everything he's got to make it happen during those 12 rounds.
"Here's the thing Floyd's 40 years old, he hasn't fought in almost two years. He traditionally doesn't do well against southpaws. He's undefeated but if you want to look at the kink in the armor, we look at southpaws. Conor is a southpaw," White explained. "Conor is 27 years old, and Conor is a knockout artist. All the guys that thought Conor couldn't hurt them, every time he touches guys, they fall.
"Conor told me this morning the McGregor clan has been taking over villages for the last 300 years and Floyd's village is next."
Of course, McGregor will be fighting an uphill battle going up against Mayweather in a boxing match, but White refuses to count him out because "The Notorious" has made him a believer throughout his UFC career.
"He's the type of guy who absolutely 100-percent believes in himself, believes in his abilities," White said. "Even in the Jose Aldo fight he was talking about knocking Jose Aldo out in the first round and everybody's like, 'oh that's ridiculous,' and the fight lasted 13-seconds.
"I stopped doubting Conor McGregor."