Dalton: Our goal is to win the Super Bowl, not just a playoff game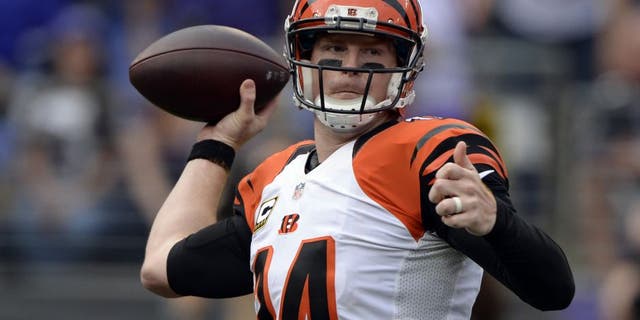 NEWYou can now listen to Fox News articles!
Four seasons, four one-and-done playoff exits. Bengals quarterback Andy Dalton thinks the criticism hurled at him and head coach Marvin Lewis would be much different if Cincinnati advanced in the postseason just once.
"If we had won just one playoff game during this time, you wouldn't hear that," Dalton told SB Nation's Thomas George. "Just one. But we haven't won one. We've had a lot of success, won a lot of games, made the playoffs for the first time in franchise history four years in a row, but not won one playoff game. That's kind of crazy that just one win along the way would change that conversation so much."
Dalton is hoping for a different result in his fifth season. The Bengals are off to a 5-0 start for the first time since 1988, the last time they advanced to the Super Bowl. Their most recent win -- in which they overcame a 24-7 fourth-quarter deficit to Seattle -- has many thinking this will be the year Cincinnati gets over the playoff hump. Getting over the hump is not going to satisfy Dalton and his teammates.
"Our goals have never been to win one playoff game," Dalton said. "We are about winning the Super Bowl. I understand you have to win in the playoffs to do that. But we are going to keep the goal much bigger and larger. And keep working on becoming champions."
Offensive coordinator Hue Jackson sees a different Dalton this season, one who has the confidence to lead as he did against the Seahawks. He's taking care of the football with only two interceptions, while also filling up the stat sheet with numbers that have him in the same company as Tom Brady and Aaron Rodgers. But as George says, a million passing yards and million touchdown passes in the regular season isn't going to sway Dalton's doubters.
"When you have been four times and not much good comes up for you ... You have to deal with that head on. Not run from reality," Jackson said. "You have to get to that door and knock it down. And the only way you can do that is take the season one game and one week at a time and just eventually get to that door. As coaches and players, that is the only way you can see what is on the other side of that door."