Dale Jr. on dad's 'Intimidator' image: 'Other drivers actually believed all that'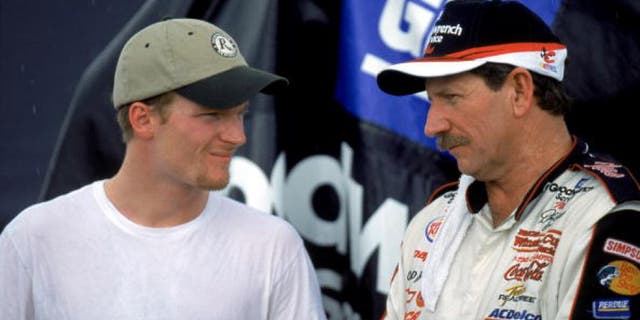 During a recent promotional event at Wrangler corporate headquarters in Greensboro, North Carolina, Dale Earnhardt Jr. offered some interesting insight into how the image of his late father was molded through the world of advertising.
Yes, it's true that the late Dale Earnhardt could sometimes be intimidating, and that he frequently could be described as "one tough customer" on the race track.
But much of that persona was created by the advertising folks. And the more the elder Earnhardt saw that he could use it to his advantage in the competitive arena, the more he embraced it, according to his son.
"It's pretty neat. Dad was real smart and savvy and a great businessman, and certainly took advantages of opportunities to market himself," Earnhardt Jr. said. "He got more and more clever throughout the years to grab onto 'The Intimidator' identity and the perception that he was this 'Intimidator' and 'The Man in Black' and all the stuff that came on down the road.
"They were pretty savvy about taking advantage of that and using that and creating a persona. It worked for him off the race track, but it also worked for him on the race track. Some of them other drivers actually believed all that."
And the more the other drivers bought into it, the more Earnhardt and the marketing team around him in the 1980s fed it. That and the record-tying seven NASCAR Premier Series championships Earnhardt ended up winning combined to help make the man into a racing legend.
"They were pretty smart," Earnhardt Jr. said. "So those ads, as innocent as they were, those were the beginnings of my father kind of understanding that it wasn't all about just driving the car. Being an asset to your partners and being an asset to Wrangler at that particular time was something that he was starting to understand just how important that was. So it's pretty cool."