Dak Prescott explains why he turned down Kanye West tickets to watch Texans-Patriots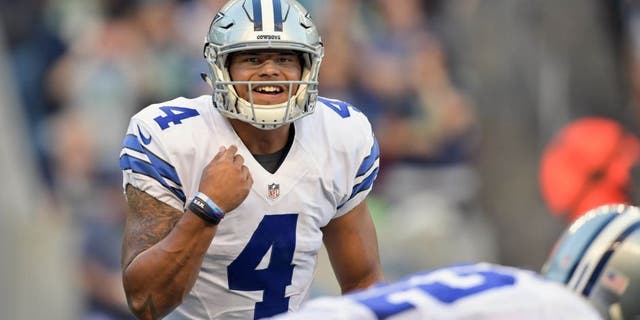 Dak Prescott has been everything the Cowboys expected, and then some. He's led the team to a 4-1 record, has yet to throw an interception and looks like a true leader on the field.
Off the field, his track record has been equally spotless. Prescott has said all the right things when faced with questions about Tony Romo and whether this is his team, proving he's likely the next face of the franchise.
Heck, he's even turning down tickets to Kanye West's Saint Pablo Tour, opting to stay home and watch football instead. That's right: Prescott declined tickets to Kanye's show on Sept. 22 after he was offered them by a childhood friend.
Via Pete Thamel of Sports Illustrated:
Prescott did the math aloud: Kanye will go on after 9. The show will last a few hours, which means getting home after midnight. The decision was clear. He ­offered the tickets to his childhood friend, Cobi Griffin, who declined. So Dak kicked back in a recliner, Cobi sprawled on the couch and the two spent the night flipping between a Texans -- Patriots game and Clemson -- Georgia Tech. "I wanted to go a little bit," Prescott said of the concert. "But I just think about the perception of it all. And I love my sleep."
So not only did Prescott turn down the tickets, but he even thought about how he'd be perceived if he went to the concert! He's saying and doing everything you could ask a rookie quarterback to.
By the way, the Patriots won that game 27-0, so it wasn't a particularly exciting contest. You made the right decision perception-wise, Dak, but Kanye and his floating stage probably would have been a better choice.