Daily Fantasy Baseball Advice - April 6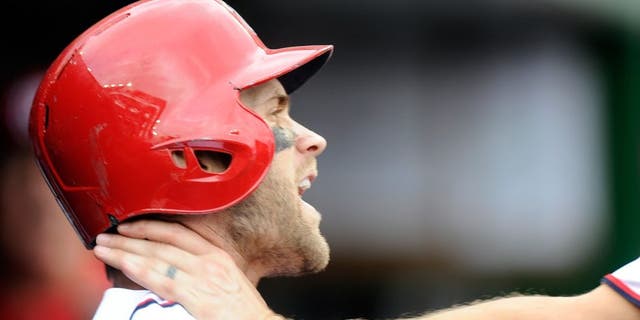 Welcome to today's daily fantasy post! We'll remind you one more time that there are multiple changes for this year.
First, we will make these daily posts on a new page every day, unlike 2015 when we just refreshed the same page.
Secondly, you can find our posts on the brand-spanking new DFS home page, as well as the fantasy page. Bookmark those sites now!
Next, we are adding a "Five Things to Watch" and "Stack of the Day" section along with the usual information from 2015 (Must-Start, Deal, Avoid, and positional picks).
Finally, our amazing development team added a Twitter feed so you can see tweets from Ryan Fowler (@FOXSportsFowler), John Halpin (@jhalpin37), D.J. Foster (@FOXSportsFoster), and myself (@FOXSportsMeyer). That way, if information surfaces for any last minute changes, you can see our thoughts instantly.
Let's get to Wednesday's interesting facts, using DraftKings prices.
Five Things to Watch:
1. A couple of Brewers have owned Giants SP Jeff Samardzija. OF Ryan Braun ($4,400) is 10-for-20 with three homers versus the Shark, while 1B Chris Carter ($3,500) is 7-for-15 with three homers. Brewers-Giants is on the early slate of games, starting at 1:40 p.m. ET.
2. The Blue Jays led the majors with a .354 wOBA versus lefthanded pitchers last season, and face Tampa's Matt Moore today. Using/stacking one or more of Toronto's expensive hitters is great if you can afford it, but 1B Chris Colabello ($3,400) is a more reasonable option.
3. Arizona's David Peralta ($3,700) looks solid for the afternoon slate. He's off to a hot start - 5-for-10 with three runs scored in two games - and has a friendly matchup with the Rockies' Tyler Chatwood. Peralta batted .312 with 17 home runs, 78 RBI, 61 runs and nine stolen bases last season, and hit cleanup on Tuesday.
4. Braves SP Bud Norris allowed 15 home runs in 83 innings last season. If you're going to pay for a stud hitter today, it should be Bryce Harper ($5,000). Yes, even ahead of Josh Donaldson ($4,900) and Nelson Cruz ($4,800), who are also strong options.
5. Sonny Gray ($9,600) starts tonight against the White Sox after getting scratched Monday due to food poisoning. Gray is a really good pitcher, but he typically doesn't get enough whiffs to be a strong DFS play.
D.J. Foster will post his Must-Start of the Day, Deal of the Day, Avoid of the Day, Stack of the Day and more later today!
Tweets from https://twitter.com/FantasyOnFOX/lists/fox-sports-fantasy