'Cyborg' refutes UFC 201 report, says she's defending her featherweight title, next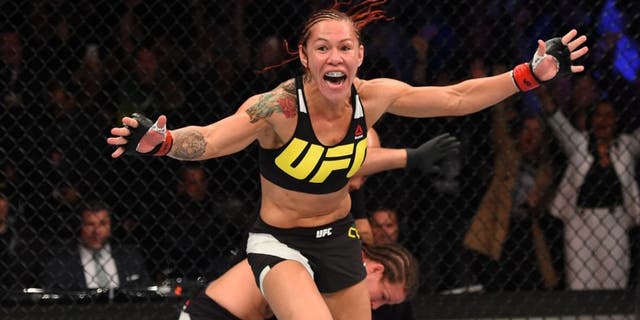 UFC Tonight reported on Wednesday that featherweight world champ Cris "Cyborg" Justino was on her way to fighting for the second time in the UFC, at UFC 201, against bantamweight contender Germaine de Randamie. The style match up between the two kickboxers would certainly lead to an entertaining bout.
The only problem is that "Cyborg" doesn't seem quite on board with the fight. Justino took to Twitter to refute the report, seeming to suggest that if Randamie wants to fight her, it needs to happen at featherweight, and that her next fight will certainly be in defense of her 145-lbs championship.
Justino also pointed out that Germaine de Randamie has fought at 145 lbs throughout her combat sports career, suggesting that it isn't the opponent she's at odds with, but the implied weight such a bout would happen at.
Justino fought at a 140 lbs catch weight last weekend for her UFC debut in her home town of Curitiba. Still, before and after that fight, Justino insisted that her next fight would be a defense of her 145-lbs InvictaFC title.
Justino's boyfriend and retired professional fighter Ray Elbe took to the web to detail how difficult it was for "Cyborg" to get down to the 139 pounds she weighed in at, last Friday. According to Elbe, were Justino to ever fight at such a low weight again, she would need much more recovery time to even begin the process of dropping back down to fight on July's UFC 201 event.
"Cris can not make 140 lbs on such a turn around. This fight would have to take place at 145 lbs, which would be amazing," he wrote, on The Underground forum.
"It took her 12 weeks to diet and reach the weight, and she needs a recovery period. If you know anything about peaking you know that an athlete needs to rest following the competition. Cris has already stated her next fight will be at 145 lbs, 140 lbs was not easy to make and she is in Brazil until the beginning of June.
"Wait until you guys actually see the video footage of the cut and training leading up to the fight ... you will have a greater appreciation for what type of commitment it took her to achieve 140."
Hopefully those two fighters can meet at some point at a weight that works for both of them. For now, however, it would appear that if the UFC wants to book Justino in this or any other fight they may need to actually consult her on the matter.