CUP: Top 10 Surprises Of 2012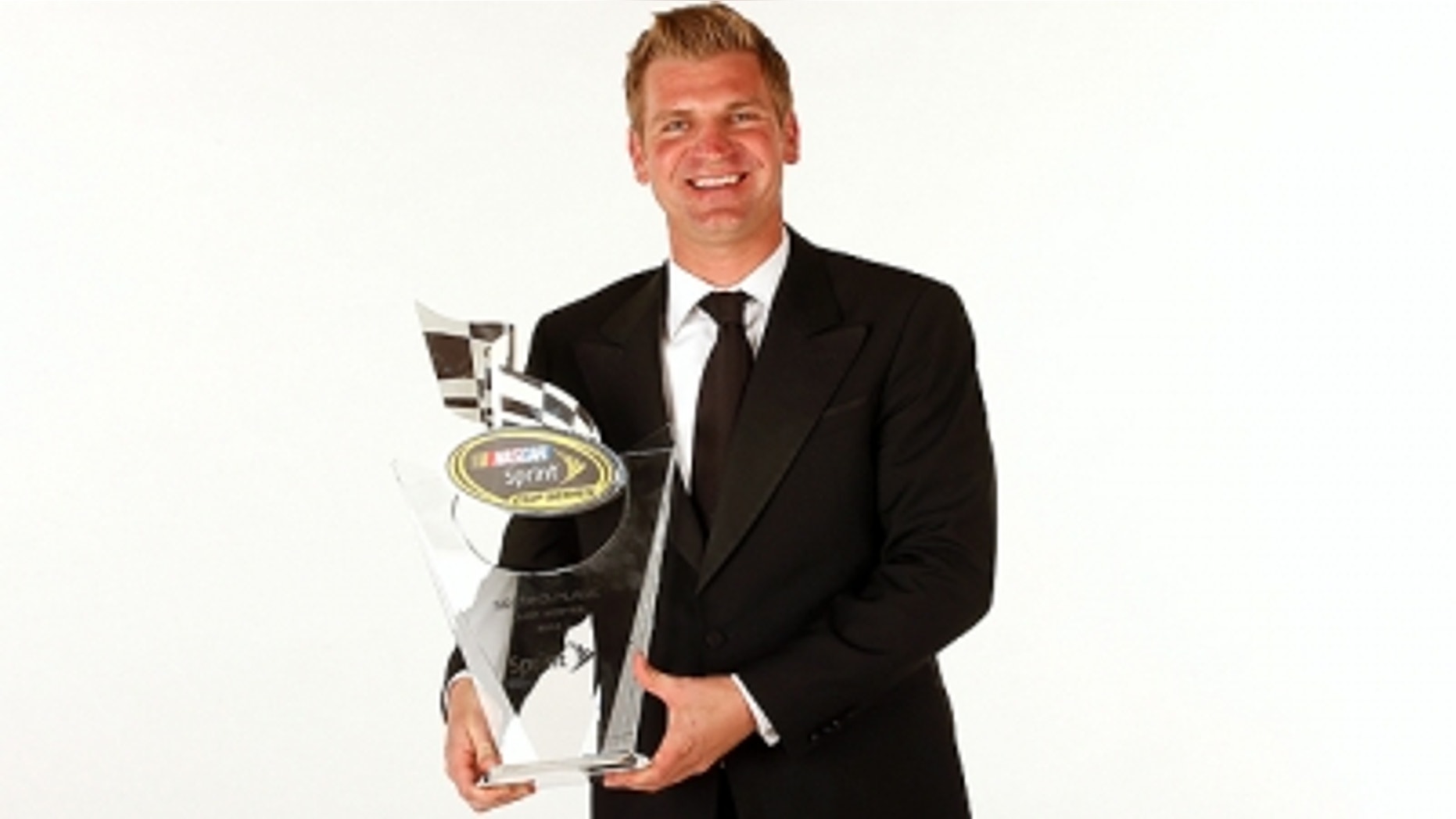 The NASCAR Sprint Cup party in Las Vegas is over, but the memories of an interesting and historic season remain. Here are the top-10 surprises of 2012:
1. BOWYER IS RUNNER UP – When Clint Bowyer announced he was leaving the powerhouse Richard Childress Racing team to join Michael Waltrip Racing in 2012, few viewed it as a step up. RCR was an established top-tier team, while MWR was a mid-pack outfit that had never put a driver in the Chase for the Sprint Cup before.
But with an all-new team led by crew chief Brian Pattie, Bowyer blew the skeptics out of the water, winning three races — more than the entire MWR team had won from 2007-11 — and finishing second in points to Brad Keselowski. Bowyer also established himself as one of the most colorful and interesting drivers in the sport.
2. FIVE-TIME FLAME OUT – Jimmie Johnson is the most fearsome closer in NASCAR, one of the key reasons he has five Sprint Cup championships. So when he won the seventh and eighth races of the Chase for the Sprint Cup from the pole, scoring maximum points both times, it seemed like a sixth title was inevitable. All he had to do was finish strong in the final two races of the year.
Shockingly, Johnson's Chase ended with a whimper, not a bang, as he blew a tire and finished 32nd at Phoenix and then lost a rear-end gear at Homestead, coming home 36th. Those aren't the kinds of problems expected from Johnson with a championship on the line.
3. JGR DISAPPPOINTS – The 2012 season was supposed to be a big one for Joe Gibbs Racing, one of NASCAR's elite teams. Darian Grubb, the reigning championship crew chief, was hired to head up operations for Denny Hamlin, who came so close to winning a title in 2010. Kyle Busch was expected to improve on his 12th-place showing in 2011 and new crew chief Jason Ratcliff was supposed to revitalize Joey Logano's career.
Instead, only Hamlin made the Chase, and although he won at New Hampshire and finished second at Charlotte and Phoenix, he had six Chase finishes of 13th or worse and was never a factor in the title fight. Logano was shown the door and Busch finished 13th in points.
4. PENSKE TO FORD - In IndyCar and NASCAR, Roger Penske's always been an owner willing shift manufacturer alliances. Nevertheless, when Penske announced March 1 that his team would move from Dodge to Ford in 2013, it was a shocker. And a lot of folks believed that Penske therefore would have no shot at a championship in 2012. Wrong. Despite being a lame duck with Dodge, Penske's troops rallied and Brad Keselowski gave The Captain his first Cup title.
5. TOUGH YEAR FOR RCR – Coming off consecutive third-place points finishes in 2010-11, Kevin Harvick figured to be a serious championship contender in 2012. He wasn't. Harvick finished the season eighth in points, winning the team's only race all year at the penultimate event in Phoenix. The biggest shocker, though, is that Harvick will leave RCR to join Stewart-Haas Racing in 2014.
6. MATT KENSETH TO JGR – If there was ever a lifer at Roush Fenway Racing, it seemed to be Matt Kenseth, who had driven for the team in the Sprint Cup Series since 1999, winning Jack Roush his first Cup title in 2003. So when Kenseth decided to take his talents to Joe Gibbs Racing for 2013 and beyond, it was the biggest bombshell of silly season.
7. 'DINGER SUSPENDED – When AJ Allmendinger signed to take over for Kurt Busch driving the No. 22 Penske Racing Dodge, it seemed as though the former open-wheel star finally got his big break. But a positive drug test midway through the season cost Allmendinger his seat with Penske and left his future in NASCAR in doubt.
8. CARL EDWARDS STRUGGLES – In 2011, Carl Edwards tied Tony Stewart for the Cup championship, losing the title on a tie-breaker. But after posting top-five finishes in 19 races last year, he had no victories and only three top fives in 2012. In fact, Edwards had only one top five in the final 31 races as he never even came close to making the Chase.
9. DODGE LEAVES NASCAR – At Las Vegas Motor Speedway in March, Dodge took the wraps off of its sexy 2013 Charger Sprint Cup car. But with Penske moving to Ford next year, Dodge officials couldn't find a team they were comfortable with and decided to leave the sport altogether, a move made more embarrassing by Keselowski's championship run in a Dodge.
10. JUNIOR'S WILD SEASON – It was feast or famine for the Earnhardt Nation in 2012, with Dale Earnhardt Jr. breaking a 143-race winless streak at Michigan in June. Earnhardt took over the points lead after the Brickyard 400 and appeared headed for a career-best year. But two concussions effectively ended his title hopes, as he sat out two races to recover. Still, on balance a good year.
Tom Jensen is the Editor in Chief of SPEED.com, Senior NASCAR Editor at RACER and a contributing Editor for TruckSeries.com. You can follow him online at twitter.com/tomjensen100.