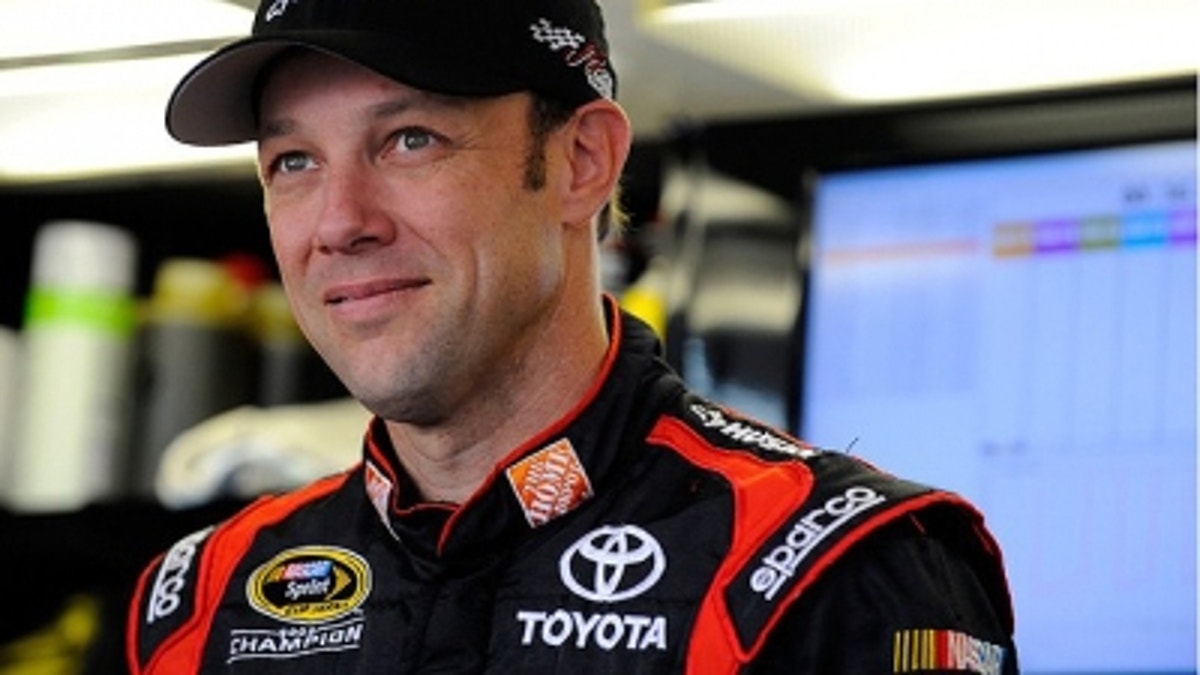 document.write($AllStarArticleAdContent);
[SATURDAY 11:59 am ET]
RACE DAY IS HERE — It's a home game tonight for the NASCAR Sprint Cup Series teams, as they race at Charlotte Motor Speedway in the annual Sprint All-Star Race. The on-track activity begins at 7 p.m. ET with the 40-lap Sprint Showdown last-chance race.
The top two finishers in the Showdown, along with the winner of the Sprint Fan Vote, will advance to the Sprint All-Star Race, which should begin around 9 p.m.
There are 23 drivers entered in the Showdown. A total of 19 drivers are locked into the All-Star Race already, and the final field will be 22 drivers. The race is five segments — four 20-lap preliminaries and one 10-lap finale. The winning driver receives $1 million and if he wins all five segments, that doubles to $2 million.
Weather is an issue. The forecast right now calls for 50-60 percent chance of scattered showers throughout the evening.
SPRINT ALL-STAR RACE LINEUP:
ROW 1 —Carl Edwards, Kurt Busch
ROW 2 —Greg Biffle, Kyle Busch
ROW 3 —Joey Logano, Clint Bowyer
ROW 4 —Denny Hamlin, Mark Martin
ROW 5 —Kasey Kahne, Jeff Gordon
ROW 6 —Ryan Newman, Brad Keselowski
ROW 7 —Tony Stewart, David Ragan
ROW 8 —Dale Earnhardt Jr., Matt Kenseth
ROW 9 —Marcos Ambrose, Jimmie Johnson
ROW 10 —Kevin Harvick
SPRINT SHOWDOWN LINEUP:
ROW 1 — Martin Truex Jr., Jamie McMurray
ROW 2 — Juan Pablo Montoya, Ricky Stenhouse Jr.
ROW 3 — Casey Mears, Jeff Burton
ROW 4 — Danica Patrick, Paul Menard
ROW 5 — JJ Yeley, Landon Cassill
ROW 6 — Bobby Labonte, Aric Almirola
ROW 7 — Scott Riggs, Dvid Gilliland
ROW 8 — Michael McDowell, David Reutimann
ROW 9 — Mike Bliss, Travis Kvapil
ROW 10 — Dave Blaney, Timmy Hill
ROW 11 — Joe Nemechek, David Stremme
ROW 12 — Brian Keselowski
Here's SPEED's TV schedule for activity at CMS today (all times ET):
• 4 p.m. — NASCAR RaceDay Special Edition
• 5 p.m. — NASCAR RaceDay
• 7 p.m. — Sprint All-Star Race
• 11 p.m. — NASCAR Victory Lane
Tom Jensen is the Editor in Chief of SPEED.com, Senior NASCAR Editor at RACER and a contributing Editor for TruckSeries.com. You can follow him online at twitter.com/tomjensen100.