CUP: Pit Mistake Costs Kyle Busch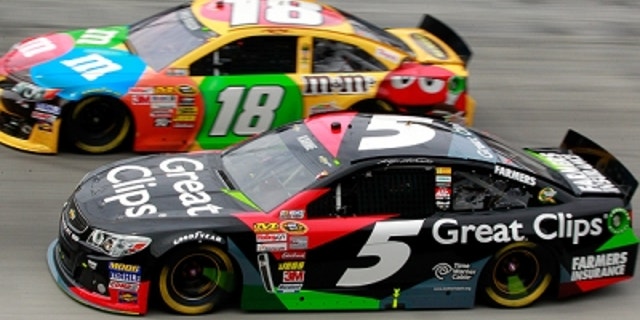 NEWYou can now listen to Fox News articles!
RESULTS: Food City 500
POINTS After Food City 500
Talk to any NASCAR Sprint Cup driver and they will tell you that winning a race is really, really hard to do. But losing a race? That's all too easy. All it takes is a single mistake. Just ask Kyle Busch.
Busch came into Sunday's Food City 500 at Bristol Motor Speedway as the prohibitive favorite, having posted five victories and seven top-five finishes in 16 career Sprint Cup starts here.
It helped, too, that he qualified on the pole, was third fast in Friday's lone practice session then tops on the board in both of Saturday's practices. And he also won Saturday's NASCAR Nationwide Series event here.
Sunday, Busch looked for all the world as if he'd win again, leading the first 55 laps at the 0.533-mile Bristol short track without being seriously challenged.
Alas, one simple error cost Busch what should have been a convincing victory.
When he pitted under caution on Lap 56, Busch got caught speeding in not one, not two, but three segments of pit road. Instead of emerging from the pits in contention for a victory, NASCAR sent Busch to the tail end of the longest line, where he restarted 34th.
Although Busch's prodigious talents and a fast Joe Gibbs Racing Toyota allowed him to get back near the front, he would lead only 1 of the final 445 laps, finishing second behind Kasey Kahne.
Put this one squarely in the category of woulda, coulda, shoulda.
This absolutely was Busch's race to win — a great car and his best track, but at this level of competition, one mistake is all it takes to cost you.
"It was a good run for us battling back from our pit road penalty, which we need to stop," said Busch. "If we didn't have so many of those, we'd be a lot better off. Being able to work on our car further up front, there's a difference when you run back in traffic."
Still, Busch was pleased to make it all the back from 34th to second, not an easy to task to accomplish at the Bristol short track.
"All in all we battled back," he said. "Crew chief made some good calls. Pit crew did a good job on pit road. You got to hustle it and drive hard out on the racetrack, especially after restarts, get what you can get."
And that left him with mixed emotions.
"Good day for the M&M Camry," said Busch. "Wish it was a little bit more. There at the end we were probably holding up the guys behind me, but track position is everything here anymore. It's frustrating the way that is. I wish I could have kept up with the 5 (Kahne), but he took off, left us all. I was too tight at the end."
Tom Jensen is the Editor in Chief of SPEED.com, Senior NASCAR Editor at RACER and a contributing Editor for TruckSeries.com. You can follow him online at twitter.com/tomjensen100.