CUP: Keselowski Hopes To Heat Up Times Three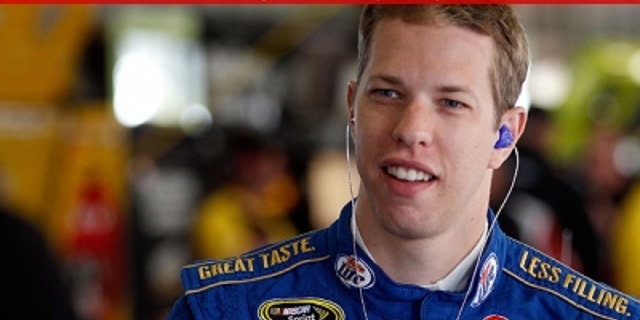 Brad Keselowski has a lofty goal this weekend at Kentucky Speedway: Win races on successive nights in the NASCAR Camping World Truck, Nationwide and Sprint Cup Series. And do it in 100-degree temperatures.
The odds do not favor him.
Kyle Busch is the only driver in NASCAR history to do a three-race sweep in a single weekend and for Keselowski to try to equal the feat is ambitious to say the least. But one of the many engaging aspects of Keselowski's personality is the fact that he gets up for big challenges. In fact, the bigger the challenger, the more fired up he gets.
"Kentucky's a place I picked to run the triple-header because I like coming out here," said Keselowski. "I like the race track and I like the fan support that it gets. That was part of the rationale behind it."
And, of course, Keselowski is confident, as he most always is.
"I think I've a great shot at winning in all three events," he said. "It's always been a bit of a career goal for me to be able to win in all three series in the same weekend, but not so much as it is a goal to just win in general and have quality rides that are capable of doing that."
Last year, Keselowski won the Nationwide Series here — he has an average finish of 2.75 in four series starts at the 1.5-mile oval — and finished a respectable seventh in the Sprint Cup race. His weakness has been in the Truck Series, where his average start in two Kentucky races is 24.0.
He hopes to rectify that, starting in tonight's UNOH 225 Truck Series race.
"I'm looking forward to hopefully having three good shots at it and I think that's a realistic possibility," said Keselowski.
As far as the triple-digit temperatures at Kentucky Speedway, Keselowski professed to not be worried.
"I don't usually have problems with it, so I feel pretty good about it," he said of the heat. "I know some people do. I do really well in the heat, so I feel pretty good about it."
On the Sprint Cup side, Keselowski has had a good but not spectacular season behind the wheel of the No. 2 Penske Racing Dodge Charger. He is one of four drivers to win two races so far this season and is a rock solid 10th in points. That's good, but behind last year, when he finished fifth.
"I think with our program, we started the year out very, very strong," said Keselowski. "And we had some issues earlier in the year with reliability. We had to spend a lot of our time focusing on correcting those. In that process, we fell behind a little bit in the speed game, which is obviously so important in this sport.
"So we've got to work back to that," Keselowski said. "I think that will happen over the next few weeks."
One factor Keselowski thinks will work in his favor are new NASCAR rules changes shortening the length of aerodynamic side skirts and requiring rear sway bar changes. In particular, the trick but previously legal sway bars used to great success by Hendrick Motorsports this season have been legislated out of existence, which Keselowski believes will tighten the field.
"I think that's going to get us a lot closer," Keselowski said. "Those are two things we were not working on at Penske Racing, so I'm very curious to see how that resets the competition. ... I think it's going to be a major game changer on who's competitive or who's fast and who's not."
Tom Jensen is the Editor in Chief of SPEED.com, Senior NASCAR Editor at RACER and a contributing Editor for TruckSeries.com. You can follow him online at twitter.com/tomjensen100.