CUP: JGR Boys Like 49ers In Super Bowl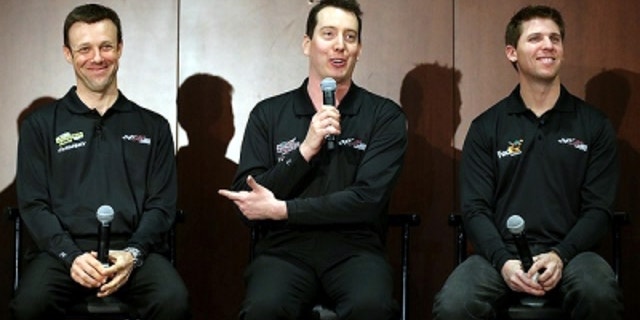 Before he was a championship NASCAR team owner, Joe Gibbs won three Super Bowls with the Washington Redskins of the National Football League. And his current crop of Sprint Cup drivers are big football fans, too.
Surprisingly, perhaps, JGR drivers Denny Hamlin, Kyle Busch and Matt Kenseth are united in their picks for Super Bowl XLVII — that's 47 if you don't know Roman numerals — Sunday night in New Orleans. All three favor the San Francisco 49ers to best the Baltimore Ravens.
"You know, I think the Super Bowl could go either way," said Kenseth, a Wisconsin native and avid fan of the Green Bay Packers. "I guess I'd probably have to stick with the NFC, though, and go with the 49ers. I think that (quarterback Colin) Kaepernick adds another element to the game and he's going to be tough to stop. But man, the Ravens are looking good, too. I think it's — you never know what's going to happen. Obviously, it's a game, but I think it could be a pretty entertaining game."
Hamlin agreed. "San Francisco," he said. "They're just, I think, the better defensive team. I think the coach is slightly better — everything is slightly better. The quarterback is dangerous on San Francisco."
As for Busch, he is disappointed that his favorite teams aren't in it.
"What's weird is that it's two teams that to me, they don't spark an interest like the (Denver) Broncos would or the Chicago Bears would or the (New England) Patriots would for me," Busch said. "They (Baltimore and San Francisco) are two teams that are almost two forgotten teams. It's kind of unique that you get those two in a Super Bowl, which is cool and also having the brotherly rivalry going on there — I know what that's like. That's cool, but if I had to pick one — it's a tough one to pick, but I like the 49ers."
Tom Jensen is the Editor in Chief of SPEED.com, Senior NASCAR Editor at RACER and a contributing Editor for TruckSeries.com. You can follow him online at twitter.com/tomjensen100.