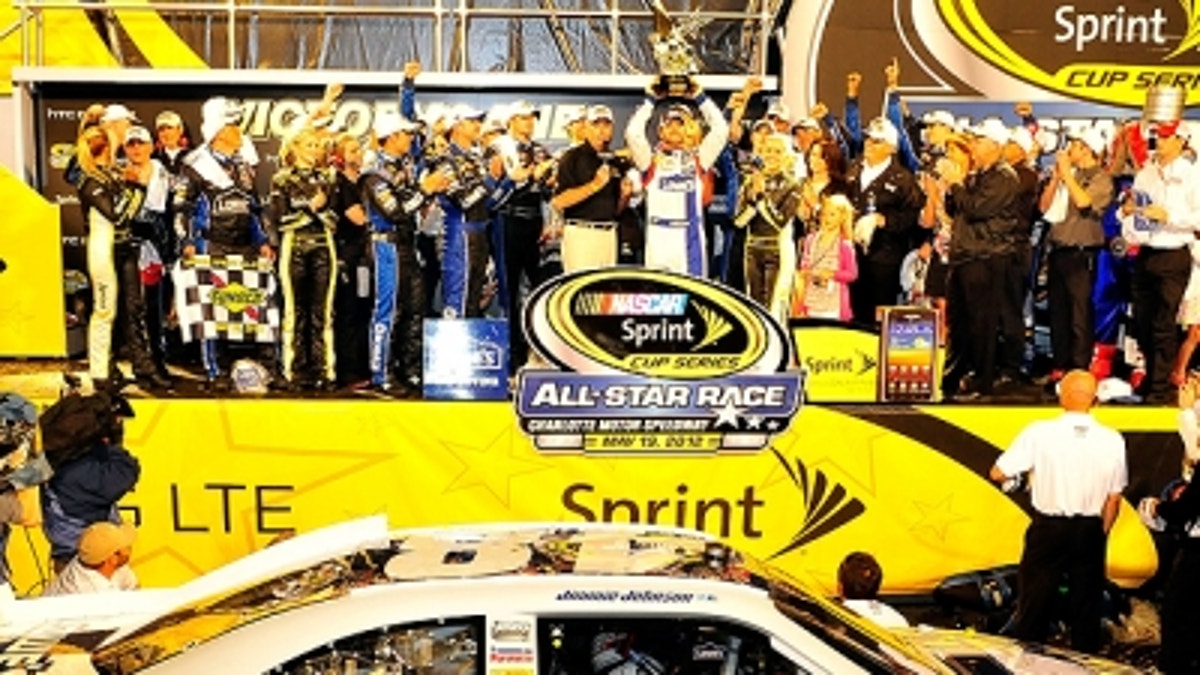 document.write($AllStarArticleAdContent);
The latest version of many, many formats for the Sprint All-Star Race will debut Saturday night. The goal for those who devise such plans is to produce hard racing every lap, all leading to a sensational, fireworks-heavy finish.
Sometimes it works, sometimes it doesn't.
Officials thought they had a good plan last year as they rewarded the winners of each of the race's first four segments with prime starting positions for the event's final shootout. But Jimmie Johnson and his Hendrick Motorsports team shot a hole in that idea by leading the first segment and then camping near the rear of the field until the final segment. He had nothing to gain by battling for position during the segments that followed the first.
So much for grappling for the lead on every lap.
This year there's a new plan. Of course. And it's designed to foil the Johnson approach.
The lineup for the pit stops prior to the 10-lap finale will be decided not by the leaders at the end of each segment but by each driver's average finish in the first four segments. In theory, this will encourage drivers to race hard throughout the first four 20-lap runs.
There might be a way to "play" that system, too. Crew chiefs probably have been busy studying the possibilities this week.
"Last year when you won a segment, you just kind of waited for the last one," Matt Kenseth said. "Now the way they have got it set up is good. Everybody's got a lot of incentive to race as hard as they can every single lap, so I think that's what you'll see."
Kyle Busch, who wasn't impressed with last year's format – and wasn't shy about saying so, jokingly took credit Friday for this year's changes.
"The rules are right this year," Busch said. "Last year, you win a segment and you roll in the back. Jimmie played it the best, obviously.
"This year that's entirely out the window. You have to run each segment as hard as you can. And a lot of things will be playing out in between the segments – tire changes and so forth."
There's even more incentive to run up front this year. In addition to the $1 million prize for the race winner, there's a $1 million bonus available for a driver who's in front at the end of all five segments.
Could that happen?
"If I'm a sports bookie, I'd put a 300-1 on that," Busch said.
Johnson, who handled last year's format perfectly, said Friday the format adjustment changes things considerably.
"We will see how that plays out," Johnson said. "Clearly, you want to start as close as you can to the front in that final segment and have a shot at winning. We will all be trying real hard through each and every segment to get that done.
"We played the game right [last year], and it paid off. We left with a million-dollar check and a cool trophy. That is our job as teams and drivers – to figure out how to beat the system. … It's fun to have those opportunities to think like that and to find an advantage that others don't. Some may be upset with the way we won last year. I take great pride in it. We worked the system and did a good job."
Mike Hembree is NASCAR Editor for SPEED.com and has been covering motorsports for 31 years. He is a six-time winner of the National Motorsports Press Association Writer of the Year Award.