CUP: Circuit Returns To Flatlands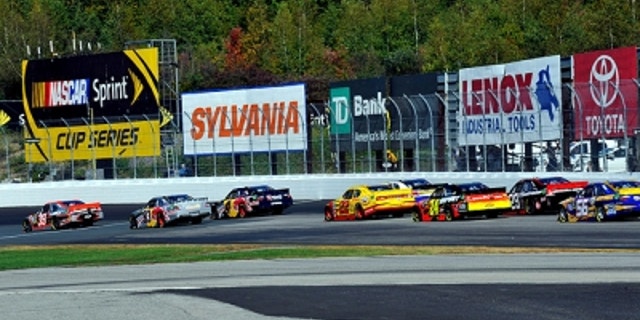 NEWYou can now listen to Fox News articles!
After a busy, loud, crash-filled, controversy-tinged weekend at Daytona International Speedway, it's time for the Sprint Cup Series to move on to relatively placid New Hampshire Motor Speedway in the backwoods of the Northeast.
It's a different landscape – in more ways than one, but the biggest change is to flat-track racing on what the teams consider a "short" track, although it's 1.058 miles in length.
Sunday's Lenox Industrial Tools 301 will be the first of two Sprint Cup races at NHMS this year. The return visit will be Sept. 23 for the second race in the Chase for the Sprint Cup.
The track throws a different sort of curve at drivers.
"It's been one of those places that's just kind of tricky sometimes to figure out for me – just the flatness of the corners, how hard do you get into the corner, how much brake do you use, how much do you let the car roll, how hard to get back on the gas," said Kyle Busch. "There's so many different things you've got to work through at Loudon. I've got one of the best teammates in the business to help me with that, with Denny (Hamlin). I definitely use him a lot when we go there on those weekends."
Hamlin won this race in 2007 at New Hampshire and typically runs well at the track.
Carl Edwards said circling NHMS is relatively easy but that doing so at top-performance levels is difficult.
"It is a flat, simple race track, and that makes it really hard because most people know how to get around it, but you have to have the car perfect and drive perfectly," he said. "We had a chance to do the tire test up there a couple months ago, and I think that helped me a little bit.
"It is a deceivingly tough race track. … A place like Loudon, if you have a weakness, it really shows up. Trust me. I have been passed by a lot of cars at Loudon."
With Loudon also hosting a Chase race, the temptation for those likely to make the Chase is to run test stuff for Race Two – or perhaps to make a chance one normally wouldn't consider.
"[We] usually don't get too far away from our normal routine," said Jimmie Johnson, who enters the race fourth in points. "At the end, if we are near a fuel window, we may gamble and go for it. It may lead us to a two-tire stop instead of four at the end of a race, but really you can gamble some but you don't want to make stupid, foolish, careless decisions that prevent the team from having a good finish.
"Oddly enough, the momentum of a top-five streak or a top-three streak really does a lot of good things for a race team. You don't want to lose that trying to throw some crazy Hail Mary."
Mike Hembree is NASCAR Editor for SPEED.com and has been covering motorsports for 30 years. He is a six-time winner of the National Motorsports Press Association Writer of the Year Award.