Cueto takes the hill for first time since Royals' title clincher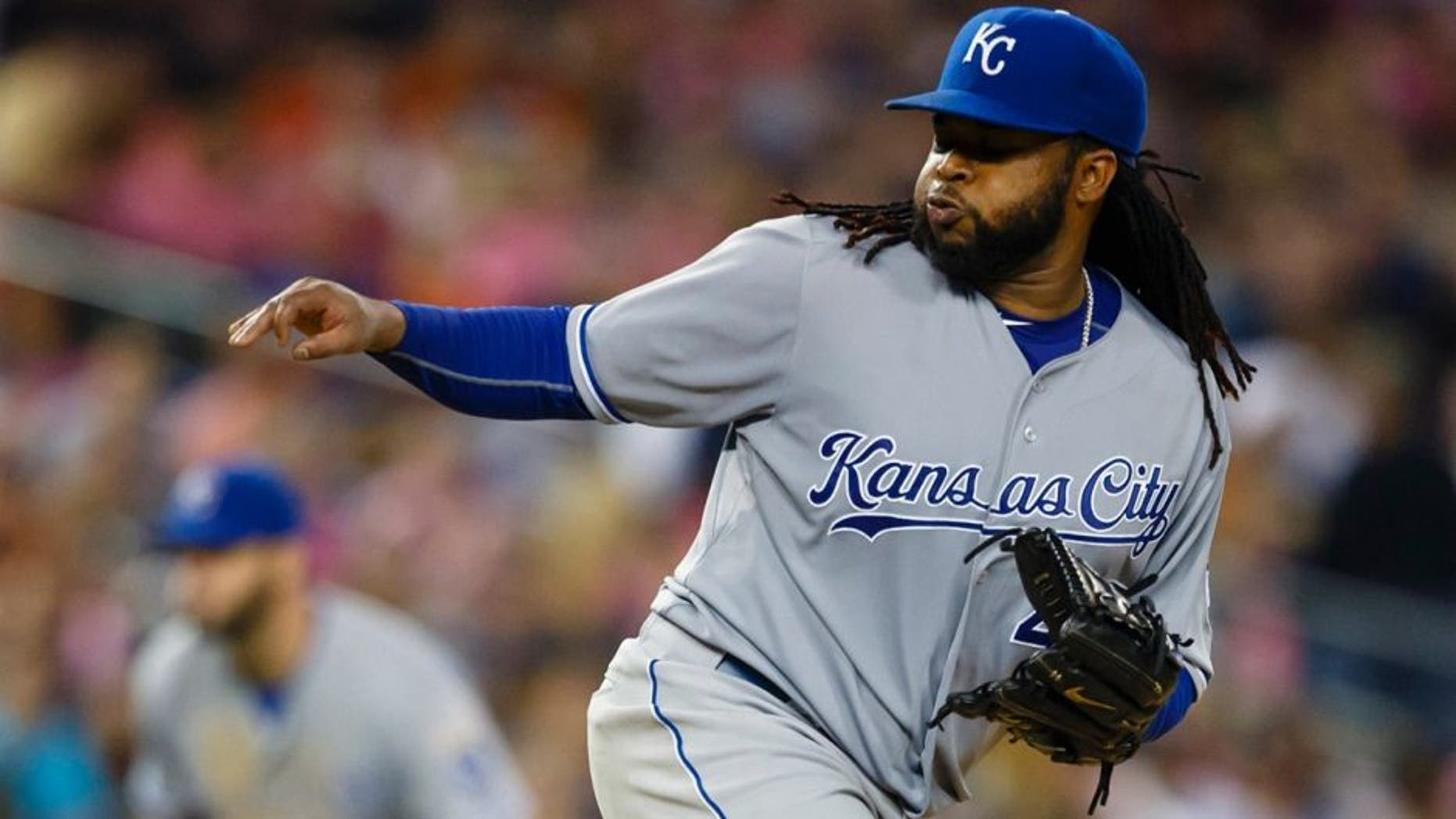 The Kansas City Royals had a rough offensive night on Chicago's North Side but should find things easier as they head to the South Side.
That's because they will face Chicago White Sox starter Jeff Samardzija, who has lost seven straight home outings heading into Tuesday night's three-game series opener.
Kansas City (90-66) fell 1-0 in 11 innings to the Chicago Cubs on Monday in a makeup game to kick-start this seven-game trip to close the regular season. The Royals managed two hits by Mike Moustakas and singles by Lorenzo Cain and Alcides Escobar to match their third-lowest total in a game.
The loss dropped the AL Central champions one game behind East-leading Toronto in the race for home-field advantage throughout the playoffs.
Kansas City slugger Kendrys Morales will likely return to the lineup after not starting the last two games due to a sore ankle and, in the case of the latter game, the absence of a designated hitter.
The Royals have to like their chances of beating Samardzija (10-13, 5.04 ERA), who has posted a 10.01 ERA in his seven-start home losing streak. He's the first White Sox pitcher to lose seven straight home starts since Tommy John in 1969; Paul Gregory was the last to drop eight straight in 1933.
The right-hander is 0-4 with a 7.13 ERA in four career starts against Kansas City with an 8.15 ERA in three this year. Cain and Alex Rios each have gone 4 for 7 off the right-hander this season, and Moustakas has homered twice.
Samardzija fired a one-hitter for his second shutout of the year last Monday in a 2-0 victory at Detroit after losing eight of his previous nine outings. He said he looked at some film to correct his woes.
"I try to be an in-game guy and adjust to how I'm throwing," he said. "I needed to go back to my last couple of starts and see why good pitches were getting tattooed."
Samardzija's 6.61 ERA since the All-Star break is baseball's worst mark, and he owns baseball's fourth-worst ERA overall.
The Royals will give the ball to Johnny Cueto (3-6, 4.99), who gave up three runs in seven innings last Thursday to earn a 10-4 win over Seattle that clinched the team's division title. He had been 0-5 with a 8.10 ERA in his previous six outings.
"Johnny was awesome. A good changeup, good breaking stuff, kept his fastball down," manager Ned Yost said.
The right-hander is 1-1 with a 7.15 ERA in two 2015 starts against Chicago. Alexei Ramirez is 6 for 8 versus Cueto and Melky Cabrera is 6 for 15.
The White Sox (73-83) close the regular season with six games at home after a 4-7 trip. Adam Eaton is their hottest hitter with a .373 average in his last 16 games.
Chicago slugger Jose Abreu is one homer shy of reaching 30 and three RBIs shy of reaching 100. He's trying to join Albert Pujols as the only players in history to reach those plateaus in each of their first two years.
Kansas City has won 10 of 16 in the season series.