Cuba's soccer coach says four players missing, possibly defected to U.S.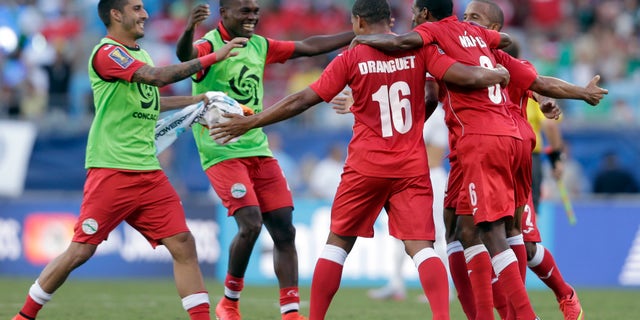 BALTIMORE (AP) – When it comes to Cuba's soccer team, you can't even tell the players with a scorecard.
Coach Raul Gonzalez said 19 of the 23 men on his roster will be available for Saturday's CONCACAF Gold Cup quarterfinal against the United States.
"I think it's enough to play the game and to play the tournament," he said at a news conference Friday, speaking through a translator.
Cuba's sports teams have a history of defections, and Gonzalez avoided saying which four players won't be suiting up.
The Associated Press previously reported forward Keiler Garcia defected in Chicago ahead of Cuba's opener against Mexico and backup goalkeeper Arael Arguellez disappeared before the team traveled to Arizona for its second match, against Trinidad and Tobago.
Midfielders Dario Suarez and Aricheel Hernandez were listed as absent on Wednesday's lineup sheet before the 1-0 win over Guatemala in North Carolina, which advanced the Cubans to the knockout stage for the first time. Univision reported Friday that midfielder Ariel Martinez was not with the team.
Gonzalez said he wanted to focus on the players he had.
"Obviously, we know what they're going through on and off the field, so it's huge admiration with how they dealt with everything they went through," U.S. coach Jurgen Klinsmann said.
The defending champion U.S. is 8-1-1 against Cuba with eight consecutive victories since 1947. The Americans won 5-0 in the 2003 quarterfinals and 4-1 in the first round two years ago,
Cuba, ranked 104th, has not qualified for the World Cup since 1938. Like the U.S., Cuba is a nation where soccer is not the No. 1 sport.
Gonzalez said he sees more young players at home competing in soccer these days.
"I don't like baseball. I don't watch baseball," he said, shaking his head back and forth for emphasis.
The 34th-ranked Americans lacked flow during the group stage, when Clint Dempsey scored three goals as they beat Honduras 2-1, defeated Haiti 1-0 and tied Panama 1-1.
Defender John Brooks is suspended for yellow-card accumulation, forcing Klinsmann to change his back line. He added left back DaMarcus Beasley, midfielder Joe Corona and forward Alan Gordon to his roster this week in place of defender Greg Garza, midfielder Alfredo Morales and forward Jozy Altidore, who didn't appear at full strength following a hamstring injury in mid-May.
Beasley, 33, has 121 international appearances and is the only American to play in four World Cups. If he starts at left back, Fabian Johnson could move to right back, where Johnson played during last year's World Cup, or up to the midfield.
Beasley announced his retirement from the national team in December and was persuaded by Klinsmann to return. Teammates say he provided a spark just by showing up ahead of the match against the Cubans.
"We're going to prepare for them just like we prepare for Brazil," Beasley said.
Four Caribbean nations are in the Gold Cup quarterfinals for the first time. Haiti plays Jamaica in the second game of the doubleheader, and the winners meet in a semifinal Wednesday at Atlanta. In Sunday's twinbill at East Rutherford, New Jersey, Trinidad and Tobago takes on Panama, and Mexico faces Costa Rica.
"CONCACAF is not easy," Beasley said. "The teams are stronger, they're faster. Now they've got the organization part of it down."
The U.S. has reached the semifinals of every Gold Cup except in 2000, when it lost to Colombia on penalty kicks in a quarterfinal. A victory in the July 26 final at Philadelphia would earn the Americans a place in the 2017 Confederations Cup in Russia. If another nation wins, it would face the U.S. in a playoff for the berth.
When the U.S. and Cuba met two years ago in Utah in the first round, Ciprian Alfonso gave the visitors a 36th-minute lead. Landon Donovan's penalty kick tied the score in first-half injury time, and the Americans went on to a 4-1 win as Corona scored the go-ahead goal and Chris Wondolowski added a pair.
Cuba comes into the game with two days' rest while the U.S. has had four days off since playing the group stage in a seven-day span. The Gold Cup can feature high temperatures and difficult surfaces — grass was installed over the artificial turf at M&T Bank Stadium for this weekend's game.
"It is a very challenging competition because you don't know what to expect," Klinsmann said. "People in Europe or in South America, they have no idea what these teams, all of them, are going through."
Like us on Facebook
Follow us on Twitter & Instagram