CSUF Titans' College World Series run comes to an end with 6-4 loss to Florida State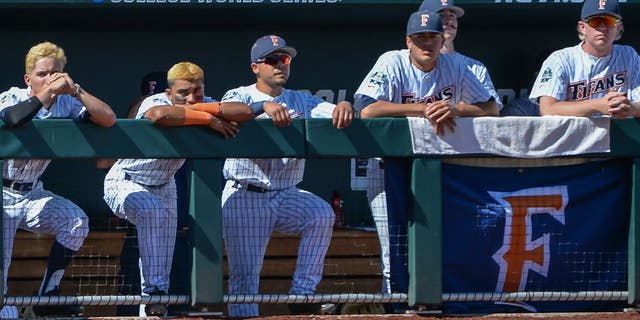 NEWYou can now listen to Fox News articles!
It was a good run, but alas, the Cal State Fullerton Titans are headed home from the College World Series following a 6-4 loss to Florida State.
While they'd been up against the wall much of this season, until now the Titans had always seemed to find a way to claw back.
Despite being down a game to conference champions Long Beach State in their best-of-three Super Regional series, the Titans, who were 1-5 against the Dirtbags in the regular season, mustered consecutive wins, including a 12-0 blowout to reach the College World Series.
Their reward? A date with the No. 1 seed Oregon State in the Titans' opening game of the College World Series. And while the Titans gave the Beavers everything they could handle, a 3-0 early lead was eventually erased 6-5 and the Titans fell to the elimination bracket game with the Seminoles.
With the Seminoles up 3-1 in the bottom of the 6th, the Titans made their charge scoring three runs with two outs and taking a 4-3 lead.
The joy was short-lived though, as Florida State answered with three runs of their own in the next inning and held on to eliminate the Titans with a 6-4 win.
The Titans finish the season with a record of 39-24 and leave Omaha after their 18th College World Series appearance.